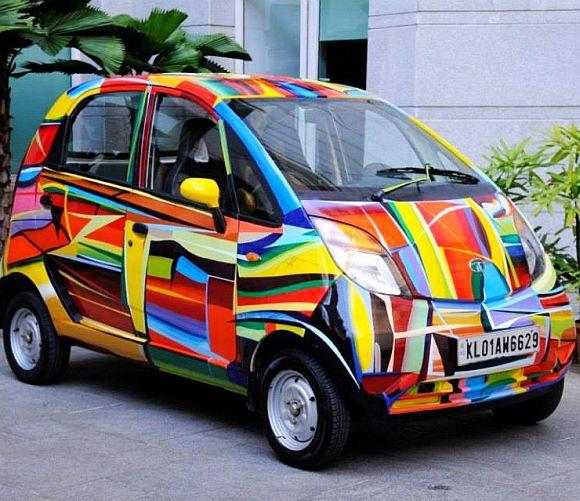 Image: Tata Nano. Photograph: Kind Courtesy, Tata Motors
It's not just the type of car that can tell a lot about you but also the colour. Take this quiz to know the personality traits of cars owners.
1) If you're driving a vehicle of this colour, you like to present a fresh, young, modern face to the outside world.
A. Red
B. White
C. Blue
D. Cream
---
2) This is the most popular colour for luxury cars as the owners tend to be important in their walk of life and it shows they are in control.
A. Silver
B. Red
C. Black
D. Green
---
3) This colour means that the owners appreciate luxury and treating themselves to the finer things in life.
A. Silver
B. Red
C. Beige
C. Orange
---
4) Drivers of these cars are enthusiastic about life and passionate about their interests.
A. Brown
B. Red
C. White
D. Black
---
5) If you drive this colour car you are loyal, honest and trustworthy.
A. Blue
B. Grey
C. Yellow
d. Purple
---
6) This colour indicates that the owner is not someone who can be easily manipulated.
A. Black
B. White
C. Brown
D. Pink
---
7) The person who prefers his car to be of this particular colour wants value and a long life in his or her purchases and doesn't care about trends or fads.
A. Yellow
B. Brown
C. Blue
D. Green
---
8) You may not have seen many cars in this colour. But if someone owns a vehicle in this colour he or she will tend to be more creative and original.
A. Yellow
B. Green
C. Pink
D. Purple
Click here to know what your car reveals about your personality
Your score is: 0 out of 8