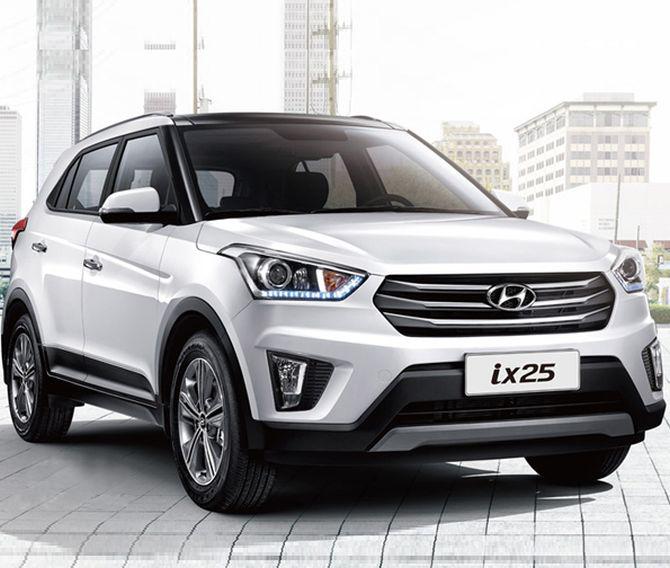 Photograph: Courtesy, CarDekho
The most talked about compact SUV these days is not Ford's EcoSport or Nissan's Terrano or even Renault's Duster. But it is a car that doesn't even exist in our market. It's from Korean auto company Hundai called ix25.
Christened as baby Santa Fe by many, it derives most of the design elements from the elder sibling.
As known, ix25 made its global debut back in October with its launch in the Chinese automobile market. It is already the most talked about SUV in the virtual world. Queries about the same are flowing like never before.
It gets many exciting features and is certainly a looker. Let's take a glance at the top 5 things that make ix25 more desirable than others.
Exteriors
---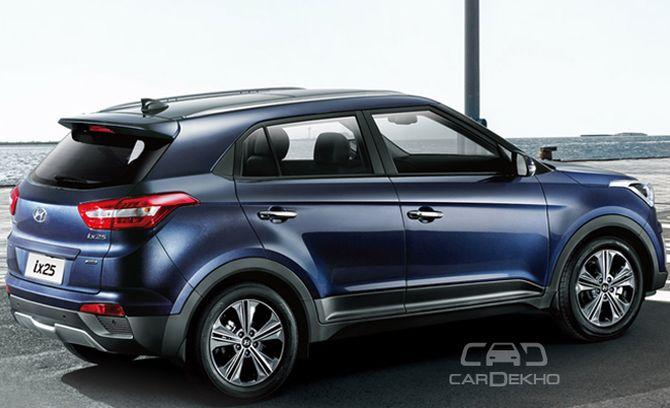 This new compact SUV gets dynamic looks based on Hyundai's latest design philosophy that could be seen in its other offerings too.
Starting from the front, ix25 gets a chunky snout on which there is a hexagonal grill with three vertically placed slats.
Flanking the grill is the edgy swept back headlamps with probable options of projectors and DRLs. The contoured front bumper adds more muscle to the foreside.
The bonnet subtly rises towards the windshield and two lines running on either sides make it look more mature.
The sides get prominent shoulder lines start from the front wheel arch moving towards the rear blends into the indented taillight cluster.
The bottom of the SUV gets all-around black plastic cladding that makes it bolder. The rear is equally designed and gets sharp details in the tailgate hatch.
Interiors
---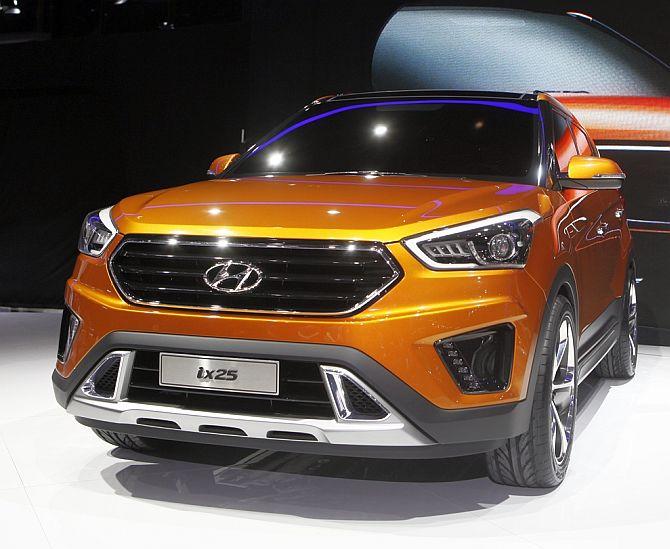 Photograph: Courtesy, Hyundai Motors
The version of ix25 that has been launched in China gets all black interiors but in our market it is most likely to come in black and beige tone.
The symmetry and set up of the cockpit resembles that of the Santa Fe and will come heavily equipped with touchscreen infotainment system, climate control, USB, AUX-in, Bluetooth connectivity, Multi Function steering wheel and a few more.
It will be getting premium upholstery certainly better than its rivals. Semi bucket seats, large boot to accommodate more luggage and will be expanded to house even more by folding the rear seats.
Powermill
---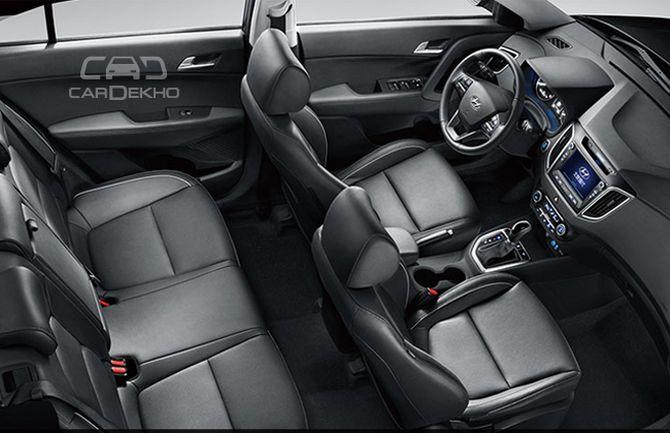 Hyundai is one of those manufacturers that usually don't compromise on power front and that is what makes their cars fun to drive. And ix25 will be no exception as we expect it to get the similar set of motors powering the Verna.
On the diesel side, it is expected to get the 126.32bhp 1.6 litre CRDI engine. It makes the Verna most powerful of the C-segment lot and will make this compact SUV also equally powerful as this power figure is even bigger than any car present in compact SUV segment in India.
While on the petrol front, it will probably get the 121.3bhp 1.6 litre VTVT motor.
Though not as popular among buyers, due to lower fuel economy, but this petrol engine is very potent when it comes to performance.
Practicality
---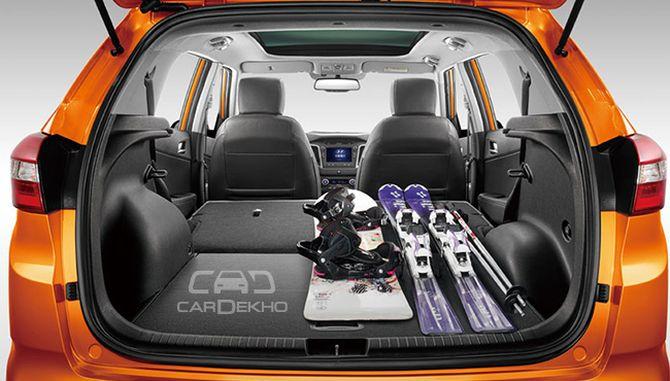 We are all familiar with the soaring success of compact SUV segment in last couple of years.
Despite their sheer maneuverability over bad roads they are placed under the price bracket of C-segment sedan makes them desirable over other.
The upcoming ix25 will be no exception when it comes to tackling bad terrain or road condition. It will be getting a ground clearance of at least 200mm and to make it compatible, Hyundai is already testing this car in Indian condition.
Moreover, the luggage compartment of such SUVs heavily cross the volume in sedans of same price.
Again, on the mileage front, ix25 will get more kilometres per litre, bringing it close to its competitors which is a good sign.
Price
---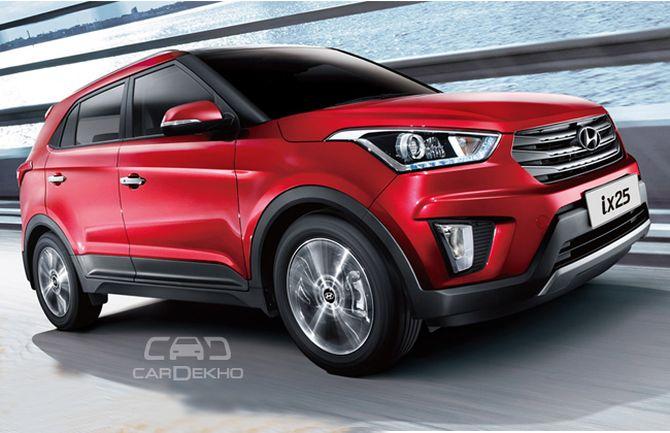 In China, ix25 was launched in a price bracket of 119,800 RMB (approx Rs 11.95 lakh) to 179,800 RMB (approx Rs 17.93 lakh). In India it will be a tad lower than this to keep up with the rivals. So, price will be another aspect where buyers will get to cheer more.
Though, ix25 is over 4 metre and will have to face the taxes imposed by the government, still it will be somewhere around Duster's price slot. This will make it more accessible to large number of customers.
Powered by


CarDekho.com offers the best platform in India to research cars online. Make better car buying decisions using features like car research, reviews, car comparisons, discounts, on-road prices etc. on CarDekho.com.