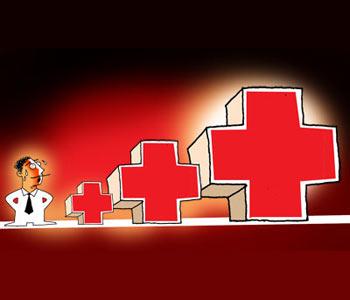 But if you get treated in a bigger city, you will have to pay the difference in premium

You are a resident of Chandigarh visiting Delhi for a couple of weeks.
While in Delhi you fall ill and get admitted in a hospital.
You submit a claim of Rs 50,000 to your insurance company. But you get paid only Rs 40,000, though you have a cover of Rs 200,000.
It could be because your health insurer offers geographical zone-based pricing and you enjoy a certain discount on your premium since you reside in a Zone-II city.

But since you were hospitalised in a Zone-I city, where premiums are higher, you have to pay the difference.

Here the rationale is that if you were to get treated in the zone for which you have paid the premium, it would have been cheaper.

The premium is based on medical costs in the particular city.
"Those in Tier-II and Tier-III cities often have lower claim ratio than those in Tier-I cities.
To ensure that the former don't end up compensating the latter, some insurance companies offer zone-based pricing," says Naval Goel, founder and CEO, PolicyX.com.

Some companies that offer zone-based pricing are Max Bupa Health Insurance, L&T Health Insurance, CignaTTK Insurance, Star Health Insurance, New India Assurance, and SBI General Insurance.

Zones are classified under Zone 1, 2 and 3, respectively. Typically, metro cities fall in Zone 1, Tier-I cities fall in Zone 2 and the rest of India falls under Zone 3. But the classification varies from company to company.

The premium varies by 10 per cent on an average for each category. If you fall under Zone 3, your premium will be 10 per cent cheaper than what you would have to pay if you were in Zone 2. Similarly, someone who belongs to Zone 1 will have to pay 10 per cent higher premium vis-à-vis Zone 2.

"Zone-wise pricing is not optional as it is based on the city of residence, but the treatment can be availed anywhere across the country.
"There won't be any restrictions on the comprehensiveness of the product and features offered. Only the premium is revised based on the area of residence.
"If the policyholder changes his residence address, the same needs to be intimated so that appropriate zone pricing can be worked out," says Somesh Chandra, chief operations officer, Max Bupa Health Insurance, which offers zone-based pricing.

"The advantage of zone-based pricing is that it can reduce your premium by up to 20 per cent, depending on your city of residence," says Naveen Kukreja, group chief marketing officer of Policybazaar.com.

For instance, if you were to buy Max Bupa's Health Companion from a Zone 1 city such as Delhi, you will have to pay Rs 7,044 as premium for sum assured of Rs 300,000.
However, this would reduce to Rs 6,340 if you buy the same plan from a Zone 2 city, such as Bhubaneshwar.

"The disadvantage is when someone who has paid premium for Plan C (Zone 3), but takes treatment in Plan A (Zone 1) and Plan B (Zone 2) cities.
In this case, the claim payable is deducted by a certain percentage, as the premium paid for Plan C (Zone 3) is lower than Plan B or Plan A cities," points out Steve Hollow, deputy CEO, SBI General Insurance.

That is why one must choose the zone where you are likely to get treated.
Otherwise, you may end up paying more from your own pocket, due to clauses such as room rent. Since room rates are different in different cities, you will be allowed rates offered in your zone, even if the claim amount is lower than your sum assured, says Goel of PolicyX.com.

Most insurers do not allow switching from Zone 3 to Zone 2 city. Under such circumstances, you will have to pay the premium amount equivalent to that of Zone 1 city.
Also, since the classification of cities is not uniform, you will have to pay a higher premium if you choose to port from an insurance plan that classifies your city of residence differently, says Kukreja.

For instance, Cigna TTK treats Chandigarh as a Zone 2 city, while Bharti AXA General classifies it as Zone 1. So, if you were to port from Cigna TTK to Bharti AXA General, you will have to pay the premium for Zone 1, rather than Zone 2.