In case the repo rate keeps trending downwards, borrowers can expect a downward revision of their MCLR-linked loans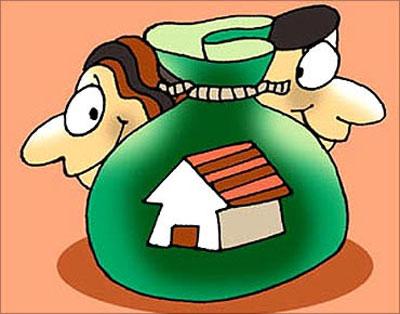 Diwali has arrived a little early for home loan borrowers. In a welcome move, the Reserve Bank of India announced a cut of 25 basis points in the repo rates on the back of lowering inflation rates.
The rate cut announced by RBI is historic as not only is this the first monetary policy review under present RBI Governor Urjit Patel, but it also is the first where the rates have been decided by a six-member rate-setting panel also known as the Monetary Policy Committee, or MPC.
Monetary policy review highlights
The RBI announced a cut by 25 basis points in the repo rate (the rate at which banks borrow from the RBI) from the current levels of 6.50 per cent, while the cash reserve ratio or CRR was left unchanged at 4 per cent.
With the cut, the repo rate is now 6.25 per cent while the reverse repo rate is now fixed at 5.75 per cent.
All the six members of the monetary policy committee voted in favor of the rate cut on the basis of normal monsoons and under-control inflation numbers.
Repo rates and recent history of rate cuts
A repo rate cut augurs well for borrowers and will go a long way in improving the overall borrowing environment both for retail loans as well as business loans.
Being the first repo cut in six months, banks are likely to pass the cuts to their borrowers, thus leading to a drop in loan EMIs values.
All loans taken after April 1, 2016 are linked to the Marginal Cost of funds based Lending Rate (MCLR). These rates are more in tune with any repo rate movements and banks are likely to announce cut in their lending rates shortly.
If your loans have been availed before April 1, 2016, your loan is linked to the base rate calculations of the bank.
You have the option of switching to a loan under the MCLR regime either with your own bank or with another lender.
Will your loan EMI drop?
The one big question on the minds of every borrower is how much would banks pass on the benefits of the rate cut.
After all, the rate cut is only useful to borrowers if they receive the cut themselves, leading to a lowering of their EMIs.
Let's take the example of one of India's leading lenders, which has an MCLR rate of 9.05 per cebnt (WEF 1-10-2016).
The current home loan rate includes a spread of 25 bps and is fixed at 9.30 per cent. Assuming the lender passes on the entire cut of 0.25 per cent and reduces its rate to 9.05 per cent, here is how much you can save on your home loan for a 20-year tenure.
| | | | | | | | |
| --- | --- | --- | --- | --- | --- | --- | --- |
| Home Loan Amount | Loan Tenure | Current Interest Rate | Current EMI | Revised Interest Rate | Reduced EMI | Monthly Savings on EMI | Long term savings |
| 20 Lakhs | 20 Years | 9.30% | Rs. 18,382 | 9.05% | Rs. 18,059 | Rs. 323 | Rs. 77,520 |
| 40 Lakhs | 20 Years | 9.30% | Rs. 36,764 | 9.05% | Rs. 36,118 | Rs. 646 | Rs. 1,55,040 |
| 60 Lakhs | 20 Years | 9.30% | Rs. 55,147 | 9.05% | Rs. 54,177 | Rs. 970 | Rs. 2,32,800 |
Please note that the interest rate is unlikely to remain at 9.05 per cent and will be revised at some point in the future.
In case of an MCLR-linked loan, the revision dates would be mentioned in the loan documents of the borrower, therefore they can clearly know when these revisions will happen.
In case the repo rate keeps trending downwards, borrowers can expect a downward revision of their MCLR-linked loans.
Switching over from repo rate to MCLR
The MCLR regime was introduced by the RBI to enable quicker transmission of rate cuts to borrowers. For example, from January 2015, the RBI has reduced the repo rates by 1.5 per cent while the retail lending rates came down by only 0.5 per cent.
If inflation remains under control, there is a chance of a further downward revision of rates. Hence, it may be a good time to consider a switch from the older base rate system to the MCLR system.
You will have to pay a switching fee depending on your bank and the loan amount. Also, know that MCLR loans come with a reset clause of one year on an average, and once you switch to the MCLR system, you cannot go back to the base rate.
Illustration: Uttam Ghosh/Rediff.com
Powered by

BankBazaar.com is a marketplace where you can compare and apply online for loans to meet all your personal loan, home loan, car loan and credit card needs from India's leading banks and NBFCs.