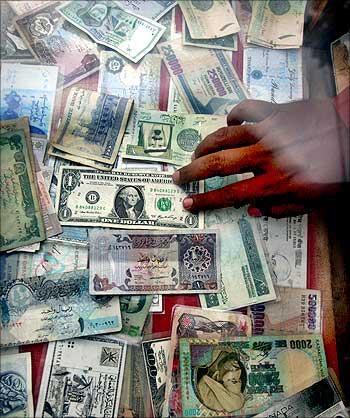 Take limited cash and use credit and debit cards only as a last resort on foreign vacation
If you are vacationing abroad this summer, you would probably have firmed up your plans.
Airline and hotel bookings would have been done after exhaustive research on the internet.
However, you should also give thought to how you carry money during your foreign holiday.
Pay attention to the cost, convenience and security offered by the various options: Prepaid travel cards, cash, travellers' cheques, and credit and debit cards.
Prepaid cards: Convenient and inexpensive
The most convenient and inexpensive way to carry money abroad is the prepaid forex travel card.
State Bank of India, Axis Bank, HDFC Bank, ICICI Bank, etc, and non-banking players like Centrum Direct and Thomas Cook offer these.
Some might charge you a nominal amount of Rs 100-150 for issuing the card, while others could give it free of cost.
After you have filled the form and submitted your Know Your Customer documents, you will have to remit an amount (equivalent to the sum you want in foreign currency) to the card provider.
The exchange rate prevailing that day will be applied and an equivalent amount of foreign currency deposited in your prepaid card.
These cards usually get activated within a couple of hours.
Some of these are single-currency and others are multi-currency.
The latter are valid for a few years and useful for travellers who go abroad regularly or visit multiple countries on one trip.
Prepaid travel cards are quite secure.
"Somebody needs to have both the card and the PIN to be able to access your money," says Mahesh Iyer, chief operating officer, Thomas Cook (India).
Experts warn that as far as possible, you should use the card to make payments for goods and services.
Don't use these to withdraw money from automated teller machines, or at least don't do so frequently.
"If you withdraw cash at an ATM abroad by using these cards, you will be levied a fee per transaction that could range from 0.75 cents to $2," says T C Guruprasad, chief executive officer and managing director, Centrum Direct.
Prepaid cards allow you to lock-in the exchange rate before the trip.
The rate that applies is the one on the day of purchase of the card.
If you were to use a credit card abroad, the exchange rate would be the one that prevails on the day of billing.
Since the rupee mostly depreciates against the dollar, it is wiser to lock-in your rate before the trip.
Prepaid travel cards can be topped up whenever you run out of money.
You can do this both online and over the phone by first remitting the required amount in rupees from your savings bank account to the card provider's account.
The equivalent amount of foreign exchange is then deposited in your card.
Prepaid cards also offer supplementary benefits.
Some come with a health insurance cover. Most providers also offer an emergency cash service.
"If you lose your card, you can call a toll-free number. We will arrange for emergency cash.
"We will also ship a supplementary card within 48-72 hours," says Iyer.
When you return to India, you may have foreign currency left in the prepaid card. You can return it to the issuer at the prevailing rate.
Avoid using credit and debit cards abroad
If you use your credit card for a purchase abroad, a fee called acquiring the cross-currency charge is levied.
"This could be 1.75-3.5 per cent.
The bank abroad will charge the card issuer bank in India a certain exchange rate, into which a mark-up will be built in," says Guruprasad.
When you withdraw cash from an ATM abroad through a credit card, you could be slapped a heavy charge of $10-25 per withdrawal.
Another disadvantage of using a credit card abroad is that your exchange rate doesn't get locked in advance.
As explained earlier, since the rupee usually depreciates against currencies like the dollar, you could end up paying more if you pay later (the rate applied could be on the day of purchase or on the day of billing).
In addition, as with all credit card transactions, if you don't fully repay the amount within the stipulated time, you could be charged an interest rate of 18 per cent to 27 per cent.
If you use your debit card to make a purchase abroad, the same acquiring cross-currency charge will apply.
Another option is travellers' cheques. Few people use it now because they are not as widely accepted nor cost-effective.
Go light on cash
Although the Reserve Bank of India allows you to carry up to $3,000 in cash while travelling abroad ($10,000 over multiple holiday trips in a year), you should actually carry much less.
If you are going to a developed country, most hotels, shops and even cabs will accept plastic money.
You are only likely to need cash to pay at small restaurants, for street-side shopping, and to pay tips.
Only if you are going to a destination is far removed from civilisation, say, a jungle safari in Kenya, should you carry more cash.
Cash is the riskiest way to carry money.
Says Vijay Jasuja, chief executive officer, SBI Card: "Loss of forex in an international destination can cripple your spending and travel plans." Iyer suggests you avoid carrying more than 20 per cent in the form of cash.
MONEY TIPS FOR VACATIONERS
Carry only a small portion, 20 per cent or less, of your total money in cash
Shop around for the best forex rates
The conversion rate for higher denomination bills ($100) could be lower than for smaller-denomination notes
Carry most of your money in prepaid travel cards
Keep one card with yourself and one with your spouse. That way you can both go around independently
You also have a back-up if you lose one card
Don't store your card and PIN together
Don't share your Personal Identification Number and card with anyone
S G Raja Sekharan Bengaluru-based lecturer, author and investor
For a typical two-week trip with the family, you need $100-150 per person per day when you travel to a developed country like the US or the UK.
This does not include flight charges but includes boarding, food, local travel and sightseeing.
I carry very little cash when going to these countries.
It is best to use cards. However, since we Indians find comfort in cash, one could take around $500 or equivalent as back-up, in case the card does not work somewhere.
When buying forex, check the conversion rate on that day and add another one per cent as the moneychanger's margin.
So, if the dollar conversion rate is Rs 66.5, add another 0.65 paise and expect the conversion to be Rs 67.15. I ensure the rate I get is below that.
Prepaid forex cards are the most convenient and cheap way of carrying foreign currency.
The conversion rate you get on these is better than on foreign currency.
They are just like debit cards with a pin and accepted everywhere, as they are either Visa or MasterCard.
Card providers send e-mail and SMS messages, so you can track your expenses.
Sometimes, I have had situations when the card did not work as it had not been activated by the card provider.
I had to call their call centre and get it activated.
Carrying cash is not safe. In some cities, there is a threat of pick pockets. Indian credit and debit cards should be used only as a last resort, as you end up paying higher transaction costs.
The image is used for representational purpose only. Photograph: Reuters