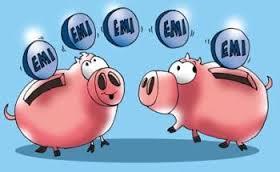 The last time we had long tenure fixed-rate home loans at interest rates that were so close to the floating rate loan was way back in 2003-04
"Should I take a fixed-rate home loan or a floating rate home loan?"
I used to receive this question a lot during the past decade (2003-2008) but it has since died away.
Fixed-rate home loans where interest rates remained fixed for the entire tenure, disappeared from the scene.
Despite intermittent attempts by lenders to come out with fixed rate home loan products, the high interest rates (as compared to floating rate home loans) ensured that they were not considered as a real option by consumers.
This may change.
"ICICI bank to provide fixed-rate home loans at 10.25 per cent for 10 years," said a newspaper headline.
This rate is just a notch above 10.15 per cent that the bank charges on its floating rate loan.
Other lenders such as IDBI Bank (10.75 per cent) and PNB Housing Finance (10.75 per cent) also offer a 10-year fixed-rate home loan though in their case the differential between their floating rate loan and their 10-year fixed rate loan is much higher at 0.50-1 per cent.
The last time we had long-tenure fixed-rate home loans at interest rates that were so close to the floating rate loan was way back in 2003-04.
In those days, the floating rate home loans had dropped to 7-7.25 per cent and full 20-year fixed-rate loans were available at 7.25-7.50 per cent.
I had personally urged all my readers to lock into fixed rates at that time since interest rates were at an all-time low.
I still have a bunch of very happy clients from those days who took my advice.
So, will we see a similar comeback of consumer interest in fixed rate home loan products?
I will stick my neck out and say that these are unlikely to become popular, despite being a well-designed product.
The ICICI Bank product, for example, has a fixed interest rate of 10.25 per cent for 10 years, which reverts to a floating rate thereafter.
Prepayment charges are 2.25 per cent if you do so during the first 10 years.
Obviously no pre-payment charges are payable if you pre-pay after 10 years.
If somebody is looking for surety of the interest rate paid in the foreseeable future they will find this a good product.
The point is not many consumers are looking for this safety.
The general consensus is that we are pretty close to the peak of the interest rate cycle, if not already there and notwithstanding some minor blips interest rates could actually go down in the next few years.
If interest rates are going down, then it makes no sense to lock yourself into a fixed rate home loan at this time.
If consumer interest is likely to be tepid, why are lenders introducing these products?
The answer lies in the fact that home loan consumers have become conscious about the fact that they get charged higher rates by their existing lenders and are much more willing to make the switch to lower rate loan products from other banks (see my article in Business Standard dated August 25).
Switching of loans by consumers is a loss for existing lenders. Unlike floating rate home loans, lenders are allowed prepayment charges in fixed rate products when consumers switch to other lenders.
This acts as a deterrent for switching and hence the introduction of these fixed rate products.
But as they currently don't serve a latent consumer demand, it is very unlikely that they will become popular.
The time for long-tenure fixed-rate home loans will come in the future. We are not there yet!
Harsh Roongta is CEO, Apnapaisa