While the number of points per spend is higher, one needs to make substantial expenditure on the credit card to get big benefits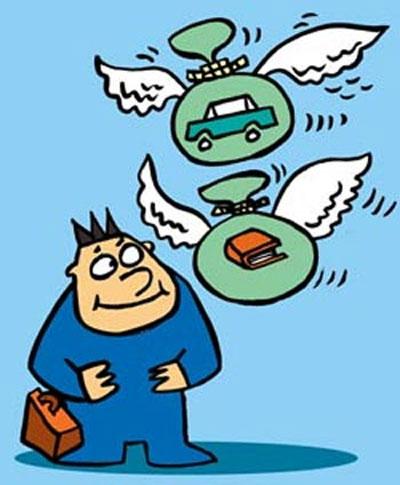 An expense of Rs 5,000 on your credit card can get you Rs 1,000 off on your next flight ticket. This is one of the many tempting offers that co-branded cards offer.
There are credit cards which have tied-up with petroleum companies, airlines and others to bring you such offers. Some even offer you a free welcome ticket, like the Vistara-Axis Bank card.
While the offers on co-branded cards may seem tempting, they are not for everyone. These cards target a specific set of customers - those who fly regularly with an airline or those who shop online at a particular website.
"Co-branded cards make sense for individuals who are loyal to a particular brand. This way a customer gets more benefits without changing his spending habits," says Navin Chandani, chief business development officer at BankBazaar.com.
Loyalty pays: While airline co-branded cards have been around for many years, banks are increasingly joining hands with players in new segments such as e-commerce and international sports clubs.
"That's how credit cards have evolved in the developed markets. In the initial years, there were rewards and cash backs. Then, came ones which served specific consumer interest," says Nilufer Mullanfiroze, head - products and priority and personal segments, Standard Chartered Bank.
In India, the popular categories in which co-branding is done are airlines, shopping, entertainment and fuel, in that order. Most of these charge an annual fee.
"But, the value proposition attached to the fee is much higher. The benefits offered outweigh the annual fee," says Sangram Singh, senior vice-president and head of cards and merchant acquiring, Axis Bank.
These cards reward customers with extra benefits like movie or airline tickets (base fares) if they spend more than a particular threshold every year.
To make it even more attractive for card-holders, these usually provide higher reward points for spending with the partnering brand. If a regular card offers one point on spending of Rs 100, a person can get four-nine times more points on co-branded cards.
It is expensive as well: But to get rewarded from the accumulated points, the journey can be long and expensive. Say, you sign up with a co-branded card the bank is offering along with an airline and it offers six miles for every Rs 150 spent on the card.
If a family of four with two adults and two children below 12 years want to travel between Delhi and Kolkata one-way in the economy class, they will need around 38,000 miles.
This means the car holder will need to spend Rs 9.5 lakh on the card to accumulate those miles. This will cover only base fare - taxes and surcharge will be extra.
Co-branded vs regular cards: If a customer is not loyal to a particular brand, he/she can look at regular cards in the same category, offering similar benefits.
"Most banks have gold, titanium and platinum cards that are comparable to the co-branded ones. The difference between the two is small," says Ranjit Punja, chief executive officer and co-founder, CreditMantri.
A clear benefit is that reward points can be accumulated faster and the conversion of these are better, says Anil Ramachandran, EVP and head, marketing and retail unsecured assets at IndusInd Bank. But this will also require you to consolidate all spending into that card.
A co-branded card, however, has its limitations as well. It would require you to stick to a particular multiplex chain or e-commerce website to buy goods or an airline even if the charges are higher.
"The decision between a co-branded and an ordinary card depends on how the customer wants to be rewarded for his spends. If he opts for a co-branded card, he should have decent spending in that category as the benefits take time to accrue," says Sumit Bali, senior executive vice-president, Kotak Mahindra Bank.
One more thing a customer can do is compare the annual fee and annual interest rate. With some issuers, the co-branded cards have lower interest rate.
Switching: If you want to switch from a co-branded card to another with the same issuer or vice versa, it is possible. All you have to do is make a written application. When you switch from a co-branded card, all the benefits accrued will be discarded. The bank will treat you as a fresh customer.
In case the partner brand shuts shop, you will lose the benefits. When Kingfisher Airlines had shut down, ICICI Bank discontinued the programme. The bank offered customers ICICI Bank Platinum MasterCard with the same interest rate and credit limit.
Illustration: Uttam Ghosh/Rediff.com