The number of contributors was 46.4 million in July and 44 million in September.
Illustration: Uttam Ghosh/Rediff.com
Contributors to the Employees' Provident Fund (EPF) have declined by two million after the government mandated the linking of Aadhaar with an employee's PF account.
The officials in the ministry of labour and employment said the number of contributors was 46.4 million in July and 44 million in September.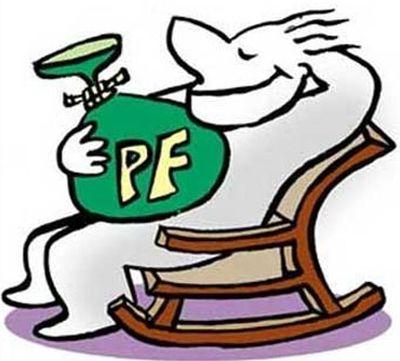 "This was on account of linking Aadhaar with the accounts. We expect the number of contributors to increase in the coming months," said a senior official in the Employees' Provident Fund Organisation (EPFO).
"Last year, the number of contributors were around 37.6 million. Otherwise, the number of contributors have only increased over the years."
EPFO has 11 regional offices where the number of contributors have declined "significantly".
Siliguri registered a decline of 7.7 per cent in September against the average number in 2016-17.
Vellore saw a decline of 5.2 per cent and Laxmi Nagar (Delhi) 4.3 per cent. The decline in Park Street and Jamshedpur were 2.9 per cent and 2.5 per cent, respectively.
An expert, who has closely worked with the ministry, said there could be three reasons.
"First, that many are yet to link their Aadhaar with the account. Or, that some who had two or more Universal Account Numbers for various reasons have linked only one account with Aadhaar. The third could be a decline in employment," said the expert.
The government's biggest worry seems to be its 31 regional offices which have recorded a decline of more than 10 per cent in contributing members in September. Berhampur recorded a decline of 35 per cent as contributing members dwindled from 154,985 in July to 99,468.
Bhagalpur (31.6 per cent), Akola (25.7 per cent), Warangal (23.5 per cent), Keonjhar (20.8 per cent) and Gulbarga (20.3 per cent) also saw a dip.
"It is once again advised that OICs (officers in charge) concerned may focus efforts in achieving growth in membership and ensure that in coming months no such drop in membership is reflected," S C Goyal, additional central provident fund commissioner, told these offices in a letter on October 27.