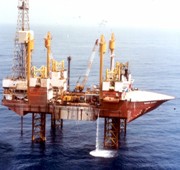 Cash-rich Oil and Natural Gas Corporation and Oil India Limited have joined hands separately with Bharat Petroleum  and Indian Oil Corporation for a foray into city gas distribution.
Though ONGC and OIL are major producers of natural gas, they currently have no presence in its retailing and marketing, a field dominated by GAIL and its joint ventures.
ONGC owns and operates 22,000 km of pipelines in India, including nearly 4,500 kilometres under the sea. It has tied up with BPCL and OIL.
"This is a sector that has tremendous growth potential. Since it is a retail business, we have tied up with BPCL and have identified certain cities for bidding," D K Sarraf, its director (finance), told Business Standard. 
T K Ananth Kumar, director (finance) OIL, said the company had formed two consortiums, one with IOC and the second with ONGC and BPCL.
"We are looking to bid for some cities," he said. IOC, BPCL and Hindustan Petroleum, the three state-owned oil marketing companies had earlier formed a consortium with Gujarat State Petroleum Corporation to bid for trunk gas pipelines.
Recently, the Petroleum and Natural Gas Regulatory Board invited bids for installing and running a CGD network in Asansol-Durgapur (in West Bengal), Bhavnagar, Gandhidham-Anjar, Bhuj-Mundra and Jamnagar (all in Gujarat), Ludhiana and Jalandhar (in Punjab) and Panipat (in Haryana).
The bids will close on December 3. Setting up a full-fledged CGD network with CNG stations and a pipeline for industrial and domestic consumers usually costs Rs 1,000-1,500 crore (Rs 10-15 billion).
The Board plans to take a CGD network to 200 cities by 2015.
Background
In the first round, completed early last year, the Board had invited bids for six cities -- Kakinada in Andhra Pradesh, Mathura and Meerut in Uttar Pradesh, Kota in Rajasthan, Dewas in Madhya Pradesh and Sonepat in Haryana.
GAIL Gas, a subsidiary of GAIL India, and Bhagyanagar Gas Ltd, a joint venture of GAIL India, had won the CGD rights in bids for five of the six cities last year.
Another company, Saumya-DSM Infratech, had bagged CGD rights for Mathura.
Bids were invited for seven cities in the second round -- Allahabad, Ghaziabad and Jhansi in Uttar Pradesh, Shahdol (Madhya Pradesh), Rajahmundry and Yanam (Andhra Pradesh) and Chandigarh.
However, this round got stuck in a legal tussle between Indraprastha Gas Ltd and the board on CGD rights for Ghaziabad. IGL, which was keen to enter the CGD business in Ghaziabad, approached the Delhi high court, claiming the board had no powers to conduct CGD bidding.
The matter is now at the Supreme Court. The HC had struck down the board's power to issue an authorisation for CGD business and the ministry went ahead to authorise IGL for Ghaziabad.
In July, the legal lacuna was rectified, with a section of the PNGRB Act finally notified, and the Board now has all the powers to conduct CGD bidding.
At present, Delhi, Mumbai, Pune, Ahmedabad, Indore, Vijayawada, Vadodara and Surat have a CGD network.