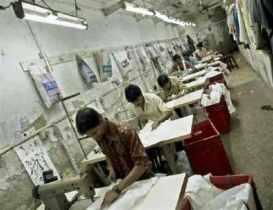 Vijay Sharma, general manager (plant) of Dehradun-based Sarovaram Industries, says earlier, it was difficult to negotiate with large suppliers but Power2SME did away with the need to engage with multiple vendors; it acts as a single touch-point for various requirements for multiple locations.

Vikas Setia, chief executive of Delhi-based Dimple Plastics, says Power2SME helped the firm procure commodity polymers at extremely competitive prices, increasing the firm's profit margins.

An association of 10-15 years with small and medium enterprises gave R Narayan the confidence to start Power2SME.com, owned by Gurgaon-based BEBB India.
The portal, which started operations in June 2012, buys directly from manufacturers and sells to SMEs. Power2SME has tied up with logistics providers which collect material in bulk from the manufacturer's location, divide it into smaller lots and deliver to SMEs.
The venture works with established suppliers to assure product quality and pools the demands of a group of SMEs for multiple products.
For instance, if an SME needs 10 tonnes of steel, Power2SME places an order for, say, 50 tonnes and distributes the commodity among five-six SMEs. Narayan, chief executive of Power2SME, says this is important, as an SME's major cost head is material sourcing.

Earlier, Narayan founded and headed Denave, a sales-enabling services firm.
He has also worked in Microsoft India, Oracle, Tat Unisys and ICI. The clientele comprises construction and manufacturing companies. It is present in Delhi and the National Capital Region, Maharashtra and Gujarat.
It plans to start operations in West Bengal this month and Tamil Nadu in September.

"There is enough opportunity in this space to bridge the gap between suppliers and SMEs," says Narayan. He adds when he started the venture, he didn't need to convince SMEs, as many in the segment already knew him.
It was, however, tough to convince suppliers -- SAIL, Haldia Petrochemicals, ArcelorMittal, Indian Oil Corporation, GAIL, AkzoNobel, etc. "We took two months to break through the suppliers.
They did not understand and relate to functioning online. They were even averse to supplying small volumes," he recalls.

Securing funding wasn't difficult.
"It took us only two months to get our first investors -- Inventus Capital and Kalaari Capital. The promoters had put in Rs 2 crore (Rs 20 million).
We had decided the company would either be on a small scale, turn profitable and fund itself, or scale up fast and be funded.
"The latter happened earlier," he says.

Parag Dhol, managing director of Inventus Capital, says SMEs are operating on low margins and don't have enough capital to spend on research and development.
The money they save after joining hands with Power2SME could be utilised to drive sales and marketing initiatives and, more importantly, in R&D, he says.

Initially, Power2SME raised

Rs 12 crore (Rs 120-million) in series-A funding from Inventus Capital and Kalaari Capital. Subsequently, Accel Partners pumped in Rs 3 crore. This was followed by the recent Rs 36-crore series-B funding in which all three investors participated. The company has raised a total of Rs 51 crore (Rs 510 million) so far.
The venture might need another round of funding by the middle of next financial year -- Rs 120-150 crore (Rs 1.2-1.5 billion).

The latest round of funding would be used to expand in south India, increase product portfolio, expand sourcing channels to include direct imports for SMEs and additional investment in technology and marketing. The company is also hiring more process experts and might launch mobile services soon.

"A buying club is a unique concept; we have not found another similar business model so far.
"Though there are similar concepts globally, they focus on services, not physical goods.
"The business model of Power2SME sustains the ability to grow, expand and cater to SMEs across sectors," said Mahendran Balachandran, partner, Accel Partners.

Power2SME has about 14,000 registered SMEs users (with turnovers of Rs 5-250 crore).
Narayan says: "We did business of Rs 500,000 in the first month of operations (June 2012); in March 2013, we did business of Rs 5 crore (Rs 50 million)."
In 2012-13, the company's gross revenue stood at Rs 19 crore (Rs 190 million).
"In the first four months of this financial year, we have already done business equal to what we did last financial year," he adds.

For 2013-14, Narayan is eyeing revenues of Rs 125 crore (Rs 1.25 billion), as well as a green bottom line.
The company expects to break even by the first quarter of 2014-15.

Power2SME does not charge a commission from SMEs.
However, it earns a margin in the processing of buying from suppliers and selling to SMEs.
The margin is variable and could be as low as 0.5 per cent, says Narayan.

Rahul Khanna, managing director of Canaan Partners, says, "Power2SME is trying to level the playing field for SMEs which didn't have the ability to secure bulk discounts from large suppliers.
"The company has seen some early success in a few verticals, but needs to operate at a much larger scale, given its pricing model, typically one to two per cent of the value of goods traded on the platform."
He adds it would be good if the company shifts the working capital requirements of SMEs to a banking/non-banking financial company partner, as this would allow the business to gain scale more efficiently.

Narayan says his firm offers credit to SMEs selectively and a know-your-customer process is followed internally. The credit period ranges from seven-45 days.
"Selling to SMEs on credit is more prevalent in this sector. This is risky because many times you don't know about the company.
Therefore, we are now tying up with financial institutions to ensure we carry out a proper credit appraisal of SMEs," says Narayan. As of now, there aren't many growth problems, he says.

Khanna says customer acquisition is a key challenge, as the company is looking to change the buying behaviour of SMEs that may have legacy relationships with suppliers.
It would also have to match the terms (delivery times, credit and batch sizes) SMEs are currently used to and this might involve significant working capital and complex logistics capabilities.

Rajesh Sawhney, founder of GSF Accelerator & Superangels, says he would like to see Power2SME applying technology intensively in its business model.
He adds operating leverage has to be expanded as the business expands.
If the expansion is people-dependent, it might erode operating leverage. For instance, Google offers services to SMEs through its SME partner programme, with the help of the software as a service model.
This means Google's entire earnings go into raising the profit, as technology helps it cut people costs.

The first-mover advantage has helped the portal gain momentum.
However, new strategies would have to be devised, as entrants into the space could adopt multiple strategies such as under-cutting on prices and selective customer targeting.
Power2SME would have to be innovative and move at a rapid pace, says Balachandran.

Narayan, however, says the lack of competition is a bigger challenge.
"Lone crusaders take more time to get noticed and make money. For example, Amazon.com took eight years, while e-commerce players now are taking much less time, as they need to work much harder to be noticed as the best," he says.

As of now, there is no other company in this space. Narayan feels the fact that he got the timing right and had experience was of immense help.

EXPERT TAKE: Navin Honagudi

Power2SME creates value in an extremely fragmented market, both on the supply and demand sides.
From a buyer's perspective, small B2B purchases, typically in the manufacturing space, have two large pain points.
First, they are not able to get a good price that a large buyer would typically get because of volumes.
Second, there are a lot of intermediaries/distributors between the buyer and seller and it is tough for the small buyer to reach the seller directly.
Given these points, there have been inefficiencies in the system which Power2SME aims to address.

Unlike most sectors, the key buying decision for players in this space is based on quality/composition of the material.
For instance, given stainless steel is provided by the top five-six market players, Power2SME can aggregate demand from small buyers, typically called a 'buying club'.

Then, Power2SME is able to approach large suppliers and provide better price to buyers by keeping a percentage of savings for themselves.
Power2SME is building scale through the use of technology and solving the problem by bringing buyers and sellers on a common platform.
However, the working capital requirement in this business could be high, considering buyers need a credit cycle; they would need a large sales force to seed the market and get demand-side SMEs to aggregate.

These concerns can be mitigated in two ways: First, over a period of time, the company could evolve into a marketplace or an exchange and, therefore, be capital-efficient.
Second, the company should get the backing of large financial institutions and keep the credit cycle money off its balance sheet.

Going forward, the company should clearly emerge as a top option for small SMEs to make purchase decisions.

Navin Honagudi,
investment director, Kae Capital