Some players have already raised prices; others in wait-and-watch mode.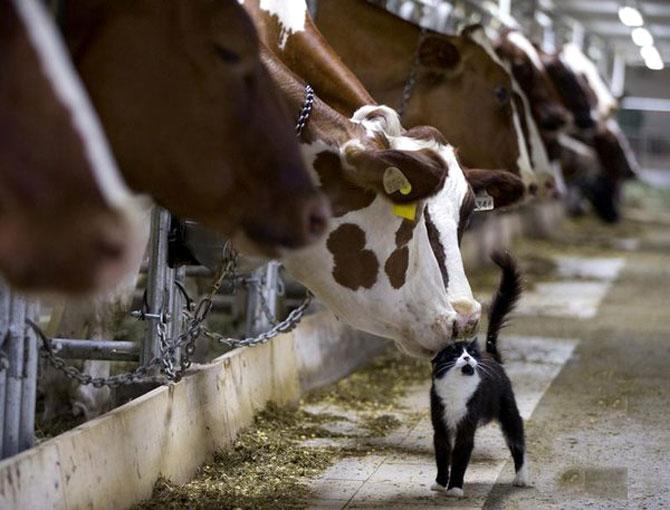 As the summer heat sets in, prices of milk are on the boil.
Arrivals are already slow in parts of the country, including Maharashtra (which is reeling under the impact of two consecutive years of drought), and farm gate prices have risen across the country.
While some players have already raised retail prices, others are in wait-and-watch mode.
The country's largest dairy cooperative, the Gujarat Cooperative Milk Marketing Federation, has already said that it would raise milk prices by Rs 2 per litre in March. The federation, however, is yet to decide the exact date from which this would be applicable.
This is because input costs for farmers, which includes fodder, cattle-feed etc, have gone up by 20-25 per cent in the past one year.
Shiva Mudgil, senior analyst, Rabobank said, "Increase in feed and fodder prices is also putting pressure on procurement prices. Fodder prices have increased by 15 per cent to 20 per cent in last one year. Cow raw milk prices have increased by more than 25 per cent from the levels seen same time last year. Raw milk prices have increased consistently over the last one year. Raw milk prices have increased from Rs 20-22 per litre early last year to Rs 25-26 per litre last summer. Prices have now moved upwards of Rs 28 per litre."
He added that raw milk prices are expected to increase further in the coming lean season.
As a result, cooperatives like the Punjab State Cooperative Milk Producers' Federation, which sells milk under the Verka brand, has already raised its procurement prices from Rs 600 per kg fat to Rs 620 per kg fat. The arrivals, however, are stable, and that is why Verka is yet to take a call on whether to raise prices.
S R Saini, additional managing director of Punjab State Cooperative Milk Producers' Federation said, "The arrivals are around 2.05 million litres per day (mlpd) and we expect it to pick up in the coming weeks and as such we have not taken a call on whether to raise prices at the moment."
GCMMF's member unions are paying around Rs 610 to 635 a kg fat to its farmers. Arrivals, however, are stable. In fact, they are 1-2 per cent higher compared to the same period last year, informed R S Sodhi, managing director, of GCMMF.
A Mother Dairy spokesperson said, "We are currently keeping a close watch on availability of raw milk and its price. This year there has been an increase in the price of raw milk since the onset of the flush season which is normally not the case. We do expect an upward correction in consumer price of milk; however, the timing of the same is something we are working upon."
He added, "Procurement prices have risen quite steeply as compared to last year. The current procurement prices have witnessed a jump of Rs 4.15 per kg versus the same period last year, and the full year (2016-17) prices of raw milk is estimated to be Rs 2.73 per kg over 15-16. The last milk price hike was undertaken in July 2016 and the increment in input costs had partially been passed on to the consumer."
Down South, too, private dairies like Hatsun Agro have raised farm gate prices by Rs 2 per litre about a month back and are now paying Rs 27 per litre to farmers. The company, however, has not raised its retail prices yet.
R G Chandramogan, managing director of Hatsun Agro, a leading private dairy in Tamil Nadu said that the supply of raw milk is steady. "It is around 7 mlpd in Tamil Nadu at the moment. March and April are the most lean season here, and things start improving from May onwards. Therefore, we have not yet decided on whether to raise prices," he said.
Chandramogan also highlighted that this year the inventory of skimmed milk powder (SMP) is far lesser with players, thus not allowing any buffer to keep the prices under check. Last year, on account of weak international demand and practically no exports, there was huge inventory built up in the country, which kept milk prices stable.
Sodhi seemed to agree. "There is neither a surplus nor a shortage of SMP in the domestic market at the moment. There is an estimated inventory of 125,000 tonnes of SMP in the country at the moment," he explained.
Arrivals, however, have fallen by around 15-20 per cent in Maharashtra where private dairies have already raised prices.
Devendra Shah, chairman and managing director of Parag Milk Foods said that they have already implemented a price hike in the range of Rs 3 per litre around a month back.
Maharashtra-based Mahanand Dairy has seen its procurement fall from 10 mlpd to 8 mlpd in the recent months. The drought in the past two years has reduced the herd size in Maharashtra and this has had an impact in milk production in the state.