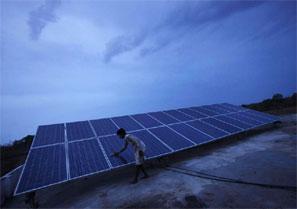 State-run NTPC, the biggest power producer in India, said it was preparing to start commercial operations at three new solar power plants, doubling its capacity from solar energy sources.
NTPC has vowed to raise the amount of energy it generates from renewable resources as it aims to diversify away from conventional fuels including coal because of insufficient domestic supplies, which have forced it to buy costly imports.
The three new plants total 45 megawatts and bring NTPC's renewable energy capacity to 75 MW, the company said in a regulatory statement on Monday.
But non-conventional energy projects account for a tiny fraction of NTPC's total commercial capacity of 41,859 MW.
Separately, NTPC said it had signed a memorandum of understanding with the Ministry of Power with a pledge to try and add 2,023 MW of capacity in 2014-2015.