In a move that could resolve a long-standing dispute between the top domestic bourses, the National Stock Exchange (NSE) has relaxed restrictions on algorithm or software-based trading.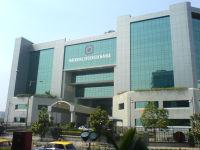 Algorithm trades generated through the use of NSE's co-location facility can now also be executed on the Bombay Stock Exchange (BSE).

BSE's business was hurt as NSE blocked the flow of orders generated using its co-location facility to other exchanges, purportedly on security-related issues. The dispute between both the exchanges had reached Sebi and the finance ministry.

In a revised circular issued by NSE with regard to co-location services on April 21, the exchange dropped the clause that the "co-location facility shall be used only for direct market access and algo trading on NSE." Following this move, trading volumes are likely to get a boost on BSE.

Co-location is like proximity hosting, except that the exchange hosts the subscriber's server in its data centre and helps in the faster movement of data and execution of trades.

The broker with his server next to the exchange engine gets a price feed updated every three-four miliseconds.

A broker at a remote location will get the same every 30-40 miliseconds. However, those wanting to execute cross-exchange trades from NSE's co-location facility will require prior approval from the exchange, an official said.

Algorithm trading - also known as automated trading - uses mathematical models to execute multiple trades.

The trader assigns a set of commands to the algo-engine which is connected to the trading terminal, and once those conditions are met, the trades are automatically executed without human intervention.

As per NSE, the exchange has allowed cross-exchange algo trading following the Securities and Exchange Board of India's decision to allow smart order routing (SOR).

SOR allows the trader to choose between exchanges and execute trades at the best price available. However, the trading member has to take prior approval from the exchange for SOR.

Algo trading through the co-location facility has gained popularity in the last couple of years. The estimated share of algo trading is 25 per cent in the overall market volumes and NSE has cornered the lion's share, being the market leader with average daily volumes of over Rs 1 lakh crore.

Of this, nearly Rs 90,000 crore (Rs 900 billion) worth of trades are in the equity derivative segment. BSE has seen only Rs 192 crore (Rs 1.92 billion) worth of derivative trades in the past three months.