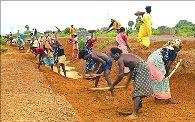 With UPA chairperson Sonia Gandhi pushing for increased wages for labourers, the government on Thursday came out with a new structure for payment of wages under Mahatma Gandhi National Rural Employment Guarantee Act (MGNREGA) that will be linked to inflation.
As per the revised structure, the wages under MNREGA will go up between 17 to 30 per cent on the base of Rs 100 for the present, a move that will benefit five crore (50 million) people.
"The revised wages came into effect from January 1 keeping the index in Consumer Price Index (CPI) as the basis," Rural Development Minister C P Joshi said at a hurriedly-called press conference.
The government is ready to meet the additional expense of Rs 3,500 crore that would be incurred on account of the wage revision between January and March, he said. He said the wage revision was an outcome of detailed discussions between Gandhi and Prime Minister Manmohan Singh.
Insisting that there were no differences between Gandhi and Singh on the issue as reported in the media, Joshi said the NAC's recommendations have been considered before the government decided to come out with the wage revision.
The Rural Development Minister said the money that a labourer would earn after the wage revision was much more than what at least 20 states were paying as minimum wages Gandhi had written to the Prime Minister saying that the wages of labourers should be linked to CPI to ensure that they are protected against inflation.
She had said that the payment of minimum wages by the states as prescribed under the Minimum Wages Act should be ensured under MGNREGA.
In his response, Singh explained that the Minimum Wages Act and MNREGA were two separate dispensations, providing for different wages. Under the MGNREGA, a labourer is entitled to Rs 100 per day while under the Minimum Wages Act, the minimum wages are fixed by the states and these vary.
"Each year as per the indexing the wages will be enhanced. After every five years the base of Rs 100 will be revised based on recommendations of the Sen committee. This report is pending but we have still take this decision", the minister said.