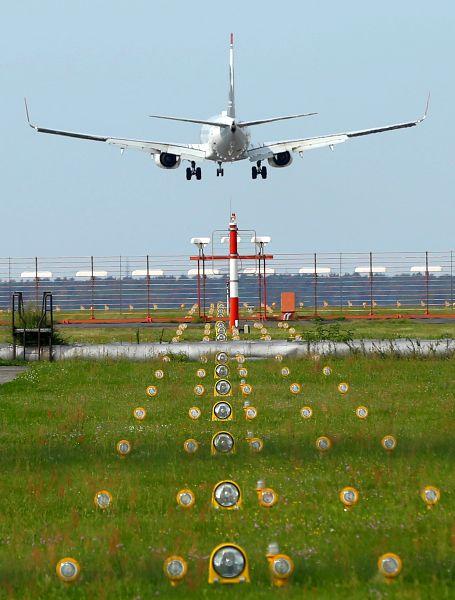 The limit of foreign direct investment in domestic carriers was raised from 49 per cent to 100 per cent to attract investments.
Foreign investors, barring overseas airlines, can now have up to 100 per cent stake in local carriers, the government said on Monday.
The government also eased the process for 100 per cent foreign direct investment in brownfield airport projects (or expansion of existing projects).
FDI in brownfield projects will now be through the automatic route and this can boost development of government and privately owned-airports.
The limit of foreign direct investment in domestic carriers was raised from 49 per cent to 100 per cent to attract investments.
The announcement, coming a week after the national civil aviation policy was unveiled, aims to make flying affordable by attracting more players.
But the note came with a rider -- the cap on investment by a foreign airline in an Indian carrier remained at 49 per cent.
"Foreign airlines would continue to be allowed to invest in capital of Indian companies operating scheduled and non-scheduled air transport services up to the limit of 49 of their paid-up capital," said a statement from the government.
This ruled out the possibility of, say, Singapore Airlines, Air Asia Bhd or Etihad assuming controlling stakes in their Indian arms or ventures.
The relaxation of rules in 2012 saw Etihad, AirAsia and Singapore Airlines invest in India.
At present Etihad owns 24 per cent in Jet Airways while AirAsia and Singapore Airlines own 49 per cent in AirAsia India and Vistara respectively.
"We are happy with the partnership that we have with Tata Sons and at this point there are no plans for changes to our 49 per cent ownership of Vistara," a Singapore Airlines spokesperson said.
"We value our strategic partnership with Jet Airways and will carefully examine the government decision made on a revision of the FDI rules in the civil aviation sector," Etihad Airways said in a statement.
In a television interview AirAsia's group chief executive officer Tony Fernandes termed the modification in FDI norms as progressive and said AirAsia would like to increase its stake in its Indian airline if rules permit it.
However aviation experts were cautious in welcoming the policy.
Experts said the risks associated with the Indian aviation sector would keep investors away from airline stocks.
"While the increase in FDI for aviation is welcome as it will allow flexibility, we are unlikely to see investors suddenly rushing to invest in airlines just because the cap of 49 per cent has been removed," said Peeyush Naidu, partner, Deloitte India.
"Also, remember that investment by foreign airlines is still capped at 49 per cent -- so it remains to be seen whether other investors such as private equities and the likes would have the risk appetite to make such investments."
Foreign institutional stake in Indian carriers is still low and remains in the single-digit zone despite the sector growing at 20 per cent, primarily due to low crude oil price.
Stakes of foreign institutional investors in the three listed Indian airlines of Indigo, Jet Airways and Spice Jet stood at 6.06, 4.61 and 3.03 per cent, respectively.
With non-airline investors now being allowed to own 100 per cent in an airline, some have said that foreign airlines might exercise the option of forming a joint venture to set up an airline.
"A foreign airline can join hands with its sovereign fund or private investors and set up a 100 per cent foreign-owned airline in India," said Amber Dubey, partner and India head of aerospace and defence at KPMG.
While the government relaxed the FDI norms it has not clarified on whether it is amending the rule pertaining to ownership and control of airline by Indians.
The image is used for representational purpose only. Photograph: Sean Gallup/Getty Images