With price fall likely to continue in 2015, fall in investment demand would offset rise in purchase of jewellery, ensuring only moderate overall rise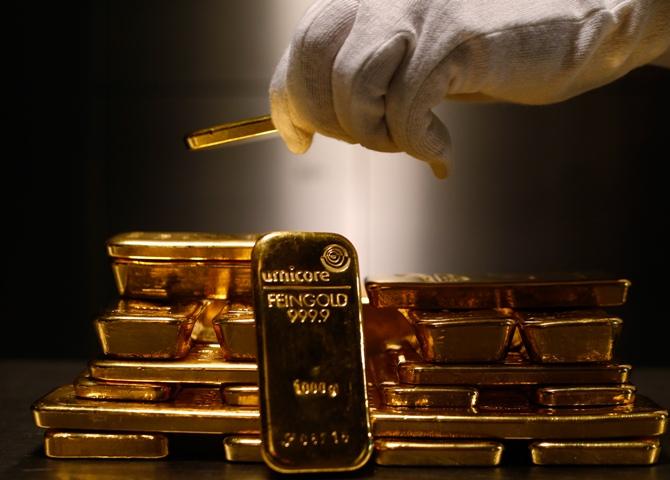 Image: Gold bars are stacked in the safe deposit boxes room of the Pro Aurum gold house in Munich. Photograph: Michael Dalder/Reuters

India's gold demand might, it is believed, rise by no more than three per cent in 2015 over this year. Data compiled by rating agency ICRA forecasts the demand at 850 tonnes, compared to the 825 tonnes estimated in 2014.
The World Gold Council, which represents the mining industry, puts India's demand between 850 and 950 tonnes in 2014.
Easing import curbs, the government early this month withdrew the 16-month-old '80:20' scheme, under which at least a fifth of any import consignment had to be supplied to jewellery exporters.
"India's gold demand will not change much despite the government's decision to scrap 80:20.
Only the supply mode will change. The quantity earlier imported through smuggling would come through official channels," said Somasundaram P R, the WGC's managing director (MD), India.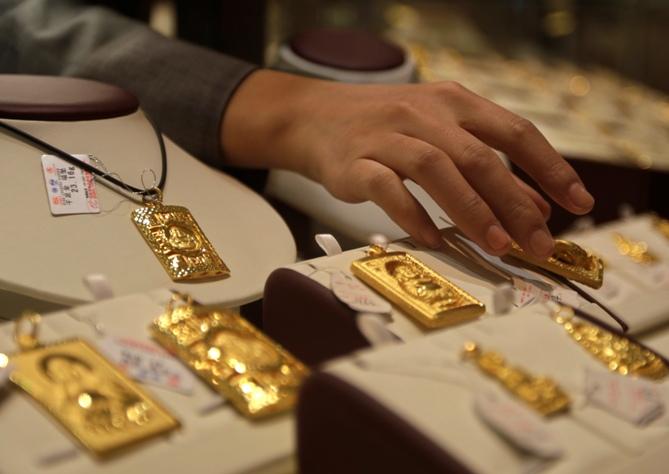 Image: A sales assistant puts back a gold Buddha-shaped pendant after showing to a customer at Caibai Ornaments store in Beijing. Photograph: Petar Kujundzic/Reuters

Around a fourth of India's demand is estimated to have been met through "unofficial channels" in 2014.
Import of the yellow metal is likely to rise 15 per cent to 850 tonnes in 2015, as compared to the 2014 estimate of 740 tonnes.
"Jewellery demand will remain up as consumers need to purchase ornaments for weddings and other occasions, while investment demand will remain suppressed. Who will buy gold for investment in a falling market?" asked Rajan Venkatesh, MD (India Bullion), ScotiaMocatta, a part of Scotiabank Global Banking and Markets.
Gold investment demand is expected to decline to 170 tonnes in 2015 from the 190 tonnes estimated in 2014.
This is likely to be matched by a proportionate increase in demand from the jewellery sector.
ICRA believes the latter demand will rise to 680 tonnes in 2015 as against 635 tonnes in 2014.
"With the liberalisation in import policy, the premium on gold will decline to a normal level of $1-2 an ounce from the existing $10-12 an oz.
Overall gold demand in 2015 will depend upon the returns offered by alternative sources of investments. Jewellery demand will continue to remain up," said Venkatesh.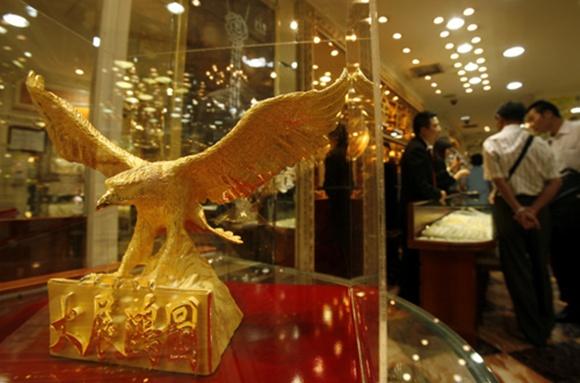 Image: A gold eagle. Photograph: Reuters

"The relaxation in gold import restrictions is expected to provide a fillip to the jewellery industry, which has been recording lower than expected volumes (up a modest five per cent in January–September).
"The improvement in availability, coupled with re-introduction of low cost gold metal loans and likely stabilisation of gold prices at lower levels, is expected to drive volume growth for jewellers over the medium term," said Anjan Deb Ghosh, an analyst with ICRA.
Gold has seen a marginally negative return in dollar terms this year.
Its price was $1,196 an oz on Monday, against $1,201 an oz on January 1. It was a steeper decline in rupees terms, of nine per cent, at Rs 26,500 per 10g on Friday versus Rs 29,134 per 10g early this year.
The year 2013 also saw a negative return from gold. In dollar terms, it was down 28 per cent, closing at $1,206 an oz. In rupee terms, 2013 saw a four per cent decline, with a year-end price of Rs 29,390 per 10g.