'The government is abdicating its responsibility on healthcare'
'Just to start this scheme, it will take a minimum till October 2018 and elections are coming in 2019, so before that this can go into the dustbin.'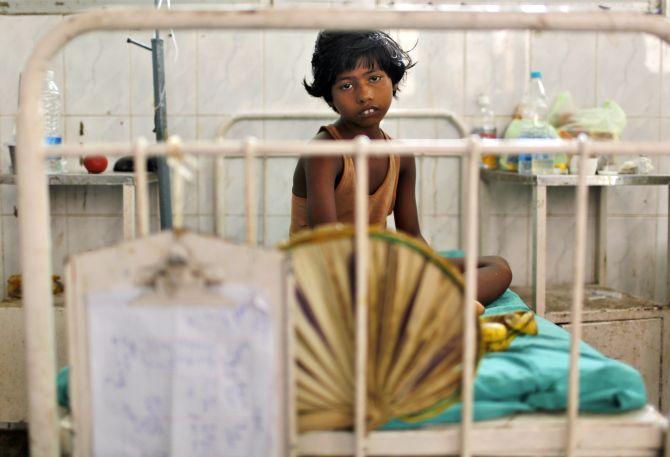 IMAGE: Under the National Health Protection Scheme, 100 million poor families will be covered, providing them with medical care. Photograph: Adnan Abidi/Reuters
Finance Minister Arun Jaitley, in 2018-2019 Budget on February 1, launched a new flagship programme -- the National Health Protection Scheme to cover 100 million poor families with secondary and tertiary hospitalisation cover of Rs 5 lakh (Rs 500,000) per family.
The new fund will cover 100 million poor and vulnerable families, comprising about 500 million Indians. It is considered the world's largest health cover and has promptly been dubbed ModiCare.
Dr Sunil Nandraj, former advisor to the Union health ministry, tells Rediff.com's Syed Firdaus Ashraf.
What is your reaction to the plan to provide Rs 5 lakh insurance cover for 500 million people?
Firstly, it is a windfall for insurance companies and private hospitals.
My second reaction is: How are we going to go about it and its implementation?
It is a welcome step, but the core of the matter lies in how it gets implemented.
Is it too ambitious?
It is very ambitious because we do not have sufficient capacity to implement a scheme of this nature. It is a huge scheme.
As it is we are struggling with the Rs 30,000 insurance coverage under the Rashtriya Swasthya Bima Yojana.
And now we are jumping to 10 crore (100 million) families -- that is no joke.
We also do not have sufficient information in terms of its mechanism and in terms of its financing and service delivery and also information technology which is a very crucial part.
How many people were covered under the Rashtriya Swasthya Bima Yojana?
In the RSBY there were 3,63,32,626 (people) and now the Modi government has brought up this figure to 50 crore (500 million). It is a huge jump from 3 crore (30 million) plus people to 50 crore people.
The budgetary allocation for health was increased from Rs 50,079.6 crore (Rs 500.796 billion) in 2017-2018 to Rs 52,800 crore (Rs 528 billion) in 2018-2019.
Is it enough to cover this new scheme?
Who will pay the premium and where will the funds for this scheme come from?
It is very clear it will come from this consolidated fund of Rs 2,000 crore (Rs 20 billion) from the Budget.
And it is very clear that the money will come from National Health Mission Budget which has been cut down.
(The National Health Mission is one of the world's largest health programmes. The backbone of public services in India, it provides free drugs and immunisation services to millions of rural poor.)
Is it possible to provide free health insurance for 50 crore people?
It is possible; but there is a lot of ground work that has to be done.
There are three things that need to be looked into -- accountability, transparency and prices. However, these three factors don't exist in private hospitals.
Like in Mumbai if there is Rs 5 lakh coverage, you know what they do in hospitals. So just imagine what will happen in Uttar Pradesh and Bihar.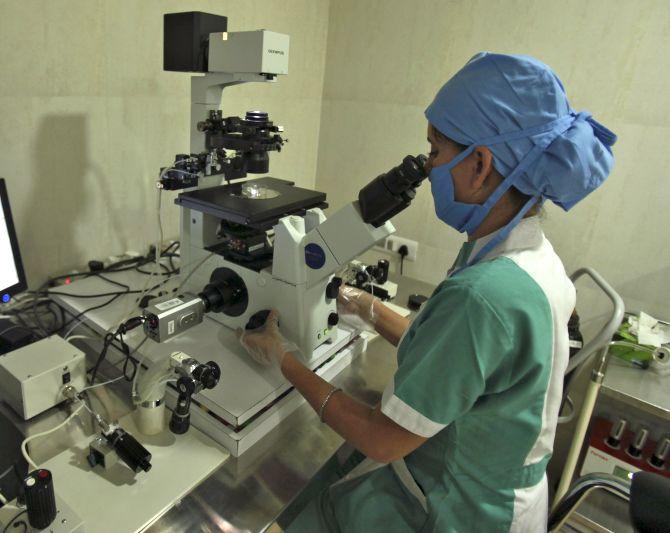 IMAGE: The Union government has allotted Rs 12 billion (Rs 1,200 crore) in Budget 2018-2019 for its flagship programme.
The Budget also provides for the establishment of 150,000 health and wellness centres under the Ayushman Bharat programme, which will provide comprehensive healthcare, including for non-communicable diseases and maternal and child health services.
Photograph: Ajay Verma/Reuters
What do you think will happen?
In Maharashtra, the health sector regulation is very bad.
You have the 1949 Bombay Nursing Home Registration Act which does not lay down minimal standards.
Are you going to empanel private hospitals which do not have minimum standards as they are run out of flats and apartments where kitchens are converted into operation theatres?
Are you going to empanel such hospitals?
In Maharashtra, anybody can start a laboratory without a licence whereas you need licences for a paan-bidi shop and a beauty parlour.
So all these diagnostic centres are not regulated and they do not even have a licence.
So what will happen is that people will say here is Rs 5 lakh, do what you want.
Are you saying that there will be scope for scams and corruption?
Yes. Several scams can definitely take place. And therefore, I say some kind of regulation has to be there.
In Kerala, where I am an advisor to the government, a regulation bill was passed on February 1 (the Kerala Clinical Establishments (Registration and Regulation) Bill, 2017), but no such regulation exists in states like Maharashtra.
Some people say only insurance companies will benefit and not the common man.
Of course, because premiums will definitely jump as so many people will be coming under coverage.
Already, insurance companies stocks have gone up.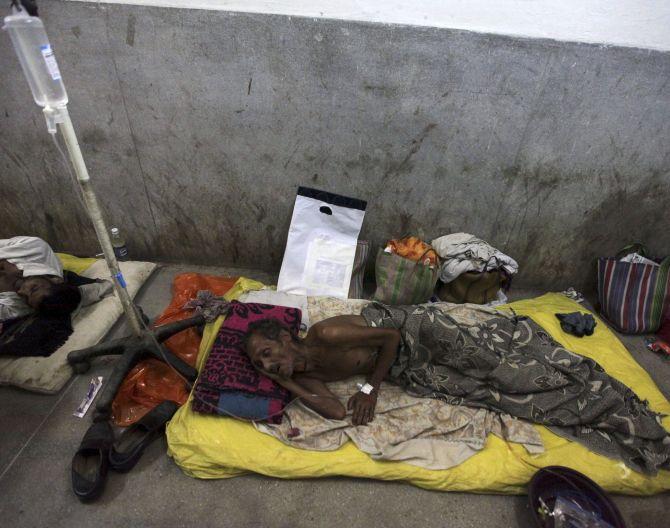 IMAGE: The conditions of government-run hospitals remains pitiable with shabby rooms and poor resources. Photograph: Rupak De Chowdhuri/Reuters
Critics draw parallels between this bill and the farm insurance bill.
How insurance companies benefit from the farm insurance bill while farmers are being neglected.
That is possible if the systems are not in place.
If regulatory systems and monitoring systems are not in place, then the common man will not benefit.
This bill has been dubbed Modicare, on the lines of America's Obamacare.
No way. Modicare is not the same as Obamacare.
The government has not worked out the details. Just to start this scheme, it will take a minimum till October 2018 and elections are coming in 2019, so before that this can go into the dustbin.
Government hospitals are in a bad shape.
There are 300 government hospitals which are going to be handed over to private entities in Maharashtra as part of public-private enterprise.
Public-private enterprises have never given good results, but they are still going ahead with it.
The government is not putting money in the public sector (hospitals) to strengthen it.
The government is abdicating its responsibility on healthcare.
They are giving it to private hospitals or NGOs to do their job of running hospitals which they should (ideally) do.
Politicians and bureaucrats never seem to get admitted to government hospitals. Is it the reason why our government hospitals are in a state of neglect?
Why should they go to government hospitals? They are in a bad state.
It is the poor people who are getting whacked in public hospitals.
The rich and elite will go to the best. These hospitals are in such a bad state even activists don't go to government hospitals.
No one is interested in going there.
Will this health insurance scheme percolate down to the poor?
I am not sure. In Kerala, it is helping because a majority of insurance is going to the public sector because here there are good public sector hospitals.
But in other states they are not in a good condition.