Raghuram Rajan said the head of the central bank should have a fixed tenure of more than three years as the current term was too short.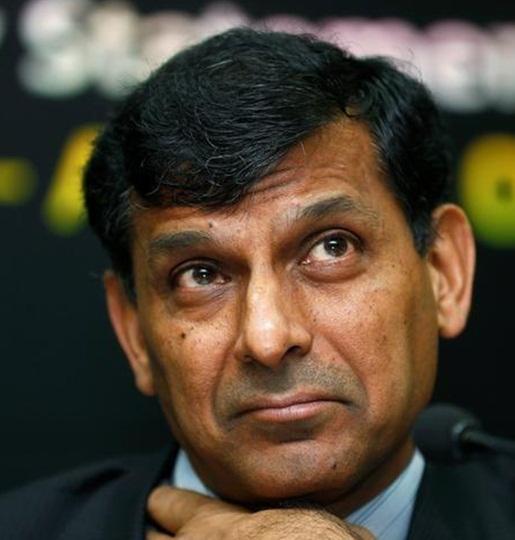 IMAGE: RBI governor needs a longer tenure, says Raghuram Rajan. Photograph: Danish Siddiqui/Reuters
Raghuram Rajan, the outgoing governor of the Reserve Bank of India (RBI), has defended his stance on speaking on issues outside the purview of central banking, which led to controversies.
"In this function you have the duty to educate… a lot of people look up to you. You have a sense of responsibility. When you are talking, to your mind it is a legitimate duty," Rajan said in an interview, adding, "I have absolutely no regret."
Rajan, who demits office on Sunday, was being interviewed by veteran journalist Karan Thapar on his show 'To the Point' on Headlines Today.
Harping particularly on his "intolerance" remark, Rajan said the speech was given at IIT-Delhi to young minds and there was an effort to educate them to be good citizens.
A lecture on India's ancient culture of tolerance was the need that time as the environment in the country was discussing tolerance-intolerance.
Rajan seized on the topic of the time and was completely apolitical about it. "It was a plea to continue with our tradition."
On the tenure of the RBI governor, Rajan said the head of the central bank should have a fixed tenure of more than three years as the current term was "too short", Rajan said.
"Longer term would certainly protect them (RBI governors) from taking short-sighted decisions. Three years may be too short, eight years may be too long," he said.
The correct number should be somewhere in between, as followed by many other global central banks, he said.
Rajan said he came with a definitive plan knowing that he had a three-year mandate and that 95 per cent of his agenda had been fulfilled.
The rest are a work in progress and a never-ending process in some sense.
"We created a platform and we need to put more buildings on them. In some sense, it is a never-ending job. I started with a plan, to my mind, we have completed 95 per cent of it," Rajan said.
His three big achievements at RBI has been building a credible inflation fighting plan, making borrowers pay up and establishing the way payments are done in the country.
With the launch of the unified payments interface, customers can transact without disclosing account information in real time.
Overall, Rajan said he felt "fulfilled" in his job as RBI governor.
And he had plans to return to academia as too long an absence from the academic world renders one incapable of doing serious research work.
"I saw it as a three-year job. I had to go back," Rajan said, while answering whether he would have wanted an extension.
The governor said he wasn't averse to an extension. "We started the dialogue, but at some point we realised that there's no point in pursuing it. Everything comes to an end and you have to move on," Rajan said.
The outgoing governor staunchly defended his stance on not cutting rates further as the rising inflation left no room for the central bank to lower rates.
However, he expects the August number to be below 6 per cent, against 6.17 per cent for July, which clearly was above RBI's comfort zone.
Lowering rates at a time when inflation was getting high would have hurt the credibility of the new inflation targeting measures of the central bank, he said.
"You cannot respond to the clamour of the moment, because it is very short-sighted," Rajan said, adding the same people who want the central bank to lower rates are against banks cleaning up their books, without realising the two are interlinked.
Rajan said banks' inability to lower rates was a kind of "Catch-22 situation" as it was difficult to lower rates at a time when economic growth was tepid.
Besides, some banks did not want to expand their balance sheets and therefore, cutting rates and getting more business did not entice them enough to pass on the policy rate cuts.
On the new monetary policy committee, Rajan said the government could any day choose to adjust the tolerance band for inflation (which currently is at two per cent either side around the central point of four per cent of retail inflation).
"If the government thinks the target is too tight, they have the opportunity to revise the band," Rajan said, adding, but as long as the target is set, the government cannot demand to lower interest rate that would violate the fixed band of inflation target.