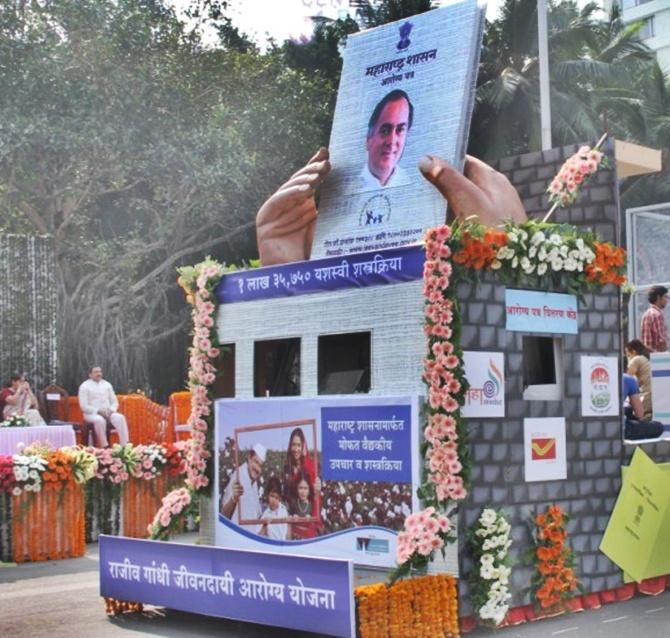 Official data show as of 2012, of the 49 schemes and institutes named after eminent personalities, 16 were after former prime minister Rajiv Gandhi, five after Indira Gandhi, and two after Jawaharlal Nehru.
The Prime Minister's Office is said to have asked all central ministries and departments to suggest names of eminent freedom fighters, social reformers and political leaders from across the country after whom central schemes and programmes could be named.

Suggestions have also been asked from Bharatiya Janata Party (BJP)'s members of Parliament (MP).
The objective, said officials and BJP leaders, is to highlight the contribution of prominent personalities to India's political and social life in contemporary times, rather than confining the names of central schemes to personalities from a particular region, political party, or family.
A BJP leader, who didn't wish to be named, said it would be simplistic to interpret the move as something that emanates from the party and its ideological mentor, Rashtriya Swayamsevak Sangh (RSS)'s criticism that most Central schemes and programmes had been named after members of the Nehru-Gandhi family.

"The effort is to reflect the diverse political and social movements that have contributed to the making of modern India. Why should schemes or programmes not be named after freedom fighters from the north-eastern states, south India, Bundelkhand or even cities such as Nagpur?" the BJP office-bearer asked.
The RSS headquarters is located at Nagpur.
Is the criticism that most central schemes are named after the Nehru-Gandhis valid?

Official data show as of 2012, of the 49 schemes and institutes named after eminent personalities, 16 were after former prime minister Rajiv Gandhi, five after Indira Gandhi, and two after Jawaharlal Nehru.

This is without counting institutes such as the Nehru Memorial Museum and Library. By comparison, even the father of the nation, Mahatma Gandhi, fares poorly, with only two schemes named after him.

Schemes or institutes named outside of the Nehru-Gandhi clan have been few and far between - such as two schemes named after Jan Sangh founder and BJP icon Deen Dayal Upadhyay. Most schemes named outside of Nehru-Gandhi family were started during the tenure of non-Congress governments at the Centre, particularly the previous National Democratic Alliance government under A B Vajpayee.
Officials said the new schemes under the current government could be announced during the birth anniversaries of the personalities or on important dates associated with their lives. The first such programme on rural skilling could be announced during the birth anniversary of Deen Dayal Upadhyay, which falls on September 25. It is likely to be called the Grameen Kaushal Yojana (rural skilling programme).

On Mahatma Gandhi's birth anniversary, which falls on October 2, the Swatch Bharat Abhiyan will be launched. The government might also announce the launch of an institute to teach humanities, on the birth anniversary of social activist Jayaprakash Narayan, on October 11. Also in the offing is a teachers' training institute on the birth anniversary of Pandit Madan Mohan Malviya, which falls on December 25.
"Many of these schemes and institutes were announced in the first Budget of the new government and a suitable date is being scouted for their formal launch," said an official.
However, there might be some exceptions to this rule. The Centre is unlikely to wait until the birth or death anniversary of BJP icon Syama Prasad Mookerjee to launch the planned rurban mission, to be named after him. Mookerjee's birth and death anniversaries fall on July 6 and June 23, respectively. "Any other suitable date related to the personality could be fixed," said the official.
According to officials, the names of some marquee schemes such as the Jawaharlal Nehru National Urban Renewal Mission or the Indira Awas Yojana might not be changed overnight, but the government is scouting for new names for projects such as 100 smart cities. The government has already started inviting suggestions for designing a new logo for the Dr Ambedkar Foundation. The foundation has been entrusted with the responsibility of managing, administering, and carrying on the important and long-term programmes identified during the centenary celebrations of B R Ambedkar.
Prime Minister Narendra Modi, during his election campaign, used to make it a point to speak about freedom fighters and social reformers of a particular city or state wherever he held a public rally. For instance, his rally in Bundelkhand had a portrait of Rani Lakshmibai, while in eastern Uttar Pradesh it was the portrait of Chandra Shekhar Azad. Modi has continued this effort to bring names of such leaders to the forefront of national discourse in the first 100 days of his government.
Earlier this month, Modi had addressed an event to mark the birth anniversary of Kerala's Dalit social reformer Ayyankali and Sri Narayana Guru, the leader of a socially-backward community. This effort to commemorate leaders from southern India, the northeast or those from backward or Dalit communities supplements BJP making an attempt at reaching out to regions and communities where it has traditionally had weak support base.
Other leaders, apart from Sardar Patel, who are likely to be similarly remembered by naming schemes after them include freedom fighters Bal Gangadhar Tilak, spiritualist Aurobindo, first President Rajendra Prasad, second President S Radhakrishnan, etc. "It isn't just ministers and MPs, we would be happy to accept suggestions from the wider public on website MyGov.in," said the BJP leader cited above.