Raghuram Rajan took over as RBI Governor in September 2013.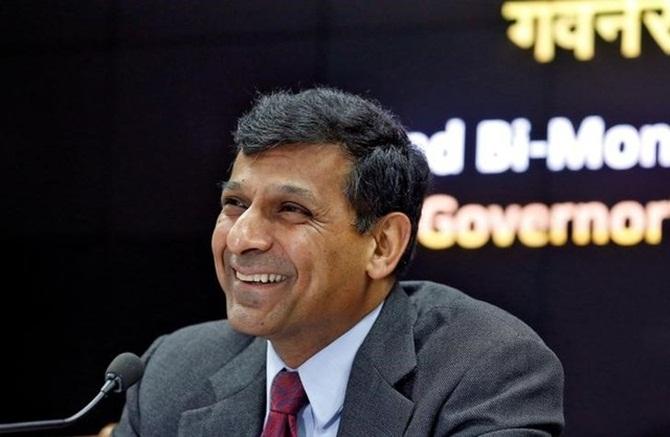 Image: RBI governor Raghuram Rajan attends a news conference after their bimonthly monetary policy review in Mumbai. Photograph: Danish Siddiqui/Reuters
Keeping the suspense alive, RBI Governor Raghuram Rajan on Tuesday said he will not be "cruel" to spoil the speculation over his extension, a decision on which is to be taken after consultation between the government and the incumbent.
Anticipating a question on extension of his tenure after the current three year term comes to an end on September 4, Rajan said he has come with a prepared statement on the issue to the press conference on the second bi-monthly monetary policy for 2016-17.
"Seriously, in such cases a decision is reached after discussion between government and the incumbent. I am sure you will know when there is news," he said.
Refusing to reveal his mind on a second term, Rajan said he was "personally intrigued by all the letters I am supposed to have written" on the issue.
There have been reports ranging from his desire not to seek a second term to his writing to policymakers to put an end to being dragged in the political slug fest over the issue.
"As far as the question of my continuing in the position after September 4 goes, it would be cruel of me to spoil the fun that press is having with all its speculation," Rajan said.
He said he can only point to the statements made by Prime Minister Narendra Modi as well as Finance Minister Arun Jaitley on the issue.
Jaitley had in an interview to PTI last week denounced any personal attack on Rajan saying the debate should be about the issues and policies, and not about the personalities.
"I do not approve of any of these comments being made by anyone as far as the personality is concerned, because the RBI and its Governor is an important institution in Indian economy," Jaitley had said.
Rajan has been facing a continuous attack by BJP MP Subramanian Swamy and by some other sections, who have demanded termination of his service or at least denial of any extension while alleging the RBI Governor has failed to lower interest rates and boost the economy.
Swamy had written two letters within a fortnight to Modi in this regard.
Modi however said in an interview to WSJ: "I don't think this administrative subject can be an issue for the media. And that issue is only in September, not now."
A former chief economist of the International Monetary Fund (IMF), Rajan is currently on leave from the Chicago Booth School of Business. He was appointed RBI Governor by the previous UPA government.
If denied an extension, he will be the first RBI Governor since 1992 to not have a five-year term.
His predecessors -- D Subbarao (2008-2013), Y V Reddy (2003-2008), Bimal Jalan (1997-2003) and C Rangarajan (1992-1997) -- had five-year terms.
Rajan, who after taking over in September 2013 raised the short-term lending rate from 7.25 per cent to 8 per cent and retained the high rates throughout 2014, began the process of lowering the rates in January 2015. He has since then cut them by 1.50 per cent to 6.50 per cent.