Central probe agencies, the Central Bureau of Investigation and the Enforcement Directorate, on Friday continued their crackdown in a Rs 11,400-crore bank fraud case involving billionaire jewellery designer Nirav Modi and family, registering a fresh case against his maternal uncle Mehul Choksi, and claimed to have seized ornaments worth Rs 549 crore during raids.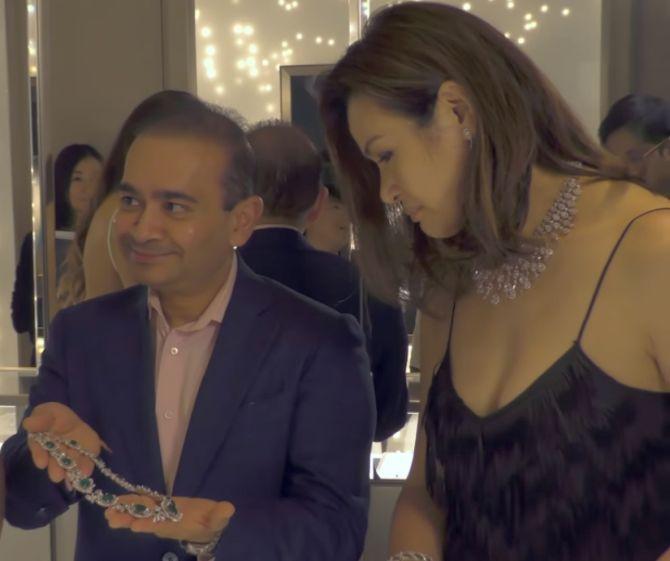 The CBI, immediately after registering the fresh FIR, carried out raids at 26 locations across six cities covering the premises of 18 Indian subsidiaries of Gitanjali Group owned by Choksi.
In a parallel action, the ED claimed to have seized precious stones worth Rs 549 crore, registered a fresh case under the stringent money laundering act against Choksi and others, and barred overseas outlets of Nirav Modi from carrying out any business.
The CBI, which formed a special team headed by a deputy inspector general, has registered the fresh FIR against Gitanjali Group promoter Mehul Choksi in connection with alleged fraud in the issuance of Letter of Understanding worth Rs 11,400 crore from state-run Punjab National Bank.
The CBI said that the new FIR alleges issuance of 143 LoUs worth over Rs 4,886 crore fraudulently to three companies of Choksi -- Gitanjali Gems, Nakshatra and Gili -- during the period 2017-18. An LoU is a letter of comfort issued by one bank to branches of other banks, based on which foreign branches offer credit to buyers.
The CBI also questioned four officials of Punjab National Bank -- Bechu Tiwari, Chief Manager posted at Nariman Point branch, Mumbai during February 2015-17; DGM Sanjay Kumar Prasad who was then AGM at Brady house branch during period 2016-17; Chief Manager of zonal audit office Mohinder Kumar Sharma, who was then concurrent auditor during Nov 2015-Janurary 17; and Manoj Kharat, then Single Window Operator during November 2014-Decemeber 2017, the officials said.
The ministry of external affairs has already suspended passports of Nirav Modi and Choksi for four weeks on the request of the Enforcement Directorate.
In its complaint, Punjab National Bank has alleged that 293 Letters of Understanding worth Rs 11,400 crore were fraudulently issued to the companies of Nirav Modi and Mehul Choksi from one its branches in Mumbai.
Expanding the ambit of the first FIR registered on January 31 against the billionaire diamond merchant and Choksi, the agency has included the amount of Rs 6,498 crore issued through 150 Letters of Understanding. The remaining Rs 4,886 crore issued through 143 LOUs will be part of probe under the new FIR registered on Friday.
According to the agency FIR registered on Friday, LoUs worth Rs 2,144 crore were issued in favour of Gitanjali Gems, Rs 566 crore in favour of Gili and Rs 321 crore in favour of Nakshatra, they said, adding that against these LoUs, Letters of Credit were issued to the three companies by overseas branches of Indian banks. Besides, Rs 575 crore of foreign letters of credit or FLCs were issued to Gitanjali gems, Rs 625 crore of FLCs to Gili and Rs 598 crore of FLCs to Nakshatra.
The accused in the new FIR include Choksi (Managing Director Gitanjali Gems), Gokulnath Shetty (retired DGM of PNB), Manoj Kharat (then single window officer of PNB), and companies -- Gitanjali Gems Ltd , Gili India Ltd, Nakshatra Brand Ltd, directors of the companies Krishnan Sangameshwaran, Nazura Yash Ajaney, Dinesh Gopaldas Bhatia, Aniyath Shivraman Nair and Dhanesh Vrajlal Sheth.
The officials also said the CBI approached the Interpol with a request for issuing 'Diffusion Notice' which was aimed at locating an individual.
Forty-six-year old Nirav Modi, who holds an Indian passport, left the country on January 1, while his brother Nishal, a Belgian citizen, departed from the country on same day. However, whether they travelled together has to be probed, they said.
Modi's wife Ami, a United States citizen, left on January 6 and his business Mehul Choksi left the country on January 4, the officials said.
The Enforcement Directorate, which on Thursday claimed to have seized precious stones to the tune of Rs 5,100 crore, on Friday claimed to have made further seizures of Rs 549 crore, besides registering a fresh money laundering case based on the new CBI FIR.
The agency, which comes under the ministry of finance, has directed Nirav Modi's outlets based in New York, London, Beijing and Macau not to transact any business till the probe on.
The ED has also summoned Nirav Modi and Choksi in connection with its money laundering probe. Modi and Choksi, who fled the country in the first week of January, have been summoned under the Prevention of Money Laundering Act and asked to appear before the agency within a week's time. The notices were handed over to the directors of the firms of the two businessmen as they were not in the country, the officials said.
While Modi runs a jewellery brand chain under his name, Choksi is the promoter of Gitanjali Gems.
I-T attaches 29 properties, 105 bank accounts of Nirav Modi
In further trouble for beleaguered jewellery designer, the Income Tax Department on Friday provisionally attached 29 properties and 105 bank accounts of the diamond merchant, his family and firms as part of its tax evasion probe.
The department also slapped the new anti-black money act against him for allegedly holding illegal assets abroad.
The asset is suspected to be in Singapore. The Black Money (Undisclosed Foreign Income and Assets) and Imposition of Tax Act, 2015Â deals with cases of overseas illegal assets, which till recently were probed under the Income Tax Act, 1961.
The new legislation has provisions for a steep 120 per cent tax and penalty on undisclosed foreign assets and income, besides carrying a jail term of up to 10 years.
The taxman also filed a chargesheet against Modi before a special court in Mumbai under sections 276 C (1) [wilful attempt to evade tax], 277 A (false statement in verification), 278 B (offences by companies) and 278 E (presumption as to culpable mental state) of the Income Tax Act, 1961.
The court will take up the case on February 27.
Tax sleuths also pasted attachment notices at immovable properties of Modi, his wife Ami and his firms located in Mumbai, Surat, Jaipur and Delhi.
In the Maharashtra capital, the properties that have been provisIonally attached pending assessment, include Modi's premises in the posh Peddar road area, Worli, Bandra, Lower Parel and Opera House. A total of 105 bank accounts of Modi, his family and companies have also been attached, they said.
"These attachments have been made keeping in view the huge demand which is likely to be raised in the assessment proceedings which are underway in the case of Nirav Modi, his family members and group concerns," an I-T report, accessed by PTI, said.