The loan on Sahara's three hotels -- Grosvenor House in the UK and the two prime hotels in New York -- from Bank of China was 'cross collateralised and cross guaranteed'.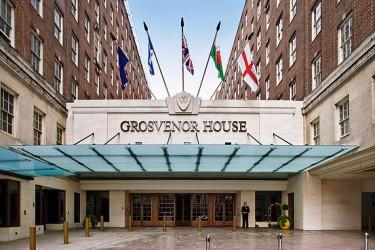 Sahara group on Wednesday rejected a new $1.3-billion offer from a group of investors for its three prized overseas hotels.
Sahara termed it a 'devious attempt' to lower the price and disturb the sentiment of other bidders making 'much higher' offers.
In a strongly worded reaction to the offer made by Jesdev Saggar-led 3 Associates, Sahara group said it was 'a malicious and non-serious act of some wrong people'.
"The said proposal is baseless," a Sahara spokesperson told PTI.
"It is a devious attempt to benchmark the price much lower than the actual market value of the properties in order to ruin the market and disturb the sentiment of the actual bidders who are bidding at market value which is much higher.
"Please note that it is a malicious and non-serious act of some wrong people."
Sahara, however, did not disclose any details of other offers it has got for the three hotels.
Asked for comments on Sahara's rejection, Saggar, managing director of 3 Associates, said: "We have followed the process and submitted in a compliant manner.
"If the bid is rejected then they should use the same process to communicate."
Earlier in the day, Saggar had said his proposal was a 'very compelling offer' and it was a long-term investment opportunity for them.
"This is a long-term investment opportunity for us. We have submitted a very compelling offer.
"It is now up to the Supreme Court and the Roy family," he had said.
The consortium of family office investors, comprising of 3 Associates and others from West Asia, has made the offer to acquire Sahara's majority stake in the three marquee hotel properties -- the famed Grosvenor House in London, Park Plaza and Dream Downtown hotels in New York.
Among others, the beleaguered Indian group was earlier said to be in talks with Qatar-based investors for a potential deal for the hotels.
As per the website of 3 Associates, its founders and Multi Family office network have completed over 314 million pounds worth transactions since 2014, including hotels and commercial offices in the UK, the United Arab Emirates and India.
It also claims to have "access to one of the largest pools of family office equity in West Asia".
Sahara group, whose chief Subrata Roy was in jail for over two years in connection with a long-running dispute with regulator Securities and Exchange Board of India and is currently out on parole, has been trying hard to raise funds including through refinancing of loans on its overseas hotels.
Image: Grosvenor House hotel in Central London. Photograph: Rediff Archives