In a major relief to cash-strapped Go First, the National Company Law Tribunal on Wednesday admitted its plea for voluntary insolvency resolution proceedings and imposed a moratorium on the airline's financial obligations that bars lessors from taking back aircraft.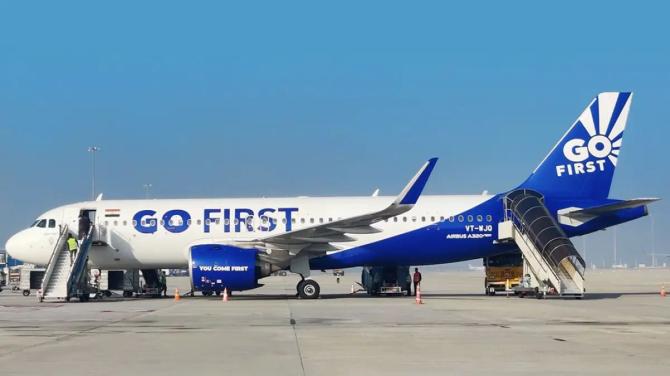 Besides, the Interim Resolution Professional (IRP) Abhilash Lal -- who will be in charge of the affairs of the airline as the board has been suspended -- has been directed not to retrench any employees.
Allowing the plea, a two-member NCLT bench said there is existence of unpaid debt and default committed by Go First above the limits under IBC.
It has placed on record the demand notices issued by the creditors, which is not even disputed by its representing lessors.
The tribunal's ruling, which was reserved on May 4, caps more than a week of uncertainty for the crisis-hit carrier, which has more than 7,000 employees on its rolls, and also comes against the backdrop of lessors moving to deregister at least 45 planes of the airline.
Hence, it has no other option but to admit the present application "under Section 10 of the Insolvency & Bankruptcy Code (IBC)", said the NCLT bench headed by Justice Ramlingam Sudhakar.
"Accordingly, the application of the corporate applicant (Go First) admitted," said a 41-page NCLT order.
With liabilities worth Rs 11,463 crore, the airline has sought voluntary insolvency resolution proceedings as well as an interim moratorium on its financial obligations under section 10 of IBC, which allows a company to approach NCLT for initiation of insolvency after default.
NCLT has also provided protection to the debt-ridden carrier by declaring a moratorium as per the provisions of IBC.
Following this moratorium, Go First is now protected from any suits or continuation of pending suits or proceedings against it, including the execution of any judgment, decree or order in any court of law, tribunal, or arbitration panel till the completion of the insolvency proceedings.
Moreover, it has also restrained on transfer, encumbrance, alienating, or disposing of its assets and any action to foreclose, recover or enforce any security interest created by it in respect of its property.
The insolvency tribunal has appointed Abhilash Lal as Interim Resolution Professional (IRP) as suggested by Go First and "directed to take charge of the CIRP of the corporate debtor with immediate effect".
"The IRP will ensure to take all necessary steps including the execution of the arbitral award to keep the corporate debtor as a going concern and run its services smoothly," it said.
Besides, NCLT also directed IRP to ensure that retrenchment of employees is not resorted to as a matter of course.
"In any event, any such decision/event should be brought to the attention of this adjudicating authority," it said.
NCLT further ordered the suspended board of directors and ex-management of Go First to "extend all necessary support and cooperation to the IRP and his team in keeping Go First 'a going concern' and running its operations/services smoothly".
It also directed the suspended management "to deposit Rs 5 crore with the IRP to meet the immediate expenses".
"The amount, however, will be subject to adjustment by the committee of creditors as accounted for by Interim Resolution Professional and shall be paid back," it said.
The tribunal also rejected the opposition from the aircraft lessors of Go First, contending that before taking any decision on Go First's voluntary plea for insolvency, it is necessary that the notice be issued to the creditors giving them an opportunity to object it.
Several aircraft lessors, including SMBC Aviation Capital Ltd, Narmada Aviation Leasing, Yamuna Aviation Leasing, GAL MSN, and GY Aviation Lease, had opposed Go First plea and submitted that they wish to file an application under Section 65 of IBC, which deals with fraudulent or malicious initiation of proceedings.
NCLT said there is "no bar in entertaining/considering/adjudicating" a section 65 application after the initiation of the CIR process.
"Keeping in mind the urgency of the instant case, to protect and maximise the value of the assets in line with the objectives of IBC, employment involved, and the larger public interest, the judicial propriety demands, it will not be apt to wait for the filing of the Section 65 application.
"Hence, we would like to proceed ahead with the examination of the Section 10 application on merits," it said.
Go First had submitted that from 2022 onwards, it started defaulting toward payments to vendors and aircraft lessors, and received notices from the lessors seeking payment. It has been facing financial distress due to inherently defective engines supplied by Pratt & Whitney, it said.
"As a result of which the aircraft are grounded and could not be taken off.
"It was stated that nearly 34 per cent of aircraft were grounded in 2022," it said.
Section 12 (1) of the Insolvency and Bankruptcy Code (IBC) mandates a CIRP to be completed within a time frame of 180 days from the date of admission of the application.
However on the request of the RP, the NCLT can extend the date of admission of the application.
Also, the NCLT can extend the duration by another 90 days.
It should be mandatorily completed within 330 days, including any extension and and the time taken in legal proceedings.
Go First insolvency chronology
May 2 - Go First files for voluntary insolvency resolution proceedings, seeks interim moratorium on financial obligations; suspends all flights till May 5.
May 4 - Aviation regulator Directorate General of Civil Aviation (DGCA) issues show cause notice to Go First for sudden suspension of flights.
Go First suspends sale of tickets till May 15. National Company Law Tribunal (NCLT) reserves its order on Go First's petition.
May 5 - Go First cancels all flights till May 12.
May 8 - Go First requests NCLT to take an early decision on its petition. DGCA directs Go First to immediately stop sale of tickets till further orders.
May 9 - Go First says will respond to DGCA show cause notice in due course. Lessors seek deregistration of 45 Go First planes in last one week.
May 10 - NCLT admits Go First's petition for insolvency resolution proceedings; imposes moratorium on airline.