Thousands passengers who travel by air or rail were hit hard by the nationwide strike called by various trade unions in Delhi, when they found that there were no taxis and autos at the airport and Delhi railway stations.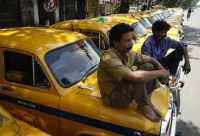 Krishan Gopal, a businessman, who landed in Delhi around 10 am had no clue that the taxis and autos would be off the roads on Tuesday. "I boarded early morning Shatabdi Express from Chandigarh to visit my ailing aunt. Whenever I come to Delhi I use a cab to finish my work in time and take the evening train back to Chandigarh. With taxis off the road I guess it would be difficult to board the evening train," he said.
When told he could use Delhi metro to reach to the nearest point of his destination, smile returned to his face.
Krishan Gopal could think of travelling by metro, but those who came with lot of luggage had a difficult time to find out alternative source of travel. Kumud Mohinder and Seema Kiran who travelled from Jammu to Delhi had a torrid time in hiring a private vehicle to reach their home in Paschim Vihar.
C Bert, a Belgian national, who returned to Delhi early in the morning after a series of Sitar concerts in Pune had to make frantic calls to a female journalist who is playing host to him to pick him up from Delhi airport.
"Well these demonstrations are part of one's life and you got to take them in your stride. This is not the first time I had to deal with a situation like that," Bert told rediff.com on the phone.
But the nationwide bandh did not have a major impact on the shopping malls and markets. Some of the markets were partially closed. "Though we have opened our shops but we would get affected by the bandh in the sense that customers would not be able to reach the markets particularly those who come for shopping and not just to have a look around and kill their time," said Manichand Jain who has a shop in Rajinder Nagar.
Banks, which form major chunk of trade union, were closed leaving the customers helpless. One of the major demands of the trade unions is to raise the minimum salary to Rs 10,000 per month.