South Mumbai's Bhendi Bazaar is all set for a makeover. The Saifeee Burhani Upliftment Trust (SBUT) is awaiting final clearances to kick-start construction of the most-talked about project, reports Shaheen Mansuri/Rediff.com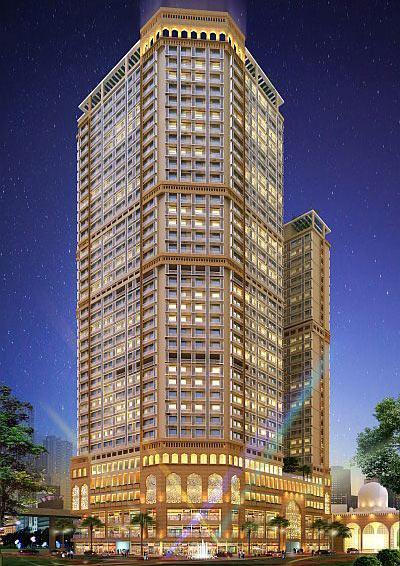 Image: A glimpse of Bhendi Bazaar after the redevelopment. Photograph: Courtesy, SBUT
Situated in the heart of south Mumbai, Bhendi Bazaar is all set to undergo a major transformation, though we will have to wait for around 5 years to see the complete makeover.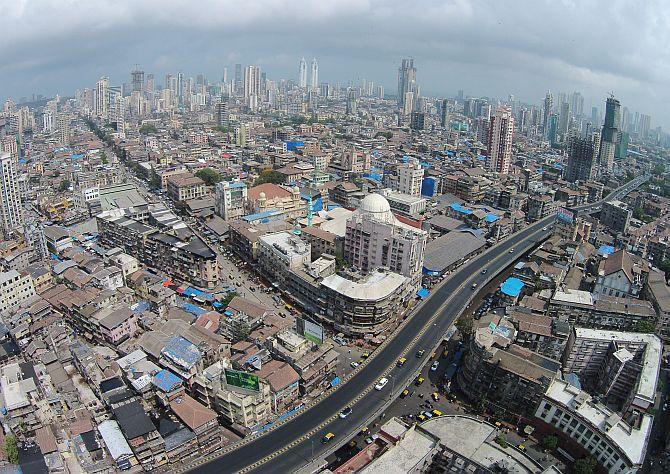 Image: An aerial view of Bhendi Bazaar. Photograph: Courtesy, Humayuun Peerzaada and the Saifee Burhani Upliftment Trust (SBUT).
The Dawoodi Bohra community's Saifee Burhani Upliftment Trust (SBUT) has taken over the cluster development of the area after the government announced the scheme in late 2008.
Initially, experts and consultants did not sound confident about the project actually taking off due to its complex nature.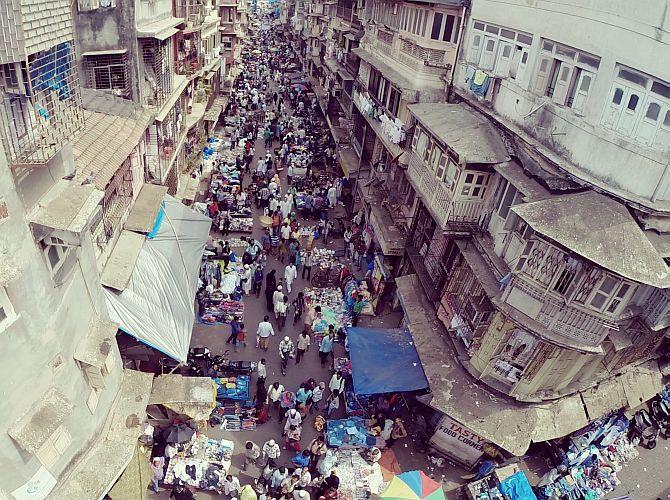 Image: A busy street in Bhendi Bazaar. Photograph: Courtesy, SBUT
The area is the most congested belt in South Mumbai with a string of old residential buildings along with commercial activities and it will be no exaggeration to say that traffic on this patch is horrific at any hour of the day.
Those staying in the area have always complained about politicians and the state government for having ignored the creaky civic infrastructure, traffic congestion and dilapidated residential buildings.
"It disheartening and unfair to not even have open spaces in and around the area", complained most families who have been staying at Bhendi Bazaar since generations.
However, things have started moving fast now.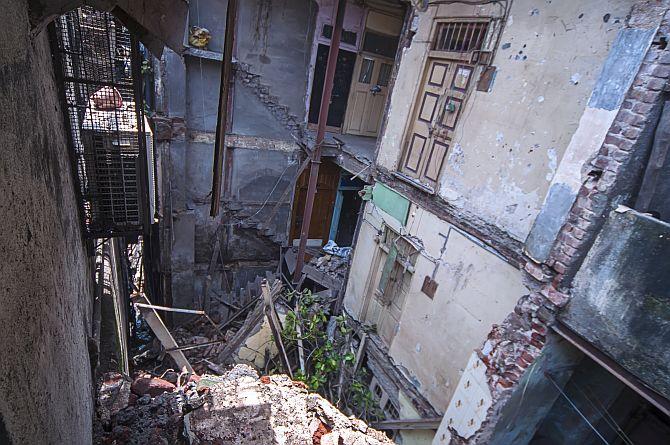 Image: Ayesha Building in Bhendi Bazaar which partially collapsed during 2014's monsoon season. Photograph: Courtesy, SBUT
The project is in the advance stage of getting final approvals to begin construction work.
More than 55 dilapidated buildings have been demolished so far and a few more such structures will be demolished soon.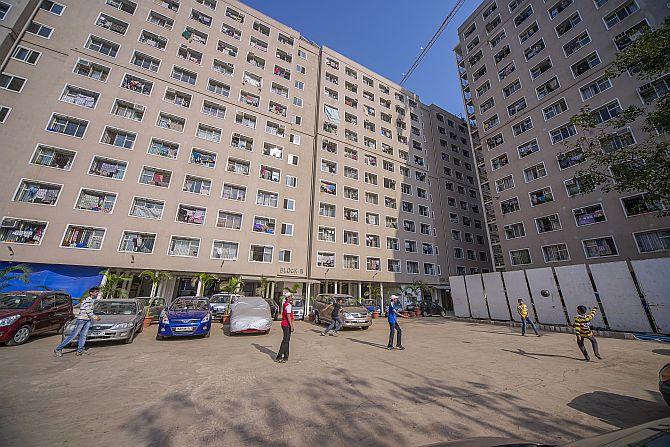 Image: Residential transit camp at Anjirwadi in Mazagaon. Photograph: Courtesy, SBUT
Over 1,600 families have been shifted to the residential transit homes in Anjirwadi and Ghodapdeo in Mazagaon and Sewri.
Around 80 per cent of the buildings have MHADA certification already.
The Ministry of Environment and Forests (MoEF) has also given the green clearance certificate for the project.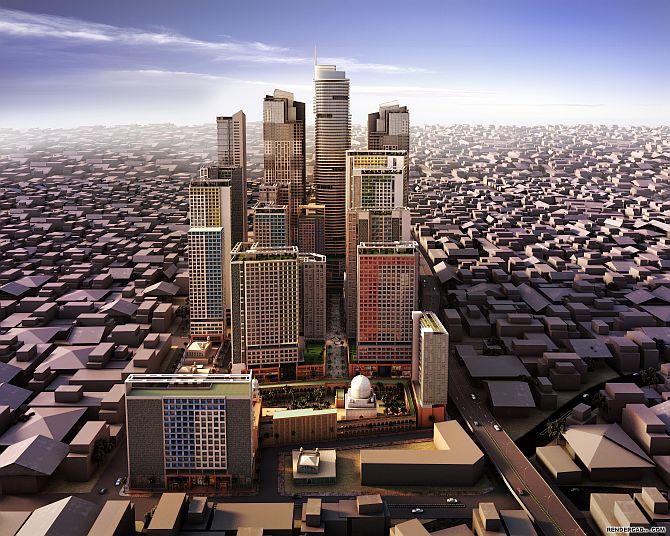 Image: Front view of Bhendi Bazaar after the makeover. Photograph: Courtesy, SBUT
Over 15 consultants and contractors including KPMG India, Deloitte, Perkins Eastman International (New York) among others are involved with the project.
Also, when the project has started moving in the right direction, the viewpoint of the masses and even housing experts (who were not so confident about the project seeing the light of the day) has eventually changed.
All are keen to see what Bhendi Bazaar would look like once the redevelopment is complete.
Before we go further, lets take a quick look at the fascinating history of Bhendi Bazaar and why the redevelopment holds significance.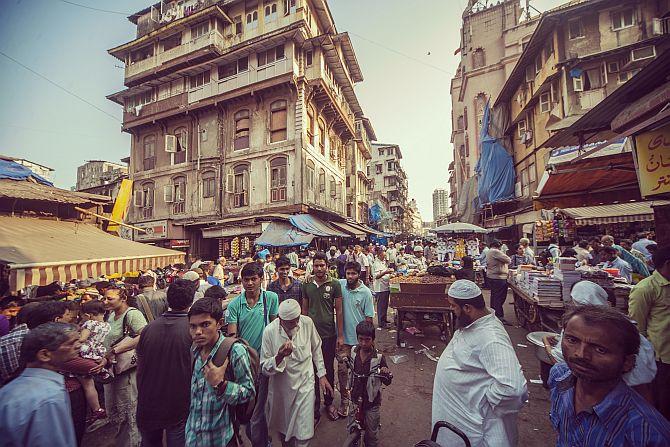 Image: Old buildings overlooking the Friday flee market or Jumma Bazaar where one can buy antique things at rock-botttom prices. Photograph: Courtesy, SBUT
Down memory lane
Bhendi Bazaar sits in the heart of South Mumbai and its history dates back to the 17th century and early 1800 when the East India Company (EIC) developed the then Bombay port (today it is popular as Dockyard).
The EIC encouraged communities from elsewhere to settle down in the area so that they could work at the port for them.
The local communities helped the EIC develop shipping and cotton trade.
As labourers started making a decent living out of the jobs provided by the EIC, they started calling their families to stay with them.
And, this is how chawls and small buildings started mushrooming in this commercial belt.
And of the many communities that migrated to south Mumbai, the Dawoodi Bohra and Memon communities predominantly settled at Bhendi Bazaar.
Today, around 70 per cent of the area is dominated by the Dawoodi Bohra community.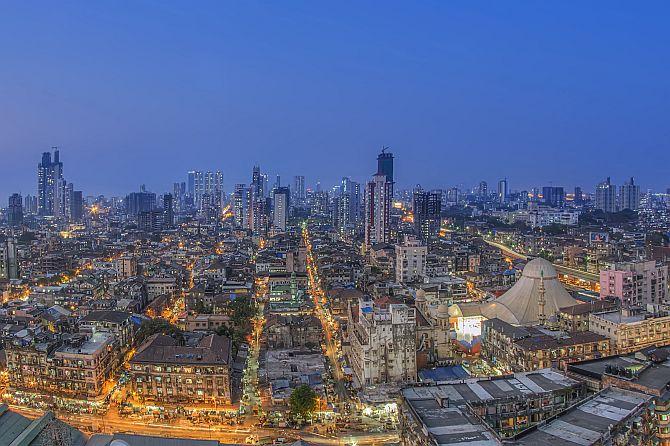 Image: North view of Bhendi Bazaar during twilight. Photograph: Courtesy, SBUT
The project is one-of-its-kind
The 16.5-acre area nestled between Mohammed Ali Road and Nagpada houses 3,200 homes in around 250 buildings along with 1,250 shops and offices. The approximate population of the area is around 20,000 and they strongly believe the area must be face-lifted.
Pankaj Joshi, executive director, Urban Design Research Institute told Rediff.com, "Cluster development is not a new concept but this particular project is one of its kind because it includes joint redevelopment of residential buildings and commercial establishments in the busiest area of south Mumbai."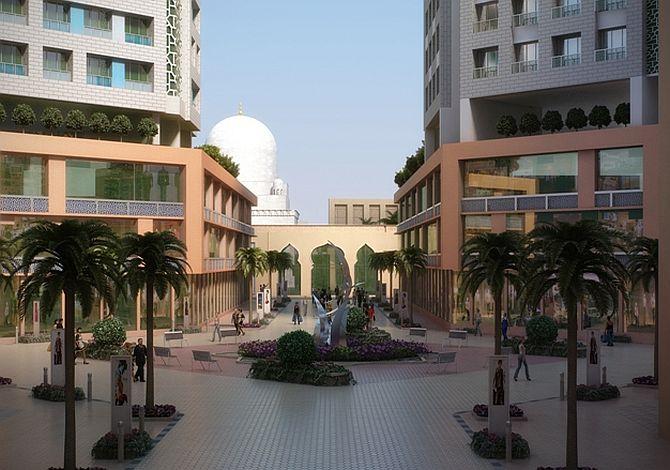 Image: A glimpse of 'The Plaza' post the Bhendi Bazaar makeover. Photograph: Courtesy, SBUT
There have been cluster developments in Singapore, New York and Japan which are either of a residential area or a commercial belt. And globally, state government's undertake redevelopment projects.
SBUT deserves an applaud for taking up a project which is complex due to its settlement pattern., adds Joshi.
He also pointed out that that it is a community-centric project which may disturb the social fabric of other communities residing in the proximity.
But it is the failure of the state government that has encouraged community heads to take up a tough project like this one.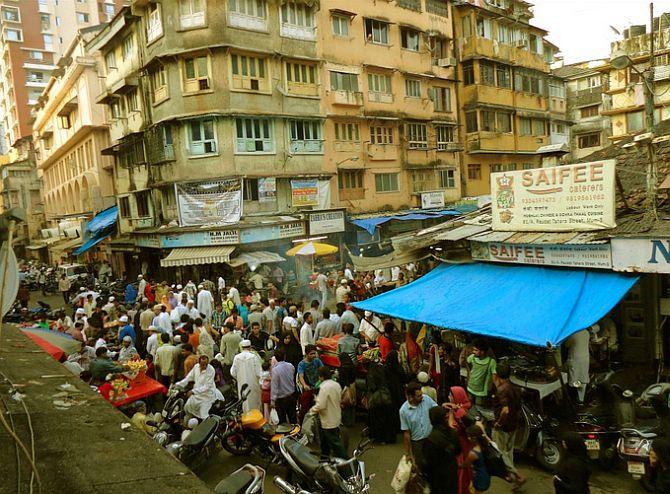 Image: Saifee Jubilee Street in the heart of Bhendi Bazaar. Photograph: Courtesy, SBUT
Few more experts applaud the project
Adil Zainulbhai, senior adviser, McKinsey and chairman of Quality Council of India
It is wonderful to see how this project has captured the imagination of people not just from India, but around the world.
I believe nobody has ever done anything of this magnitude before and I am confident that this project would pave the path for other inner city redevelopment projects in the country.
Anuj Puri, chairman at Jones Lang LaSalle told Rediff.com, "Bhendi Bazaar is a thickly populated residential and commercial area, and one of the primary focal points for the redevelopment drive in Mumbai. The main thrust of real estate redevelopment in this area and other areas like Crawford Market and Mohammed Ali Road must also be towards cluster development."
He further said, the planning authorities involved in the reinvention of Bhendi Bazaar are looking at changing the condition of the buildings as well as the entire infrastructure in this area.
Because of the complexities involved in this initiative, SBUT's success on completion of the project will be an encouragement for developers to take up similar projects.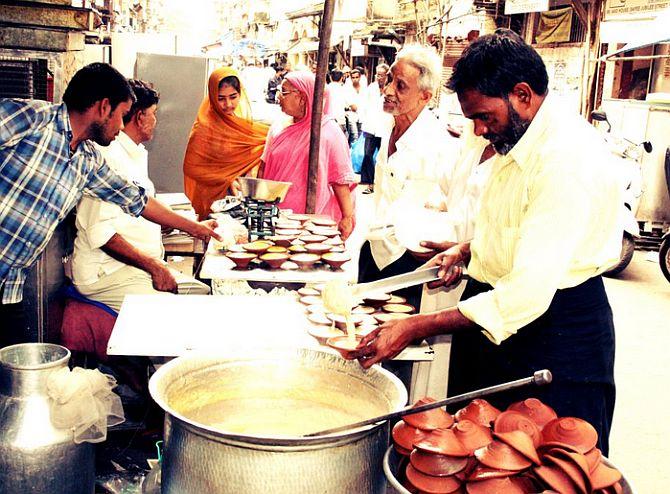 Image: Bhendi Bazaar is popular for its street food. Photograph: Courtesy, SBUT
What is cluster development scheme?
After undertaking a cluster development project, a developer needs to prepare a master plan for the area, making adequate provisions for supportive infrastructure.
Further, the developer needs to provide free-of-cost tenements to all original and genuine occupiers.
Of the total FSI granted for cluster developments, the developer is entitled to utilise the unused FSI as a free-sale component which he can develop and sell on the open market.
SBUT will reconstruct Bhendi Bazaar at an estimated cost of Rs 3,500 crore (Rs 35 billion), all through internal accruals.
Why is holistic development of Bhendi Bazaar crucial
The century old area has always been neglected by the state government.
The standard of living and the creaky infrastructure has failed to keep pace with the changing times.
More than 80 per cent of the buildings are old and have been declared dilapidated and unfit for living by MHADA.
In fact two buildings partially collapsed in the previous rainy season.
Majority of building occupants are living as tenants with no ownership rights.
Almost nil sanitation and inadequate fire and safety measures leave the population vulnerable to all types of calamities.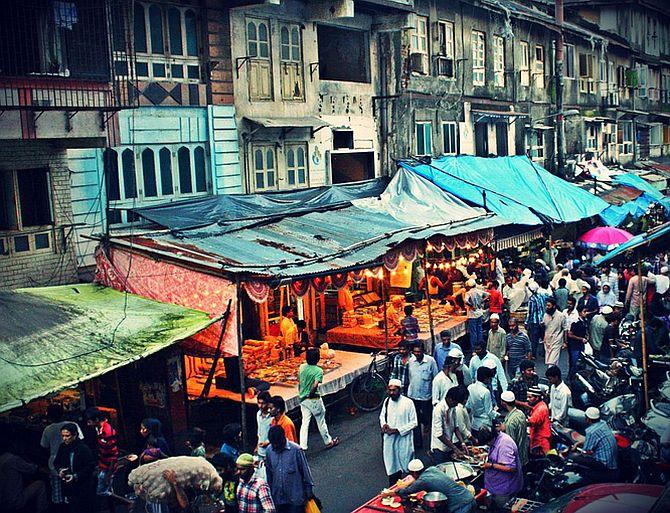 Image: A busy street in Bhendi Bazaar. Photograph: Courtesy, SBUT
Call it a modern township
Murtaza Sadriwala from SBUT's media communication team said, "The project is meticulously planned to meet the socio-economic and cultural needs of various communities living in Bhendi Bazaar.
Once completed, this path-breaking project will transform the 16.5 acres cluster into a healthy neighbourhood with modern buildings, better infrastructure, wide roads, open spaces and a thriving business district.
He further said, although majority of the occupants living here are Dawoodi Bohra muslims, the benefits of the project will be extended to all the people living in the area irrespective of any community they belong to.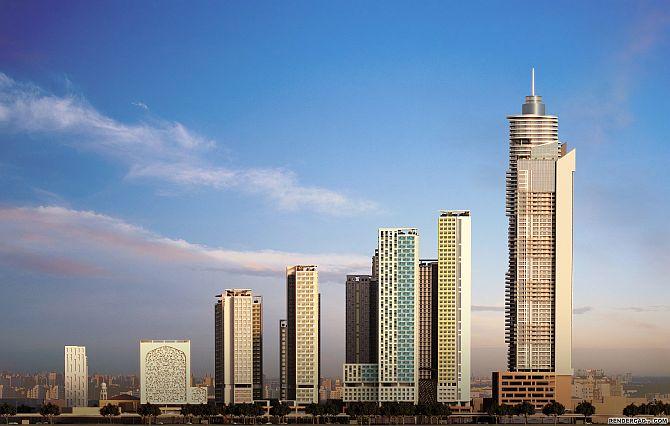 Image: An overview of Bhendi Bazaar once completed. Photograph: Courtesy,SBUT
Qutub Mandviwala, Principal Architect, Mandviwala Qutub and Associates who is also linked to the project said, "Along with better standard of living, We will retain the commercial identity of Bhendi Bazaar, hence we have included eateries, pedestrian walkways and pedestrian plazas to further enhance the vibrant characteristic of Bhendi Bazaar."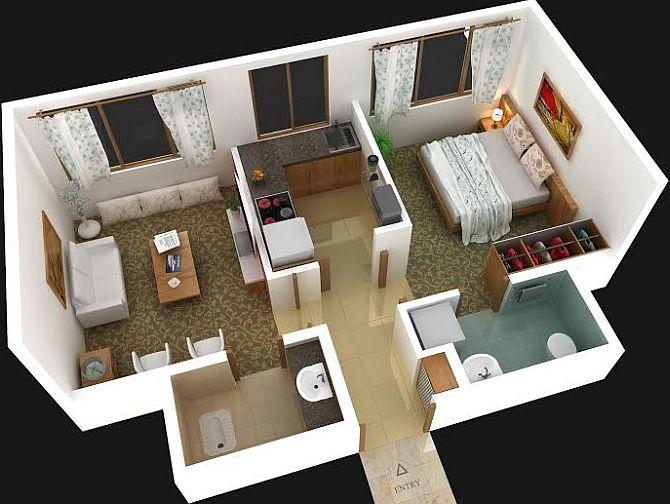 Image: 3D Layout of the proposed 350 sqft residential unit where each family will be shifted after the redevelopment. Photograph: Courtesy, SBUT
Brand new Bhendi Bazar 5 years later
Old buildings will be replaced with around 17 new towers.
The main roads will be 16-metre wide, with ample parking lots along with sidewalks .
Each self-sustained cluster will have rainwater harvesting and water recycling facilities and solar panels. SBUT will plant around 700 trees and shrubs to ensure clean and green environment.
The makeover is worth the wait, what say..