In 2017, absorption in co-working/serviced offices was 2.83 million sq ft, about 186 per cent higher than that of 1.52 million sq ft in 2016.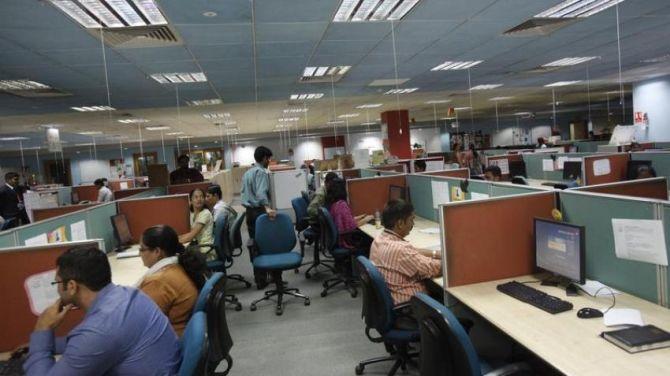 Mumbai and Bengaluru -- touted as the country's financial and infotech capitals, respectively -- have seen a sharp spurt in leasing by co-working space providers.
The leasing of co-working space went up about 2.4 times to 550,000 sq ft in Mumbai in 2017 from 160,000 sq ft in 2016, according to property data analytics firm CRE MATRIX.
Bengaluru has seen a 43 per cent jump in leasing by co-working space firms.
Last year, the city witnessed a leasing of 1.15 million sq ft co-working space as against 770,000 sq ft in 2016, CRE MATRIX said.
Across major cities, co-working/serviced office provider firms leased over 5.2 million sq ft since 2015.
In 2017, absorption in co-working/serviced offices was 2.83 million sq ft, about 186 per cent higher than that of 1.52 million sq ft in 2016.
Bengaluru holds the maximum share of 42 per cent, followed by Mumbai at 20 per cent.
"The sharing economy trend in India is gaining traction as more consumers, especially urban millennials, are finding co-working convenient and cost-effective.
"With a rise in the number of start-ups and freelance professionals over the last few years, co-working space has become a buzzword," said Karan Virwani, general manager at WeWork India, the largest co-working space provider globally.
WeWork has two centres in Mumbai and is looking to four times the current number of buildings, Virwani said.
"Mumbai offers the best opportunity for creating co-working offices, targeted at firms seeking activity-based space for focused talent groups.
"Large corporate firms are also bucking the trend in search for flexible workplaces to nurture top talent," said Juggy Marwaha, executive MD, JLL India.
In a study by JLL, the potential market for co-working offices across India is estimated at 15.5 million people.
Mumbai offers the highest business potential with a captive target of over one million people, followed closely by the national capital region with about another million who would need flexible offices.
The market in Pune, Bengaluru, Chennai, and Hyderabad is expected to be about half-a-million each, the study said.
According to CRE MATRIX, most of the deals for shared offices in Mumbai took place in the Andheri and Powai areas.
"In our view, Andheri and Powai markets will see more opportunities in the future as against other micro-markets for co-working space because of better connectivity and proximity to airport; rental affordability for start-ups, SMEs & freelancers; availability of Grade A space and bigger catchment of office seekers to serve," said Abhishek Tiwari, co-founder of CRE Matrix.
According to Tiwari, Grade A offices in Andheri East incur rent of Rs110-130 per sq ft per month.
Presuming 80-sq ft chargeable area per seat, the cost per seat for a 10-member team in a grade A office would range between rS 18, 500-20,500 per sq ft in Andheri.
The co-working firms in Andheri East are offering dedicated seats in a range of Rs 9000-15000 per seat per month, including rental, electricity, housekeeping and other charges.
"The advantage with a co-working space is that we do not need to pay any big security deposit. They are flexible.
"Whenever a person joins or leaves, we can accordingly activate or deactivate the billing. We can use their facility in other cities also," said Ravi Sankar, CEO & founder of Rightvendors.in, a software firm which provides solutions for construction procurement.
Rightvendors has taken a co-working space in 91Springboard in Turbhe area of Navi Mumbai.
Larger deals
Co-working players are signing larger lease deals, indicating a big opportunity foreseen by these companies.
Recently, Regus leased 55,573 sq ft in a commercial complex in Andheri East at a minimum guaranteed rent along with a few clauses related to net revenue sharing for the five-year lease term.
Usually, Regus leases space less than 20,000 sq ft. However, sensing a rise in demand and shrinking quality supply, Regus marked its first deal bigger than 50,000 sq ft, sources said.
WeWork, the largest co-working space provider globally, on Wednesday said it is opening a second centre at Marol in Mumbai's Andheri East where it has leased out an entire building, 'The Masterpiece', with a total leasable area of 61,764 sq ft.
WeWork has also leased 82,722 sq ft office in 247 Park in Vikhroli, owned by the US private equity firm Blackstone.
In another deal, Empire Business Centre has opened its second centre in a building named 'Fulcrum' near Mumbai International Airport. It leased 16,691 sq ft in the fifth floor.
Bengaluru has also witnessed some big deals by co-working space providers in the recent past.
Last year, WeWork signed a 120,000 sq ft deal in Embassy Golf Links and a 66,425 sq ft office deal in RMZ Latitude. It is likely to sign three more lease deals in Bengaluru.
Photograph: Reuters