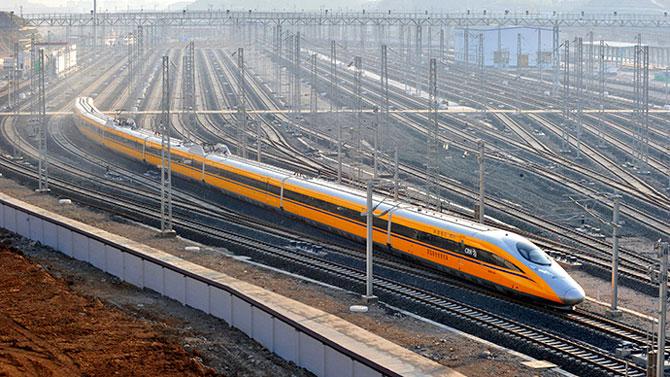 81 per cent of the Rs 97,636-crore (Rs 976.36-billion) project will come as loan from Japan.
Mumbai-Ahmedabad high speed rail corridor would be completed in six years and its fare will be less than airfare, Railway Minister Suresh Prabhu said on Wednesday.
Maintaining that the ambitious project is doable, Prabhu said in Lok Sabha during Question Hour that the high-speed train project would be cost-effective.
The high speed bullet train is expected to cover 508 km between Mumbai and Ahmedabad in about two hours, running at a maximum speed of 350 kmph and operating speed of 320 kmph.
At present, Duronto Express takes about seven hours to cover the distance between the two financial centres.
When it was pointed out that huge funds has been given for the project which might hamper those in other parts of the country, Prabhu said, "there was no regional bias.
"Every state has got more than double than earlier."
Estimated to cost about Rs 97,636 crore (Rs 976.36 billion), 81 per cent of the funding for the 508 km long Mumbai-Ahmedabad high speed rail corridor project will come in form of a loan from Japan.
The project cost includes possible cost escalation, interest during construction and import duties.
The project is being funded by Japan with a soft loan for 50 years at 0.1 per cent annual interest with 15 years' moratorium.
Rolling stock and other equipment like signalling and power system will be imported from Japan as per the loan agreement.
Railways has spelt out its policy on running of high speed and semi-high speed trains by identification of potential routes for both kinds of train services.
Feasibility studies for other high speed corridors have been awarded to various railway companies, Prabhu said.
Delhi-Mumbai high speed corridor has been awarded to the consortium of the Third Railway Survey and Design Institute Group Corporation (Chinese consultant) and Lahmeyer International from India.
Railways have identified nine corridors for feasibility of semi-high speed rail, the railway minister said.
The semi-high speed routes are Delhi-Chandigarh, Chennai-Bengaluru-Mysore, Delhi-Kanpur, Nagpur-Bilaspur, Mumbai-Goa, Mumbai-Ahmedabad, Chennai-Hyderabad and Nagpur-Secunderabd.
Image is used for representation purpose only. Photograph: Reuters