Prime Minister Narendra Modi's visit to the US to boost bilateral ties and deepen economic relations will give a fillip to investment flows from institutional investors into the Indian markets, says a top Indian fund house Reliance Mutual Fund.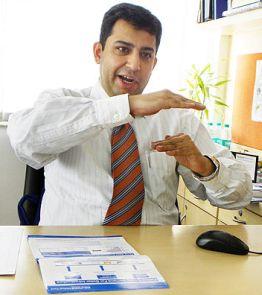 "I believe that the investors who have been sitting on the fence and those looking for an emerging market opportunity would now begin putting their money directly into India, while funds from other emerging markets are also likely to be reallocated to our markets," Reliance MF CEO and mutual fund industry body AMFI's Chairman Sundeep Sikka said.
Sikka, who was here to attend India Investment Forum organised by Institutional Investor Forums ahead of Modi's 5-day US visit from September 26-30, said that he saw a huge interest among the investor community here for Indian markets.
"At this point of time, we believe that the Prime Minister's visit and the prevailing positivity about India will turn into good flows into Indian markets from institutional investors," Sikka told PTI in an interview.
He said: "A lot of people have been looking at India and now we will see actual money also flowing into India. Till now, a lot of money that came into India, came through ETFs (Exchange Traded Funds), but specially the larger investors will now come and start investing through the local players.
"We clearly see that the meetings and interactions with these investors clearly show that the returns generated by the mutual fund schemes have been so superior that it's clear that coming through ETFs for them in long term will not be a best opportunity."
When asked what could be the quantum of funds that might come into the Indian markets, the Reliance MF chief said it was difficult to put a number, but it will be much more than the current numbers.
"We have seen this year about $20 billion coming through both debt and equity. I think this trend will surely continue and as the feedback we are getting from the investors, based on that the allocation which was going to other emerging markets, might also start coming to India.
"We will see far more coming in than what we have seen during the last year," he added.
When asked what all would attract investors to India, in addition to good returns, Sikka said: "What we are seeing is that for institutional investors, the best thing is that when they see an opportunity, they see an upside. Now, a lot of things are falling in place for India."
Sikka added: "A lot of people who were underweight on India for a long time, they will now start coming to India. It's not only the returns, but India is coming up very strongly on relative basis to other emerging markets. I think, that is one of the best things.
"When someone takes an option on India, then they have broadly two options - either come through ETFs or come directly through investing in mutual funds or at least be advised by asset managers in India.
"One trend that we are seeing during our meetings is that a lot of institutional investors had teams based out of New York managing their funds in India, but now they see an opportunity in taking their money to onshore fund managers and directly go to the market."
Sikka also praised capital market regulator Sebi for making it easier for portfolio managers sitting outside India to have local onshore fund managers to advise foreign investors.
He said: "Everything is falling in place. India as an economy is doing well. Prime Minister Narendra Modi is highly regarded among the investor community and it is clearly coming out of our meetings that there are high expectations from him.
"At the same time, Sebi is doing an outstanding job in getting the infrastructure ready and making the procedures easier for getting these funds into India.
"If it was only about people getting excited about India, but they find it difficult to invest in India, then it would not have made sense. A lot of regulatory initiatives have gone down very well with the investors and therefore the flow of money could be huge."
Explaining the typical procedure followed by foreign institutional investors, Sikka said the first step generally involves the investor taking a decision on investing in an emerging market, after that they decide on which is the best one available.
"Currently, India is coming out very well among all the emerging markets and fundamentals in the country are also getting much better.
A lot of investors whom we are meeting say that even if the US was to raise the interest rates, they impact on flows would not be significant as they are likely to reallocate money from other emerging markets to India," he added.
Sikka further said that an overseas fund can now directly invest in an Indian market through an international fund and rather than setting up an office here, it can directly invest in a mutual fund scheme in India.
"Sebi has made things so simple now. Today, the investor interest is there, returns are there and positive views are there in favour of India and all this would certainly have a major impact on fund flows," Sikka said.