Hard selling India as an investment destination at the WEF, Modi said the government is following the principle of reform, perform and transform.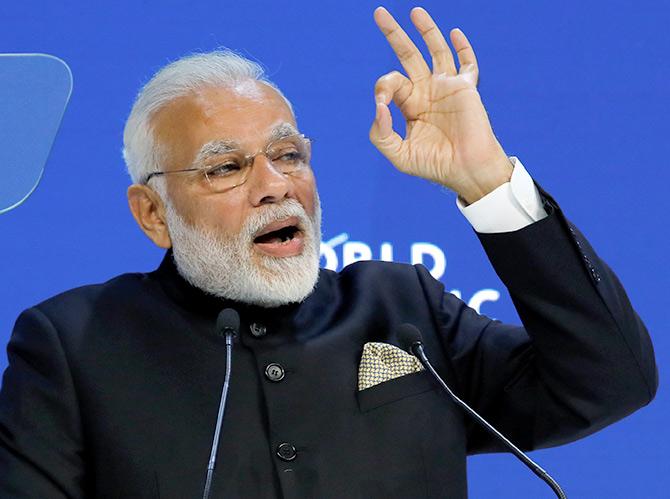 In a strong message against protectionism and inward-focused economic policies being practiced by some countries, Prime Minister Narendra Modi on Tuesday said such tendencies can be as dangerous as terrorism and climate change.
Delivering the keynote address at the WEF Annual Summit here, Modi sought to position India in a leadership role globally and urged leaders to come together to help the world get rid of its fractures.
"There are many questions before us that require answer for generations to come. Is the existing international system promoting fractures and rift in this world? Can we remove these rifts and distances to make a good shared future?" the prime minister said.
Modi is the first Indian prime minister in two decades to attend the World Economic Forum (WEF) annual meet, whose theme this year is 'Creating a Shared Future in a Fractured World'.
In what was seen as an apparent reference to policies like America First, especially since US President Donald Trump will be coming to Davos later this week, Modi said, "Many countries are becoming inward focused and globalisation is shrinking and such tendencies can't be considered lesser risk than terrorism or climate change."
Referring to this year's summit theme, Modi said it was relevant for him as Indians have always believed in uniting and not dividing people.

In an interconnected world, globalisation is losing its lustre.

"We always talk about 'Vasudhaiva Kutumbakam' (world is one family)," the prime minister said, adding that the problem today is lack of consensus to tackle the problems.
Even in families there are differences but there is always a feeling to tackle it collectively whenever there is a common threat, he noted.
"In an interconnected world, globalisation is losing its lustre. Do global organisations created after the Second World War really reflect the aspirations and dreams of mankind today? With respect to the developing countries there is a very big gap," he said.
Further, the prime minister noted that science and technology and economic growth parameters are also creating some fractures. Many changes are creating those walls that have made peace very difficult, he added.
According to Modi, everyone talks about interconnected world but it needs to be admitted that globalisation is losing its sheen and there is a big gap between the developed and developing world.
Protectionism is rearing its head and there is risk of new tariff and non-tariff barriers coming up, the prime minister said, as he mentioned that division is not the solution to this problem of anti-globalisation.
"Mahatma Gandhi had said I don't want doors and windows of my house to be closed and I want winds of cultures of all countries to come inside but I won't accept it if that uproots my own culture," Modi said.
KEY WORDS USED BY PM MODI IN HIS DAVOS SPEECH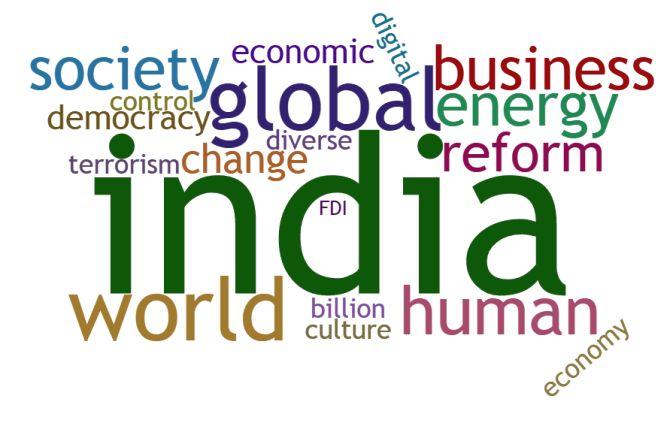 Hard selling India as an investment destination at the WEF, Modi said the government is following the principle of reform, perform and transform.
"We have made it easier to invest in India, manufacture in India and work in India. We have decided to uproot licence and permit Raj. We are replacing red tape with red carpet," he added.
Stating that hundreds of reforms have been carried out by the central and state governments, the prime minister said 1,400 archaic laws that were becoming roadblocks in India's growth have been removed and the Goods and Services Tax (GST) has been implemented, among others.
Inclusive development is key to all government programmes, whether it is Jan Dhan Yojana, Beti Bachao Beti Padhao or Direct Benefit Transfer through digital infrastructure, he said.
Modi also said those wanting wealth with wellness and peace with prosperity should come to India.
He mentioned that climate change and terrorism are among the greatest threats to civilisation.
Glaciers are receding, islands are sinking or are about to sink and extreme weather conditions are increasing day by day, the prime minister said even as he underlined that India does not damage the natural resources of any country.
"We need to think what can be done to tackle this issue together. Everyone says we need to do something but how many countries are there in the developed world who talk about helping smaller countries on this issue?" Modi said as he quoted Sanskrit shlokas to assert that "we are children of mother earth".
Photograph: Denis Balibouse/Reuters