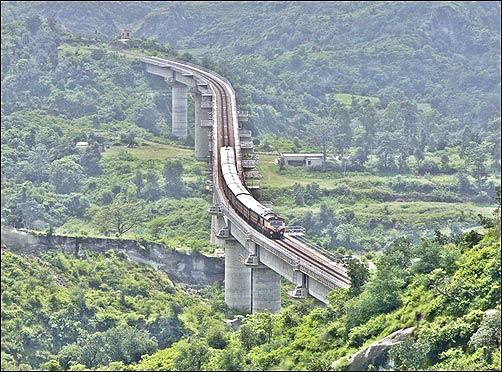 Prime Minister Narendra Modi has invited Asian Development Bank (ADB) to take up India's railway sector as a priority and complete one transformational project which will "create a visible impact".
Modi conveyed this to ADB President Takehiko Nakao when the latter called on him in New Delhi.
The Prime Minister urged Nakao that the ADB "should take up the Railways sector in India as a priority and complete one transformational project which will create a visible impact," a PMO statement said.
He suggested that the ADB could take up one railway station and make it world class. The Railways can then follow this up with other similar projects, the statement said.
Modi said ADB, the Manila-based multi-lateral funding agency, should foster more regional connectivity projects.
He complimented ADB on achieving a disbursement of $1.4 billion in 2014, which is 40 per cent more than the 2013.
It was Nakao's second meeting with Modi since August. Later in a statement, ADB said Nakao lauded India's brighter growth prospects in the light of the government's bid to improve the business environment and accelerate infrastructure investment.
"Prime Minister Modi and his government is aiming for a good balance between fiscal consolidation by rationalising expenditure and growth-oriented policies by expanding public investments. Better targeting of subsidy payments is essential to achieve higher and more inclusive economic growth," Nakao said.
The ADB President, who also called on Finance Minister Arun Jaitley, discussed the agency's partnership with India as the government aims to address development challenges.
He highlighted the importance of recent reform measures such as the reduction of fuel subsidies, raising the foreign direct investment (FDI) ceiling in several sectors, and fast-tracking infrastructure projects by expediting clearances.
The ADB chief also commended efforts to introduce a goods and services tax (GST) as it would unify internal markets and support economic growth by removing tax distortions.
ADB's latest forecast for India projects an improvement in GDP growth from 5.5 per cent growth expected in current fiscal year to 6.3 per cent in the year ending March, 2016.
ADB is planning to maintain the high lending level of $7-9 billion during 2015-2017 to support government's vision of a faster, sustainable and more inclusive growth.