CEOs expect populist measures in the Budget, to help the poor and marginalised, who make up for the largest section of voters.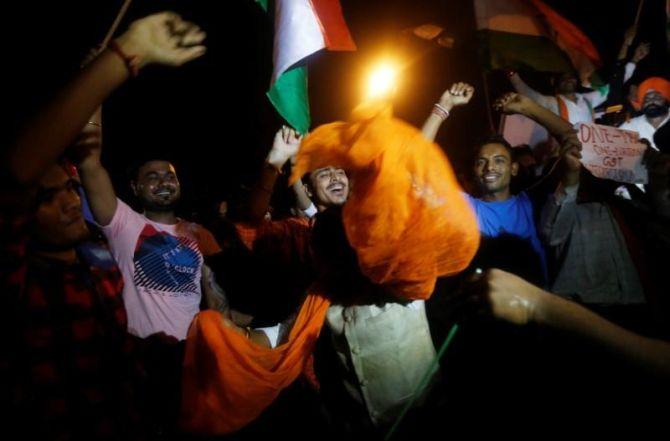 India Inc expects Prime Minister Narendra Modi to take more steps to revive the creaking infrastructure and accelerate economic reforms, especially now that the Bharatiya Janata Party (BJP) has won two more crucial state elections.
Chief executive officers (CEOs) also expect populist measures in the Budget, to help the poor and marginalised, who make up for the largest section of voters.
Harsh Goenka, chairman, RPG Enterprises, said: "The election results are likely to further strengthen investor confidence in the reforms put in place by the government, and I expect continued efforts towards implementing the structural reforms already initiated to spur infrastructural and economic activity."
Corporate leaders were nervous when initial trends on Monday showed that the Congress might win the elections in Gujarat.
But after BJP's victory, albeit with a lower number of seats, the CEOs said the reforms juggernaut would continue.
"Given India's federal system, stock markets want national leaders to be secure enough to undertake major reforms, despite the risk of alienating key constituencies in the short term," Anand Mahindra, chairman of Mahindra & Mahindra, said on Twitter on the stock market's volatility on Monday.
CEOs also expect the Budget, which will be presented by the government on February 1, to focus on giving more tax incentives to individuals and include steps to speed up marquee infrastructure projects.
"The lower number of seats in Gujarat should be a wake-up call for the government," said the CEO of a large company, requesting anonymity.
"With general elections coming, we can expect some tax incentives and populist measures in the forthcoming Budget."
During the past three years, India Inc had gone slow on investment, barring Reliance Industries, which invested heavily in its telecom business.
In October, factory output growth was lower than expected. The Index of Industrial Production in October 2017 was 2.2 per cent higher than it was a year ago - lower than the expected 3 per cent.
In this backdrop, analysts said the Gujarat elections might force the Modi government to shift to pro-employment policies, with a focus on infrastructure.
With general elections due by mid-2019, the biggest risk for the government would be over-promising and under-delivering, especially on the job growth front, said one chief executive.
Muted household disposable income trend showed weaker employment trends in India. A pickup in employment was required to sustain consumption growth, said UBS.
"Our discussions with Indian government officials indicate that job creation remains a key focus area, especially going into the 2019 general elections," it added.
Photograph: Adnan Abidi/Reuters