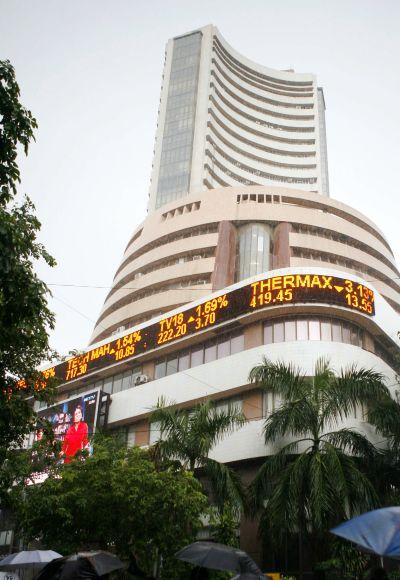 Stock market investors on Friday became richer by over Rs 1 lakh crore as the share market rose and the benchmark Sensex galloped to a new closing high enthused by the clear win of Narendra Modi-led BJP in Lok Sabha polls.
While the Sensex touched a life-time high of 25,375.63 in early trade, it later retreated as profit-booking set in and closed at a record 24,121.74, logging a gain of 216.14 points.
Investor wealth, measured by market capitalisation, soared by Rs 1 lakh crore to end at Rs 80.64 lakh crore.
The 50-scrip Nifty of the NSE also crossed 7,500-mark for the first time in history to a high of 7,563.50, up 440.35 points. However, it came down at the fag-end to settle at 7,203.00, showing a rise of 79.85 points or 1.12 per cent.
"With election verdict behind and a government with majority in place, focus will shift to ministerial allocation and policies. Priority of the new government would be to
revive the investment climate in the country. Given the present status of economic condition and the manifesto of NDA, we are expecting enhanced focus in infrastructure space," said Sanjay Chawla, Chief Investment Officer, Baroda Pioneer AMC.
In the last 5 years, consumption has led the growth. In the coming years, investments are expected to lead the growth. The new government is expected to ensure that investment environment is conducive to attract capital from both domestic and from overseas investors, he stated.
Trends show that BJP alone would end up with nearly 280 seats, first time in about 30 years that a single party will win the majority in Indian Lok Sabha elections.
Among the 30-Sensex components, SBI, HDFC Bank, ICICI Bank, Axis Bank, Larsen and Toubro, Reliance Industries, ONGC and NTPC clocked smart gains. Sesa Sterlite was the best performer with 11 per cent gain.
Realty, banking, power, capital goods, refinery and metal counters attracted heavy buying interest while shares from IT, FMCG, pharma, teck and consumer durable fell on selling.
"With politics taking the Centre stage, markets were seen rejoicing counting trend showing clear victory of BJP and set to form a stable government. Appreciation in rupee too aided the sentiments. Although gradual profit taking in the index majors retraced the index significantly by the end but it still managed to close with decent gains," said Jayant Manglik, President-retail distribution, Religare Securities Limited.