How far investors will be convinced by Modi's promise to replace red tape with a "red carpet" remains to be seen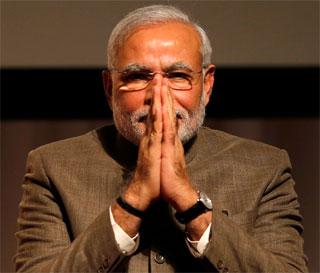 Prime Minister Narendra Modi will arrive in the United States on Friday aiming to woo corporate titans and crown a burst of investment-focused diplomacy, while marking a personal victory for a man who was for years unwelcome in the country.
Modi, who was elected in May, will spend two days in New York before heading to Washington for his first meeting with US President Barack Obama. The US leader is keen to see a strategic relationship he has called "one of the defining partnerships of the 21st century" live up to its potential.
In meetings over the past month with world powers including China and Japan, Modi won investment pledges of $55 billion to support his domestic reform drive. But no such state largesse can be expected in Washington and Modi has recognised it is the US private sector he must win over.
A leader who says commerce is "in my blood," will meet 17 US corporate chiefs including those of Google, IBM, GE, Goldman Sachs and Boeing - some at a breakfast where he is not expected to eat because he is observing a nine-day fast for the Navratri festival.
How far investors will be convinced by Modi's promise to replace red tape with a "red carpet" remains to be seen. India this year slipped three places to 134 on a World Bank list of 189 countries ranked according to their ease of doing business.
"People are impatient because they are so eager to see India accelerate its growth again," said Diane Farrell, acting president of the US India Business Council.
"But it's like trying to turn an aircraft carrier - it takes time, it takes precision and it doesn't happen in a few minutes."
Modi's schedule lists about 35 engagements during a 100-hour trip, including a rock-star-like address at New York's Madison Square Garden, a speech to the United Nations and an appearance at a Central Park festival that features rap star Jay Z.
He will meet the US political elite, including leaders of Congress and former President Bill Clinton and his wife, former Secretary of State Hillary Clinton, who is tipped for a White House run in 2016.
Unofficial boycott
In the run-up to the trip Modi's government gave relief to US businesses - scrapping a proposal to place anti-dumping duties on foreign solar panels and reining in a government agency that capped drug prices.
The Obama administration sees India not only as a land of huge potential for expanded business and trade but also as a strategic partner in the face of an increasingly assertive China, whose leader visited Modi in India last week.
US officials have played down any suggestion Modi's visit will bring dramatic breakthroughs, but they hope it will set the tone for a "revitalised" relationship.
They are particularly hoping to expand defence ties through co-production and co-development ventures. Without giving details, India's foreign ministry said it expected "substantive outcomes" in areas such as defence, trade and energy.
The welcome he will get from US business and political leaders is all the more striking, and perhaps satisfying, given that Modi was denied a US visa in 2005 after more than 1,000 people, most of them Muslims, were killed in riots in the state he governed. Some protests are expected during his visit.
The United States was the last major power to end an unofficial boycott on high-level interaction with Modi that followed the 2002 riots, sending an ambassador to meet him only a few weeks before the May election.
Modi has shown no ill-feeling and has welcomed US advances since he took office, but both governments will be conscious of the history as they push to move forward.
While ties between the world's largest democracies have come a long way since Cold War differences, they have been bogged down by bickering despite common interests.
Recently, relations have been tested by rows over trade and intellectual property and were severely frayed by an angry dispute over the arrest of an Indian envoy in New York last year.