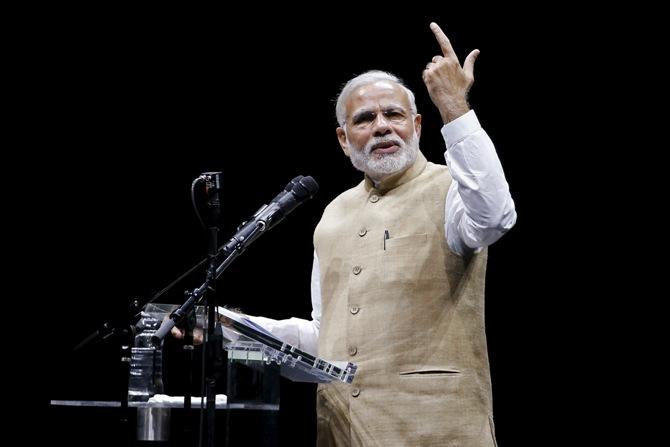 Brain drain is actually 'brain deposit' that will serve India at an appropriate time, Prime Minister Narendra Modi said on Monday, asserting that the time has come when Indians can show the world their strength.
"Brain drain can become brain gain. . . This is actually brain deposit and it would serve its motherland at an appropriate time," he said addressing the Indian community at the packed SAP Centre in San Jose.
"Now it is the time that every Indian can show people their strength," he said in his hour-long speech.
"Your fingers have created magic on the keyboard and the computer and this gave India a new identity.
"Your skill and commitment is wonderful," he told the Indian-Americans.
Modi said he was meeting Indian-Americans a year after the Madison Square Garden event in New York.
"I am coming to California after 25 years. A lot has changed. Many new faces that I see. I can see here India's vibrancy here," he said.
Modi congratulated them for the place of pride they have created for themselves among Californians.
Image: Prime Minister Narendra Modi addresses the crowd during a community reception at SAP Center in San Jose, California. Photograph: Stephen Lam/Reuters