Microsoft is taking the fight with its cloud computing rival, VMware, to a new level, with the launch of Systems Center 2012 that includes a new pricing structure and integrates eight separate component products into one unified solution, streamlining installation and reducing the time it takes to deploy from days down to hours.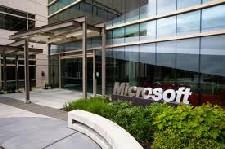 The software is used with Windows and virtualisation software, letting companies turn their servers into so-called private clouds. The offering is cheaper than VMware's competing product.

Cloud computing puts data and applications on remote servers and data centres, rather than storing it in a company's own mainframes. Users can access the data and applications through the internet.

Microsoft's Satya Nadella, president of Microsoft Server and Tools Business, detailed the company's plans over an online broadcast as to how Microsoft's private cloud solution will help businesses move faster, save money and compete better in 2012.

He highlighted companies such as Lufthansa Systems, T Rowe Price and Unilever that can use Microsoft System Center 2012
to build and operate private clouds for the delivery of business applications across private and public cloud platforms.
Microsoft's partners in India are betting on the economics of System Center 2012. "We are making the move to cloud computing across our company, and after looking at our options, Microsoft offers the right solutions for us," said Holger Berndt, head of Microsoft Servers at Lufthansa Systems.
Companies like Microsoft and
Amazon.com
that run public clouds use their own data centres to store and operate programs for customers. In a private cloud, the client wants the same flexibility, cost savings and ease of use in their own data centres.
"While cloud adoption and awareness have increased rapidly across Asia, with particularly strong growth in India and China, CIOs have identified security and inter-operability as key issues impeding rampant adoption.
The key is to offer seamless movement across cloud environments and develop industry-wide standards that work with most vendors and service partners," said Sanchit Vir Gogia, senior analyst, Forrester Research.