This feat was achieved 25 years after the mutual funds industry was opened to private players.
The industry now aims to achieve the next Rs 25 trillion in 5 years, reports Jash Kriplani.
Illustration: Uttam Ghosh/Rediff.com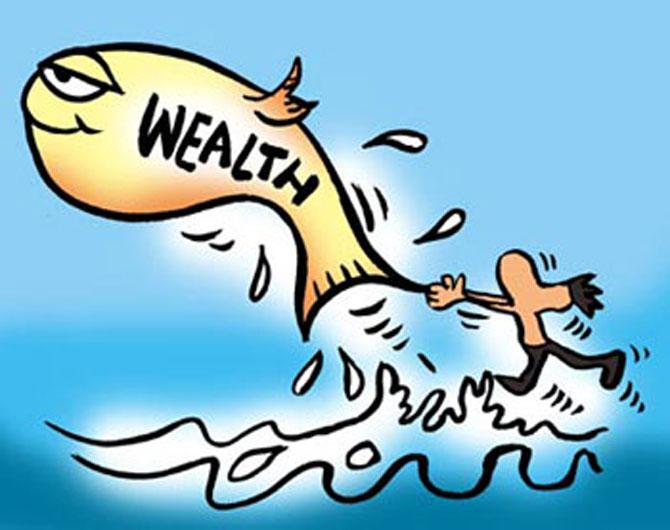 The assets managed by the domestic mutual fund industry have crossed the Rs 25 trillion mark.
At the end of August, assets under management (AUM) stood at Rs 25.2 trillion, a year-on-year growth of 25 per cent.
Incidentally, this feat has been achieved by the industry 25 years after it was opened to private players.
The industry now aims to achieve the next Rs 25 trillion in 5 years.
The monthly data released by the Association of Mutual Funds in India (Amfi) showed that the month-on-month AUM growth in August was 9.3 per cent, the highest in four months.
Equity inflows, however, showed further signs of moderation.
Equity schemes (including tax-savings ones) registered inflows of Rs 83 billion, down 11 per cent over the previous month.
The equity inflow tally for August was down 36 per cent compared to the previous four-month average of Rs 131 billion.
Industry officials say if inflows through new fund offerings (NFOs) are excluded, the slowdown could have been sharper.
"We have seen quite a few NFOs, where units were allotted in August. A significant share of the equity inflows has come through these NFOs," said Ashish Somaiya, MD and CEO, Motilal Oswal AMC.
"Ex-NFOs, it appears the regular course of business is witnessing sharper outflows, even as SIPs are steady," Somaiya added.
Amfi data shows Rs 36 billion came in through equity NFOs in August, accounting for 43 per cent of monthly inflows.
Flows through systematic investment plans (SIPs) continue to be encouraging and will help offset cyclicality risks, said industry players.
"Despite market volatility, the SIP book remains intact. Independent financial advisors even suggest that it wouldn't be surprising if SIP contribution surges to as much as Rs 90 billion in the coming days," said Radhika Gupta, chief executive officer, Edelweiss MF.
The total amount collected through SIPs stood at Rs 76.58 billion in August, slightly higher than last month's tally of Rs 75.54 billion.
The total number of SIP accounts stood at 23.9 million, as against 23.3 million in July.
The SIP AUM stood at Rs 2.3 trillion, which was 9.2 per cent of the industry's AUM.
The equity AUM stood at Rs 8 trillion.
On the debt front, liquid and money market schemes got the largest share of industry inflows.
At Rs 1.7 trillion, inflows into such schemes accounted for 98 per cent of monthly flows.
"Corporate investors are allocating funds to liquid schemes. Investors are keeping-off longer-duration products given the interest rate volatility," Gupta said.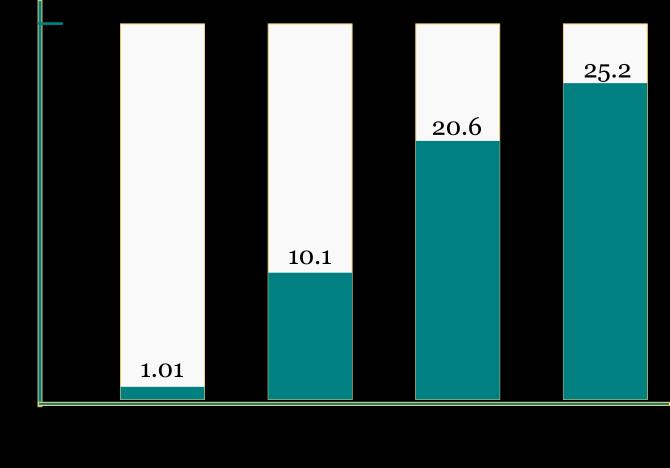 While retail flows were down 21 per cent to Rs 85.53 billion over the previous month, industry observers say retail investors are showing more maturity even though the market has largely been volatile.
"We are witnessing a mature and evolved behaviour from retail mutual fund investors. Despite the continued market volatility, the equity inflows into markets continue to be robust," said N S Venkatesh, chief executive officer, Amfi.
"Aided by SIPs, retail inflows have been positive for 29 consecutive months and the overall number of folios has been rising for 51 months in a row," Venkatesh added.
"This has led to the mutual fund industry's AUM achieving the milestone," he said.
In August, markets logged their fifth straight monthly gain.
They had seen a spike in volatility in the past week amid slide in the rupee and spike in bond yields.
Market players say it would be interesting to see how investors react to the equity market volatility.