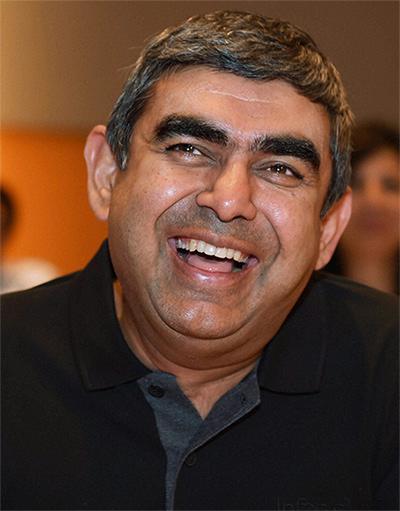 Sikka pays 4 business heads million-dollar salaries as incentive to reach the company's revenue target of $20 billion by 2020.
Infosys Chief Executive Vishal Sikka is paying his top managers more as an incentive to reach the company's revenue target of $20 billion by 2020.
Four Infosys presidents -- Mohit Joshi, Rajesh K Murthy, Ravi Kumar S, Sandeep Dadlani -- and the company's general counsel David Kennedy will now be paid million-dollar salaries.
Their salaries included a higher variable component, Infosys said in regulatory filings. Joshi, Murthy, Ravi Kumar and Dadlani will also receive restricted stock units and employee stock options.
Sikka is confident that the company's top three leaders in sales will be instrumental in achieving their revenue targets. "We are now approaching $10 billion in revenue. This quarter we will cross it. So it means three sales presidents are collectively handling more than $3 billion (worth) of responsibilities. In addition, they also have serious global responsibilities," Sikka said after a recent press conference.
The Infosys board had last week approved pay hikes for key executives, including Chief Operating Officer Pravin Rao and Chief Financial Officer M D Ranganath. Human resources head Krishnamurthy Shankar and company secretary Manikantha AGS will also receive salary hikes from November 1.
Since taking over as the first non-founder chief executive of Infosys, Sikka is pushing the company to transform itself to offer technology services with an additional software layer. Yet the firm is struggling to grow faster as traditional business lags because customers are demanding more work for less.
Infosys improved operating margins in the second quarter by moving more work offshore. But it lowered its annual forecast for the second time in three months, citing an uncertain business environment.
"There has been a restructuring of existing leaders. It is important to improve their bandwidth and agility to give them a clear focus on accountability and targets beyond revenue growth," Sikka said last week.
'Based on fiscal 2016 performance, 27,250 restricted stock units and 43,000 stock options will be granted (to Rao) once approved by shareholders and these will vest over four years. Restricted stock units and stock options, in future periods, will be granted on achievement of performance conditions,' said the Infosys letter to the BSE.