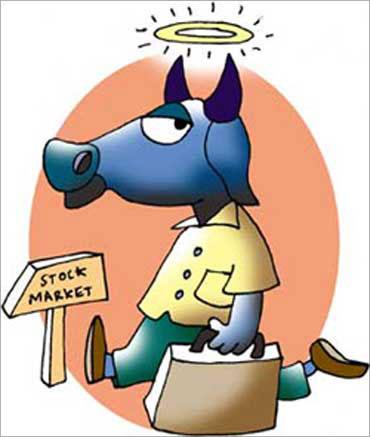 A day after Dalal Street witnessed its bloodiest battering, NSE chief Chitra Ramkrishna on Tuesday said there is no need for panic as in an inter-connected world, global developments are bound to have an impact on all markets.
The domestic market is capable of handling volatility and Monday's bloodbath was the result of such global volatilities driven by the worsening crisis in China, whose markets tanked close to 9 per cent, the NSE managing director and chief executive Ramkrishna told reporters on the sidelines of a national services sector excellence summit organised by Confederation of Indian Industry.
Also present at the event, Kotak Mahindra Bank executive vice chairman and managing director Uday Kotak said while domestic economic indicators are positive "technically when global markets see a downturn we would also see some repercussions".
Ramakrishna said the global sentiment towards domestic market and the economy is still positive.
The benchmark Sensex and the broader Nifty had crashed by 1,624.51 points and 490 points, respectively or around 6 per cent each, marking their biggest single-day falls, on heavy outflows as the rupee tanked 82 paise to a fresh 2-year low of 66.65 on Monday.
However, some sanity returned to markets today as the indices closed higher by 290.82 and 71.70 points, respectively.
Playing down the Monday crash, Ramkrishna said the markets had seen similar situations in the past and that there was no need to press the "panic" button.
"Global factors are bound to have impact on all emerging markets, and India is not unique to that," Ramkrishna said.
The NSE chief also noted that "investors always react and respond to global cues but the main point is can the markets handle that kind of volatility.
"We have to see how to maintain the stability and resilience which we have done in the past and which we will continue to do so," Ramkrishna said, adding, "our markets have been able to handle volatility even though we live in an inter-connected world where global news will impact other markets."