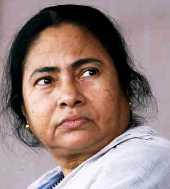 Chief Minister Mamata Banerjee is getting applause from supporters on her decision to take back Singur land from the Tata Group and for her stance on land acquisition.
However, this unwillingness to acquire land from those unwilling to sell might be a hindrance for Rs. 9,600-crore project for a 1,600-Mw unit by NTPC in Katwa.
Last year, the public sector undertaking had taken over the Katwa project from West Bengal Power Development Corporation Ltd, which had acquired 387 acres of the 1,035 acres required for the project.
NTPC had also signed a power purchase agreement with the then state government.
However, according to sources, the new Bengal government is not ready to give over even half the required land.
"The government has asked NTPC to set up the plant in less than 600 acres of land and said the state is not ready to acquire any more for the project. No company can build in the given area. It is impossible," said a top official.
According to sources, till the Trinamool Congress-led government comes out with a new land policy, the project will not move forward. If not, this might be the end of another big-ticket investment in the state.
When asked about this, a top NTPC official said: "It is a tight situation. Probably, with whatever land available, we
will have to do some reengineering to make the project happen. I hope the government will give us further land, as this seems to be a pet project of the chief minister."
However, the government seems to be adamant on not giving a further inch of land. Banerjee's government is planning to amend the Land Acquisition Act of 1894 and introduce a 'Singur Bill' in the Assembly.
Incidentally, Banerjee herself is handling the power portfolio in the state.
Though there were talks for a joint venture between NTPC and Bharat Heavy Electricals Ltd, the former preferred to take it alone.
It had even agreed to reimburse all costs, including the acquisition of land, incurred by WBPDCL or the state government for the project.
Bengal was supposed to get 800 Mw from the project, while other eastern states were slated to get 560Mw and the rest was to be distributed according to the Centre's directive.
The plan by state power companies for a new petition on rate revision to the State Electricity Regulatory Commission has also not gone well with the chief minister.
"The state government has certain reservations and don't want to hike it now," said an official source from a power firm.
Though the state has no role in deciding power rates, the government stance will add pressure on the companies, expecting a rise in coal prices by Coal India in July-August.