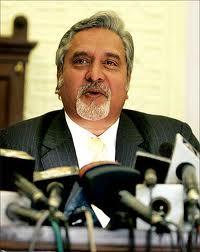 Vijay Mallya, chairman of the UB Group, might see his stake fall below five per cent in his erstwhile flagship company, United Spirits, as lenders continue to invoke pledged shares.

In a regulatory disclosure, lenders to the UB Group said they'd invoked 2.23 million shares in the past week, translating into stake worth 1.53 per cent.

With the market price at an average of Rs 2,700 a share last week when the shares were invoked, these were worth around Rs 600 crore (Rs 6 billion).

As a result, Mallya's stake might decline to just a shade under five per cent.

This move by the lenders to invoke shares on June 17 came hardly a week after they invoked 4.93 million shares worth Rs 1,300 crore (Rs 13 billion), a move which would have brought Mallya's stake down to 6.43 per cent.

According to information available, a majority of these shares might have been tendered in the open offer in favour of global spirits major Diageo.

Diageo has 28.78 per cent stake in USL and is looking to add another 26 per cent.

This aggressive move by lenders against the UB Group comes even as Mallya mounted legal hurdles to nullify the corporate guarantees and pledges.

The consortium of lenders, led by State Bank of India, have been trying various ways to get back the Rs 6,000 crore of dues lent to UB Group's Kingfisher Airlines, grounded since October 2012.

According to the consortium, they have been able to monetise various assets pledged with them to the tune of Rs 1,000 crore (Rs 10 billion).

It is to be seen if they are able to monetise these shares worth close to Rs 2,000 crore (Rs 20 billion) of USL.

Mallya's stake has already fallen below 10 per cent in Kingfisher.

In his beer company, United Breweries, it is down to 36.06 per cent from the earlier 37.5 per cent.

The consortium members are also looking at options to label Mallya a wilful defaulter.

The USL stock lost as much as 3.2 per cent on the National Stock Exchange, to close at Rs 2,594.95 a share on Monday.

FADING KING?
2.23 mn Number of shares lenders invoked in the past week
28.78% Diageo's stake in USL, to which the firm is looking to add another 26 per cent
Less than 105: Mallya's stake in Kingfisher
36.06% His stake in United Breweries, down from 37.5% earlier
Image: Vijay Mallya; Photograph: Reuters