She said the government is preparing a blueprint to build 100 smart cities and to upgrade India's infrastructure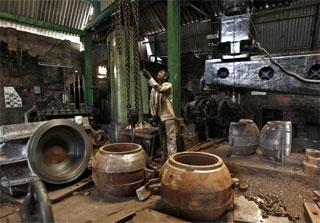 External Affairs Minister Sushma Swaraj on Sunday made a strong pitch for the 'Make in India' campaign here and asked South Korean companies "to scale up their presence" in the country.
"We regard (South) Korea as one of the most valued partners. Korean companies are already household names in India. We would like them to scale up their presence in India," she said at a gathering of the Indian community.
"Fortunately, it is a mutually attractive win-win proposition, as India not only offers a huge and lucrative market, but within 15 years, will also be home to the largest middle-class in the world, of 600 million persons," she said.
Swaraj strongly pitched for the campaign launched by Prime Minister Narendra Modi to make India a manufacturing hub.
Swaraj, who is one her first visit to South Korea, said India is committed to "qualitatively expanding our industrial base, both to meet the growing domestic demand, export and also to generate employment."
She said the government is preparing a blueprint to build 100 smart cities and to upgrade India's infrastructure.
Swaraj highlighted India's "unprecedented" demographic dividend and said the country has the requisite capability and will to become a leading manufacturing hub.
"At the same time, we need partnerships with friendly nations to bring-in technology and FDI."
"We are very fortunate that India is growing younger as the world is ageing," said the external affairs minister.
Swaraj noted that many leading nations, including the US, Singapore, France, Japan, South Korea and China, have come forward to work with India.
She lauded Indian engineers who work with Korean firms and do cutting edge research. "I am indeed pleased that around 20 per cent of Samsung engineers are Indian."
"I call upon you to follow the developments back home even more closely. Prime Minister Narendra Modi has given a clarion call for Swachh Bharat and Swachh Vidyalayas, to build toilets especially for the girl child in schools. I invite you all to play a role in furthering this national mission," she said.
External Affairs Minister said Indian and South Korean ties are unique because there are "no major divergences."
Swaraj praised South Korea's "rags to riches story and its great transformation, in the last 40 years."
"As friends of the great Korean people, we rejoice in your achievements and wish you every success for a glorious future, as was foreseen by Gurudeb Rabindranath Tagore," she said.