Onion supply in Nashik low but is expected to normalise in a couple of days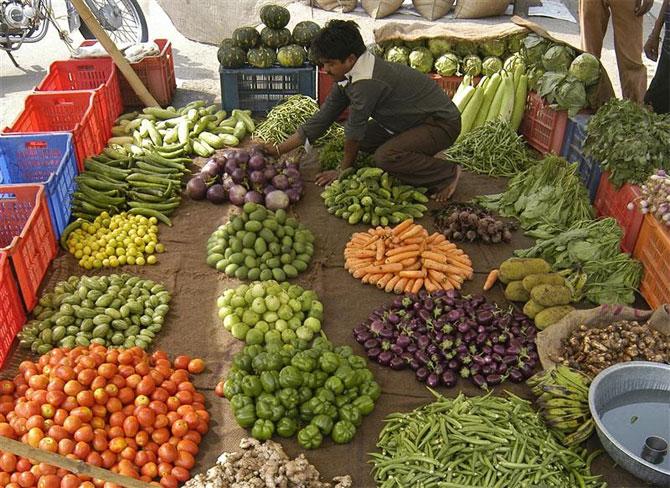 Striking farmers in Maharashtra have resumed supplying commodities after a positive response from Chief Minister Devendra Fadnavis for their loan waiver.
A group of farmers' representatives met Fadnavis on Sunday and, according to members of the group, he sought time till July 25 to meet their demands.
"We met the chief minister and other government representatives on Sunday. The government agreed to accept our demands. Following the government's commitment, we have called off our strike and resumed work," said Hansraj Wadghule-Patil, a member of the Swabhimani Shetkari Sanghatana, a member of the farmers' group.
Farmers in Maharashtra went on indefinite strike on June 1 following the state government's denial of loan waiver, and this brought the supply of fruit and vegetables to a standstill.
However, farmers in centres such as Nashik and Raigadh are continuing their protests.
Over 2,000 farmers gathered in Nashik on June 7 under the banner of the Maharashtra Rajya Samanwaya Samiti and decided to intensify protests across the state beginning June 12.
"Farmers have resumed their supplies. Since most farmers had dispatched their stocks to warehouses and cold storages, onion arrivals in the Pimpalgaon (a major centre) market yard had reduced to half on Monday, resulting in its price shooting up by Rs 1-1.50 a kg to Rs 7.50 a kg.
Arrivals are expected to become normal in the next couple of days," said Atul Shah, director, Agricultural Produce Market Committee (APMC), Pimpalgaon.
The data compiled by the National Horticulture Research and Development Foundation showed onion arrivals in Pimpalgaon at nearly 1,600 tonnes, nearly half of its supply at around the same time last year.
The total arrival in Lasalgaon, Asia's largest onion market yard, was reported at 500 tonnes with a model price at Rs 5.70 a kg.
Apart from loan waiver, farmers in Maharashtra demanded interest-free loans, milk realisation at Rs 50 a litre, etc.
According to the latest study by India Ratings, the farm loan waiver is expected to push up Maharashtra's fiscal deficit by 2.71 per cent. Of the 14.1 million account holders in the state, around 3.1 million have outstanding loans of Rs 30,000 crore.
Photograph: Danish Siddiqui/Reuters