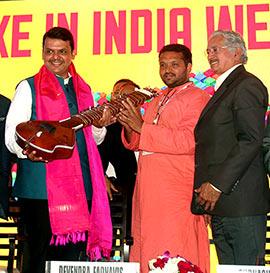 More than 50 per cent of the value of all the MOUs signed at the Make In India Week has made Maharashtra emerge numero uno in the committed investment stakes!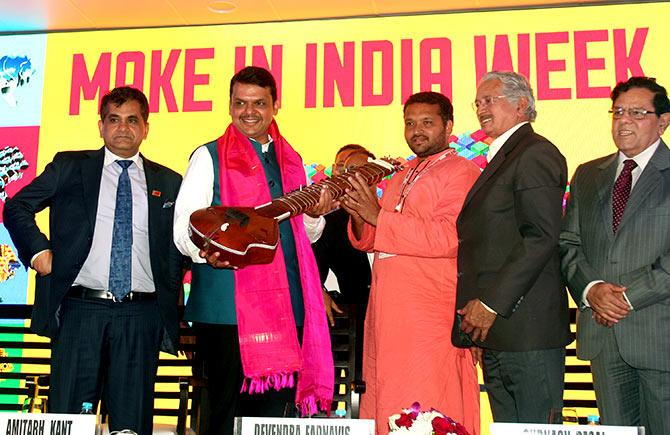 IMAGE: Maharashtra Chief Minister Devendra Fadnavis receives a memento as DIPP Secretary Amitabh Kant, state Industries Minister Subhash Desai and state Chief Secretary Swadheen Kshatriya take in the moment; Photograph: Sanjay Sawant/Rediff.com
Of the total memoranda of understanding worth Rs 15,20,000 crore ($233 billion) signed during the Make In India week, Maharashtra bagged Rs 8 lakh crore ($117 billion) that will result in 30 lakh (3 million) jobs, says Maharashtra Industries Ninister Subhash Desai.
"Make In India Mission starts today," Maharashtra Chief Minister Devendra Fadnavis, who hosted the five-day extravaganza in "India's commercial, financial and entertainment capital," said, emphasising the need to fulfill responsibilities on this scale.
Giving a detailed break up of these investments in various regions of the state, Fadnavis, who dreams of setting up an International Financial and Services Centre at the venue where Make In India was held at the Bandra-Kurla Complex, said of the total committed investment lined up in Maharashtra, Rs 1.5 lakh crore each will go to the economically backward regions of Marathwada and Vidarbha.
"Khandesh will get Rs 25,000 crore; Pune Rs 50,000 crore and the Konkan region that includes the Mumbai Metropolitan Region will receive Rs 3.25 lakh crore in investments."
"Maharashtra," industries minister Desai said, "has received the lion's share of all the investment attracted by various Indian states. Our task is now to convert the MOUs into reality."
His ministry, Desai added, will keep a tab on the flow of investments and the implementation of projects. We "will take stock, review and submit a report to the chief minister regularly so that projects get off the ground and the entire state benefits from them."
"This is not the end. This is the beginning," Desai said, reminding state government officials that the task ahead is challenging and the eyes of the nation and likely the financial world will be on them.
"Make In India is a landmark in India's history," Fadnavis said. "It has shown the power of India to the world."