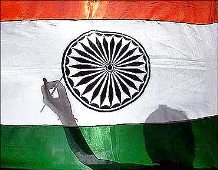 Is India capable of making a well-designed indigenous product that gets traction on a local, if not a global, scale?

In the automobiles sector, some recent products such as Mahindra's XUV 500, the Reva electric car and (arguably) the Tata Nano have breathed life into that possibility.

In the technology realm, though, it's been a dismal showing.

The controversial Aakash tablet looms over the sector as a metaphor for the country's capabilities.

Yes, Indian electronic manufacturers such as Micromax have emerged as serious local players, but much of the work that goes into bringing out a phone from their stables is undertaken by fabless (chip design) companies such as Qualcomm, as well as chip foundries located abroad.

All of that is expected to change with the building of a semiconductor fabricator (fab), which the government expects to announce soon.

However, rather than joining the rat race to churn out cutting-edge chips for global manufacturers, the best opportunity for these chips may lurk right here, under our very noses.

Or that's the logic that co-founder of HCL, Ajay Chowdhry, has been urgently pushing the government towards.

As the co-chair of the Core Advisory Group for Research and Development in the Electronics Sector, Chowdhry, along with several of his colleagues in the industry, has arrived at a conclusion: A huge opportunity lies in making 'Made for India' products that the masses can consume.

CAREL members have, therefore, been frenetically busy setting up workshops and outlining strategies. "The idea is to go deep into the product," says Chowdhry.

Driving this revolution

A result of CAREL's work is a list of six product categories that will be made ready with the appropriate carrots to lure Indian manufacturers.

They are smart metres, set-top boxes, rural mobile phones, micro ATMs, healthcare diagnostic devices and tablets.

A target of four products in each category will be rolled out over time.

"The Indian market has certain needs that global products just don't cater to," says Jaswinder Ahuja, managing director of Cadence Design Systems, India.

As the previous piece in this series pointed out, a cheaper, less-cutting-edge fab, which is what is most likely to come up here, could suddenly make what would otherwise be a grand vision into a reality.

"Something has to happen to break the cycle of global dependence of chips and the paucity of domestic products in India," says Ahuja. This could be it.

India is not the only one that is thinking along these lines. China's recent 12th five-year Plan has strongly articulated the need to promote domestic innovation.

According to a McKinsey report on the semiconductor industry, several leading multinational companies there have launched research and development centres focusing on the domestic market.

General Electric as well as Siemens have both done so by catering to local market demand and local priorities such as rural healthcare and sustainable development.

GE has introduced many breakthrough devices in India, but few of them go through an end-to-end manufacturing solution in the country.

It is not just low-cost, mass-market
indigenised products that could benefit from this initiative.
"Even a Nano has 32-odd microcontrollers," points out P V G Menon, president, India Electronics and Semiconductor Association (IESA). From odometers to injection systems in motorcycles, these devices all rely on electronic chips for their brains.
So, there are major ripple effects with this sort of strategy.
According to McKinsey, Chinese companies have expertly leveraged their domestic scale to sell outside China, thereby shaking things up in a number of industries.
Lenovo, for example, is the third largest vendor of personal computers in the world. ZTE became the fifth largest handset manufacturer in the world in 2010. Meanwhile, Huawei has become a top-three player in all major segments of the telecommunications-equipment market, says the consulting outfit.
A crippling blow
Considering the engineering talent available in India, these are mouthwatering examples to learn from and emulate. Yet this ambitious, but doable, masterplan may never work.
According to the Manufacturers' Association for Information Technology, most basic components that could go into electronics such as plastics, copper, aluminium or even higher end units like graphic cards attract a customs duty of 10.3 per cent and a special additional duty of 4.4 per cent.
The rationale for these duties is that such inputs are of 'dual use' since they can go into multiple products.
Then, if you want to ship the manufactured product to another state, an additional two per cent tax is slapped on it.
"We reduced our manpower strength to 50 per cent because of this situation," says Nitin Kunkolienker, vice-president, commercial and administration at Smartlink Network Systems, a leading maker of modems and routers in India.
The culprit for this state of affairs, according to industry observers, is the country's signing onto ITA-1, the World Trade Organization regime that implemented zero customs duty on 217 tariff lines of products and their inputs in 2003.
"This opened up the market for trade, but didn't do anything for local industries," says Kunkolienker.
"So, the irony remains that any electronic product that Indian companies have shown competence in has its imported transistors, diodes or capacitors taxed at 14 per cent, while a finished item could be shipped in from China at zero per cent.
Starved of capital
Another impediment to a hardware boom is the drought in financing. One of the big reasons that the semiconductor industry flourished in the US was because of a sophisticated venture capital community that understood technology and was eager to invest in it.
"Most VCs here are spreadsheet junkies focused on growth capital efforts," says Cadence's Ahuja. To counter this void, the government announced an Electronic Development Fund, where it would invest up to Rs 10,000 crore (Rs 100 billion) in a 1:4 ratio, but the plan is yet to be ratified by the Cabinet.
Meanwhile, in a positive development, a major VC firm has offered Rs 500 crore (Rs 5 billion) towards an innovation fund, says Ajay Kumar, joint secretary, Ministry of Communications and Information Technology.
But it will take a lot more from the coffers of the local and global VC community to realise India's electronic dreams.