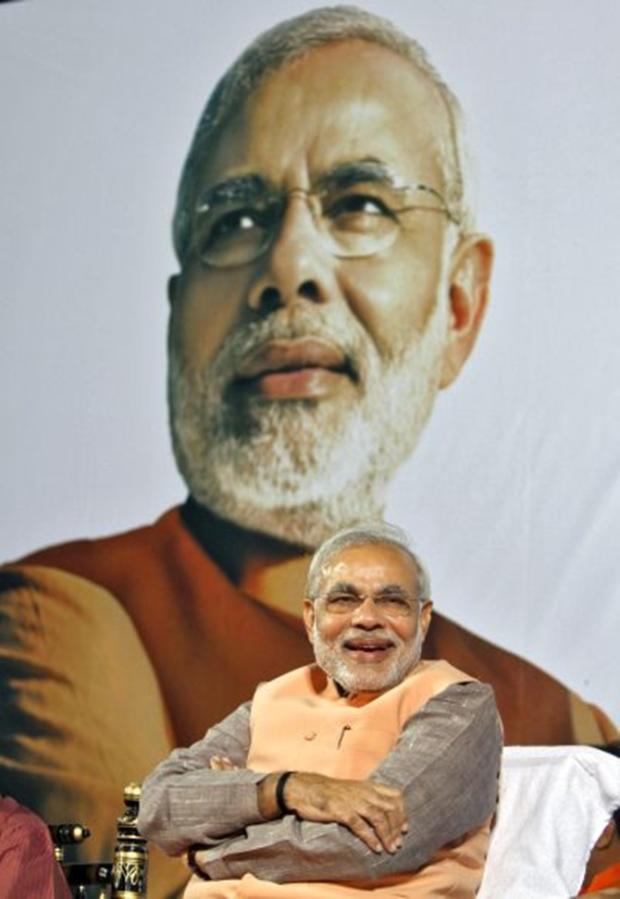 'As the TV showed Congress seats being lost one after another in Maharashtra, cheers went up.'
Cleo Paskal attends a vote-counting party in Mumbai that looked at the coming Modi Sarkar with hope and optimism.
Taciturn board members, last known to smile in the previous century, are beaming. Normally sombre company owners are bordering on the giddy. A chairman of the board is reading out joke tweets to appreciative laughter. In this room full of some of Mumbai's business elite, the mood is euphoric.
We are on the top floor of a five-star hotel. The floor-to-ceiling windows frame one of the world's most beautiful views, the graceful swoop of the Mumbai coastline. But none of the around 60 people in the room is looking. At this vote-counting party they are focused on the three TV screens against the back wall -- each tuned to a different channel, all covering the election results.
They are sometimes laughing, sometimes slipping out of the room to make gleeful calls, and sometimes shouting out numbers: "272", "300", and among the most optimistic (and Constitutionally aware) "366!"
The people in this room know many of the regional (at least) MPs personally. One tells me that a basic permission that takes one day and zero rupees in Gujarat, can take months and definitely more than zero rupees in Maharashtra.
Cheers go up as specific incumbents are declared as 'trailing'. Party poppers come out as the BJP crosses 200. Cake is ordered as they cross 300.
There is a feeling of semi-stunned, gleeful liberation. And of pure relief. For the past years, they feel their companies were strangled by red tape and that they have had to beg for the pleasure of paying a 'fee' just to breathe. They don't want an advantage, they don't want corruption, they just want a level playing field, where the rules are clear, and growth is stable. They want to work. And they want India to work.
For many, I was told, this was more than just an election, it was a fight to get back a lost decade and put India back on track to 10 per cent-plus growth. In the last decade of United Progressive Alliance rule -- and especially in the second term -- there was a sense of desperation, frustration and aimlessness among those in this room (and across the nation) that the country was not developing, and vast potential was not being realised.
They felt that the UPA was not only impeding the growth of domestic companies and new ventures, but even actively blocking the progress of otherwise flourishing businesses with tax-terrorism, crony capitalism, and malign neglect, especially in the foundational infrastructure sector.
And here in Mumbai, the commercial capital of the country, it was a constant assault on momentum. For some political leaders, Mumbai has been the cash cow of Maharashtra, and those in the room were feeling decidedly drained. It was a case, they said, of the parasites killing the host.
They talked about an example of this 'exploitative tax terrorism' -- the 'ready-reckoner' or 'circle rates'. The revenue department of the state government sets the circle rate -- a floor price for a property based on its location. The stamp duty is based on the circle rate.
In Mumbai, even while many property prices dropped to below existing circle rates, circle rates themselves were increased, in some cases by more than 30 per cent year-on-year.
This means that even if the market rates are lower than the circle rate, sellers can't sell without risking being investigated for taking cash, and regardless have to pay the higher tax rate.
In their view, this paralysed the property market, and made it nearly impossible for many to get started on the property ladder.
Small wonder that, as the television showed Congress seats being lost one after another in Maharashtra, cheers went up.
One of the most excited clusters in the room was the younger group. As with under-30s across the country, there was a strong identification with Modi's anger and frustration at economic entropy.
According to one young businessman: "An entire generation born in the 1980s, myself included, feels like we have lost the best working years of our lives due to the apathy and misgovernance of the present regime. We couldn't help build the country. A lot of us who are lucky enough to afford it were thinking of going abroad, to places like Hong Kong, Dubai, London and New York so we could at least accomplish something from there."
"Perception affects reality and now the world's perception about India will change for the better. The perception is that Modi's India will be less corrupt, more predictable, more stable, more business friendly. This will lead to less red tape, which will lead to more investment, and more jobs. I am looking forward to working, living in and building an India led by Modi. Miracles do happen."
Outside the floor-to-ceiling windows, Mumbai looks the same as it did seven hours ago when counting began. But the people in this room have changed. They have hope. And now the hard work begins. But first, more party poppers and cake.
Image: Narendra Modi: Photograph: Reuters.