Insurer has also made fresh investments since December 2015 quarter when RBI told banks to recognise bad loans
Illustration: Uttam Ghosh/Rediff.com
Even as the Life Insurance Corporation (LIC) looks at buying up to 51 per cent stake in IDBI Bank, its investment record in public sector banks (PSBs) is disappointing.
LIC has lost money in 18 out of 21 PSBs in the last two and a half years.
At the end of March this year, the government-owned insurance major had equity investments of over 1 per cent in 21 PSBs but only three of them are now trading at a higher stock price than their prices at the end of December 2015.
The country's largest insurer's three profitable investments include Indian Bank, which is up 163 per cent, Vijaya Bank (43.4 per cent), and State Bank of India, or SBI (4 per cent) over the period.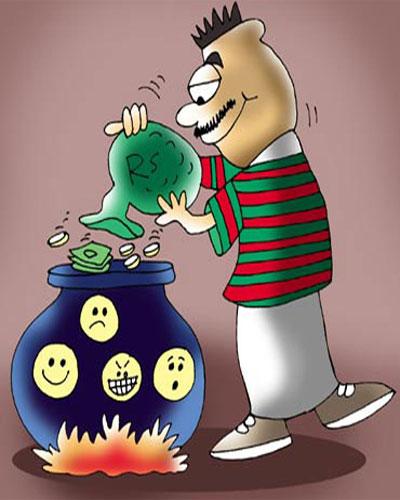 All its nine private sector bank investments, where it has stake over 1 per cent, are in the green.
LIC's PSB investments are down 8 per cent in value between December 2015 and now even as it has had to make continuous incremental investments in the ailing banks.
Over the period, the number of shares held by LIC in PSBs has gone up and in some cases, even its shareholding on a higher capital base.
On the other hand, the value of its investments in private sector banks is up 50 per cent as shares of HDFC Bank have gone up 95 per cent and YES Bank has gained 134 per cent in the period.
There has been sharp erosion in the value of LIC's investments in PSBs since the Reserve Bank of India's asset quality review in the second half of 2015.
The central bank asked banks to recognise bad loans from the December 2015 quarter.
Dena Bank, UCO Bank, and Bank of Maharashtra have lost more than 60 per cent of their value.
In all, nine PSBs have seen 50 per cent decline in their share prices during the period, while another six are down 30 to 50 per cent during the period.
In rupee terms, SBI is the biggest investment for the insurer, followed by Punjab National Bank (PNB).
In terms of stake ownership however, PNB tops the chart as LIC owns 14.2 per stake in the bank, followed by Corporation Bank (13 per cent) and Allahabad Bank (12.4 per cent stake).
It owns over 10 per cent in three other banks - IDBI Bank, Syndicate Bank, and Central Bank of India.
The analysis is based on the shareholding pattern of listed PSBs at the end of March 2018 and December 2015 quarter and the movement in their stock price (adjusted for equity changes) between now and the end of December 2015.
LIC's exposure to PSBs, however, is small compared to its total investment portfolio. As of December 2017, the total long-term investments of LICs' policyholders fund in government securities stood at Rs 15.4 trillion, followed by Rs 4.8 trillion in equity shares and Rs 761 billion in debentures or bonds.
Emails to LIC on its public sector investments remained unanswered.