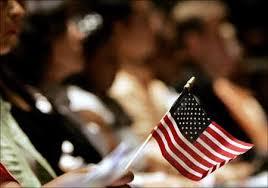 Concerned over US immigration bill, India on Friday said any law that seeks to selectively apply visa restrictions on Indian IT businesses may impact the efforts to strengthen bilateral economic ties.

United States Border Security, Economic Opportunity and Immigration Modernisation Bill, 2013 has not yet been enacted.

The Bill seeks to deny access to visas or place additional visa related restrictions including higher fees.

Commerce and Industry Minister Nirmala Sitharaman said that these restrictions, including language negatively impacts Indian companies on important issues such as non-displacement and wage level classification.

This is not only discriminatory but also creates an unequal playing field for Indian IT companies, she said.

"Any legislation that seeks to selectively apply visa related restriction only against Indian IT business interest in the US would not be in accord with the spirit of deepening strategic partnership between the two countries and may impact on the common efforts to strengthen economic and trade cooperation that the governments of the two countries are actively
pursuing," she said in a a written reply to the Lok Sabha on Friday.
India's concerns have been conveyed to the US side at Ministerial levels during the recent meetings of Homeland Security Dialogue in May 2013, Strategic Dialogue in June 2013, and at the CEOs Forum in July 2013 by Home Minister, Finance Minister, Commerce & Industry Minister and External Affairs Minister.
"Prime Minister also raised this issue with the US President in their meeting in Washington DC on 27 September 2013 and requested that the US Administration should work with the US Congress to address concerns of the Indian IT industry," she said.
The issue has also been raised with US Secretary of State during his recent visit to India in July.
Replying to a separate question, she said India has decided not to participate in the US International Trade Commission as domestic policy formulation is a country's sovereign right.
India has taken cognisance of the "unilateral investigations" launched by USITC, a quasi-judicial independent US federal agency, to examine a wide range of Indian policies that discriminate against US trade and investment.
The bilateral trade between the countries stood at $61.5 billion in 2013-14.