Falling revenues, increased capex, and first full year of spectrum debt may make things worse
The telecom sector may not have enough money to pay off interest on their loans, if the worst-case scenario painted by brokerages is anything to go by.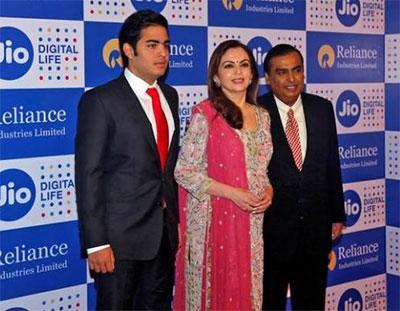 According to Rohit Chordia of Kotak Institutional Equities, disruptive pricing and offers could spark a 60 per cent year-on-year fall in India wireless operating profit (excluding Reliance Jio) in FY18 to under Rs 20,000 crore (Rs 200 billion).
Given the industry's debt of Rs 4 lakh crore, including deferred spectrum obligations, the operating profit will not be enough to service interest obligations, he adds.
CLSA, too, in a recent report highlighted that given Jio's aggressive pricing, the sector's revenues in FY18 could come in at Rs 1.84 lakh crore, the lowest in last nine years.
Pointers to FY18 would pop up from March quarter performance of listed telecom companies. Bharti Airtel is expected to post a 25 per cent year-on-year fall in operating profit for its Indian wireless business to Rs 4,400 crore (Rs 44 billion), while Idea Cellular's is expected to fall 45 per cent to Rs 1,800 crore (Rs 18 billion).
Unlike Airtel which has Africa operations, direct-to-home, and enterprise services, Idea has none; it is a pure-play telco estimated to end the March quarter with a net loss of Rs 1,000 crore (Rs 10 billion) as against a net profit of Rs 576 crore (rs 5.76 billion) a year ago and a net loss of Rs 384 crore (Rs 3.84 billion) in the December 2016 quarter.
And imagine that the Rs 1,000-crore net loss comes for a quarter analysts see as the strongest seasonally!
Analysts say while Airtel and Vodafone remain better off, things could get difficult for Idea. If its March quarter estimates are annualised, Idea could end up with an operating profit of Rs 7,200 crore (Rs 72 billion) for FY18.
On a debt of Rs 50,000 crore (Rs 500 billion) and assuming capital expenditure of Rs 7,000 crore (FY17 levels), it will have to borrow more to pay for interest expenses of Rs 4,500 crore (Rs 45 billion).
For smaller operators, that neither have the cash to expand their network nor protect their market share, the situation is getting worse.
Sanjay Chawla of JM Financial says that for rivals the impact of recent extension of enrolment deadline for Jio customers is negative, as the extent of sequential operating profit decline in Q1FY18 and Q2FY18 could turn out higher than forecasts.
If Jio bundles 6-12 months of free domestic voice calling with low-cost 4G feature phones, things for rivals could get much worse.
However, analysts at UBS believe that with the regulator asking Jio to stop free services, the adverse impact on rivals could bottom out with gradual improvement in subscriber additions and rise in use of data and voice.
An analyst at a foreign brokerage believes that high-end customers migrating to Rs 300-350 monthly rentals could get partly offset by those shifting up from Rs 150 levels. According to him, had Jio had launched another round of disruptive prices in the second half of 2017, then everyone would have to write off FY18 as well.
Photograph: Shailesh Andrade/Reuters