Most of the bullion markets and jewellery showrooms have been closed since March 2 in major cities, including Delhi, Kolkata, Chennai, Mumbai.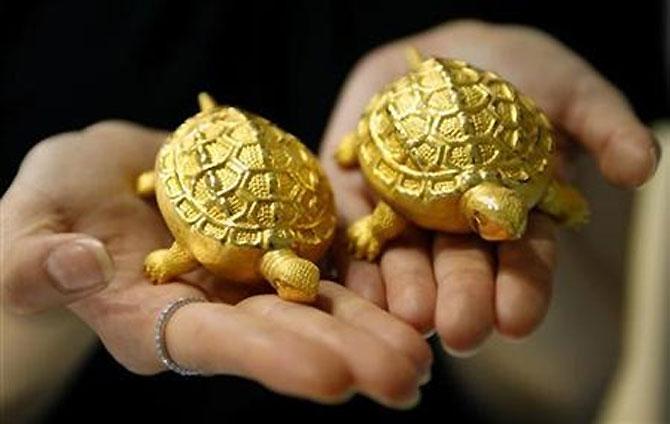 Jewellers on Monday decided to continue their pan-India strike for an indefinite period against the Budget proposal to impose 1 per cent excise duty, despite the Centre's assurance that it would look into the issue.
"We have met more than 358 associations affiliated with GJF, consisting of over 3 lakh manufacturers, retainers, artisans, among others, who have collectively decided to extend the strike indefinitely, till we get some positive announcement from the government," All India Gems and Jewellery Federation (GJF) chairman Sreedhar G V said.
He said the excise tax guidelines, which have been drafted for the gems and jewellery industry are not practically implementable and will be detrimental to the survival of the industry.
"We urge the government to withdraw the proposal. Our protest continues till the government takes cognisance of our views and acts favourably," he added.
Jewellers have been on a strike since March 2, protesting against the proposed excise duty imposition on non-silver jewellery items made in the Budget 2016-17 as well mandatory quoting of PAN by customers for transaction of Rs 2 lakh and above.
Representatives of GJF on March 4, met Finance Minister Arun Jaitley to press for their demands.
After the meeting, GJF had said the Finance Minister has assured that he will look into their grievances. But, the Federation still decided to extend the protest till today.
He further said Jaitley had expressed concern and asked for alternatives to the excise duty.
On March 3, the GJF delegation had met Prime Minister Narendra Modi and gave him their representation. "The PM gave us his valuable time and heard about our plight," he added.
The industry is estimated to have incurred a business loss of Rs 10,000 crore (Rs 100 billion) during the six-day strike, which includes bullion, diamond and jewellery.
The size of gems and jewellery industry is estimated at around Rs 3.15 lakh crore with the potential to grow to Rs 5 lakh crore by 2018.
Meanwhile, supporting the jewellers' strike, the Confederation of All India (CAIT), in a statement, said revenue generation is necessary, but excise duty is not the only solution and other options can be worked out by talks between trade and the government.
CAIT secretary general Praveen Khandelwal said there could be many other alternatives for augmentation of revenue, which will protect not only the interest of traders but also of the government.
He said gold has been considered as the safest option for saving investments by majority of people in the country.
The levy of excise duty, TCS, custom duty and of VAT on gold will make it a costly option and will discourage consumers from investing in gold which will result in loss of business and lakhs of small artisans and traders across the country will be adversely affected, he added.
Meanwhile, in a meeting of jewellers in Uttar Pradesh, it has been decided yesterday to go on indefinite strike, President of Uttar Pradesh Sarafa Association, Mahesh Chander Jain told PTI.
That apart, all jewellers in Meerut continued their strike for a sixth straight day, President of Meerut Bullion Traders Association, Ravi Prakash Aggarwal said.
Most of the bullion markets and jewellery showrooms have been closed since March 2 in major cities, including Delhi, Kolkata, Chennai, Mumbai.