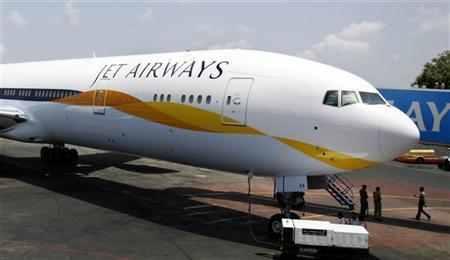 The Jet Airways of old is no more and the industry mourns its demise.
Readers who were at the top of their careers in the 1990s, those who were born in the 1960s and 1970s and of course anyone in the aviation sector in India will remember -- with a certain wistfulness -- the heyday of India's first credible private airline, Jet Airways.
Jet Airways -- which took to the skies in 1993 (as an air taxi operator to begin with) -- was iconic in a way for the Indian public, used to only the tired service and feel offered by public sector airline Indian Airlines (prior to the merger with Air India). While Indian Airlines got the job done, it did little else to woo passengers.
Jet came in with great service, several frequencies to many stations and a business class passengers vied for. It was professionally run, flights were on time, aircraft had a fresh and new feel, food on board was good and it ran a very successful loyalty programme. Almost for the first time in India, it gave fliers something to look forward to and till just a few years ago, Jet Airways was the country's largest airline domestically.
But the good days -- as we all know -- didn't last long. Low-fare airlines entered the Indian airspace and changed its construct forever. And unable to withstand real competition (Jet Airways promoter Naresh Goyal had managed to restrict competition through his ingenious ways over the years), Jet slowly lost its grip over the Indian market. It lost money and its much talked about service standards also took a hit. Stupid decisions like the buyout of Sahara helped accelerate the downward spiral.
In 2013, the airline was sold in part to Etihad Airways and even since the deal, Jet Airways is no longer what it used to be. Personnel changes after such a deal are only to be expected -- almost none of the old-timers has survived -- but industry observers and Jet insiders say that the airline is today a 'different creature'. Even those who remain say that the airline feels different -- no longer the Jet of the 1980s and 1990s.
Also missing is the larger than life, unique presence of Goyal who seems to have distanced himself from the airline. A regular figure at Delhi's Rajiv Gandhi Bhawan (he usually handled lobbying with the government himself), Goyal is rarely found in the capital now.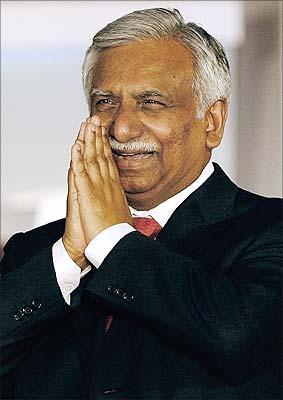 If Goyal, image, left, is missing from the action in Delhi, Jet Airways is missing from the action in the Indian skies. Ever since Etihad took charge, the airline has systematically reduced its presence in the domestic space.
Centre for Asia Pacific Aviation's CEO Kapil Kaul provides the data. Over the period of FY07 to FY16, IndiGo has a CAGR of 48 per cent (in domestic passenger numbers in millions) while Jet has recorded 5.3 per cent. Both SpiceJet and GoAir have higher CAGRs at 17 per cent and 21 per cent. In contrast, growth in international passengers for Jet Airways for the same period had been 27.5 per cent -- most of which has come in the last four years.
In fact, ever since the carrier entered the deal with Etihad, it has consistently reduced and rationalised many domestic routes. In 2014 alone, Jet withdrew four domestic flights from Kolkata to Chennai, Lucknow, Bengaluru and Delhi. But in the last two years, it has consistently withdrawn or reduced frequencies on many domestic sectors.
The jury is out on whether Jet's domestic withdrawal is the best way to go. One of the main advantages of going international in a country like India is if you have a strong domestic network which helps you bring traffic from smaller places to the bigger hubs to fly out.
Former Jet employees who were closely involved in Jet developing this strong domestic network argue that it takes a long time to establish oneself on a route whereas it takes very little to withdraw from one.
But others -- consultants and aviation industry experts -- argue that the Jet of today is more disciplined and a healthier creature. The Indian domestic market is overcrowded and for a full-service airline with a high cost structure, competing in this space is like committing suicide with your eyes wide open. The airline has seen significant productivity improvements in last 12-18 months, especially in domestic with the sharpest fall in costs.
So, which is the bigger loss -- Jet's focus away from the Indian skies, or Goyal moving away from the space? The jury is out on this one too.
Image (above): A file photograph of Naresh Goyal. Photograph: Indranil Mukherjee/AFP/Getty Images.